STORY HIGHLIGHTS
Franck Ribery and Arjen Robben score in Bayern's 2-0 win over Nuremberg
European champions have three wins from three in Germany's top division
Bayern Leverkusen in second place after beating Borussia Monchengladbach
Borussia Dortmund lead on goal difference following Friday's victory
(CNN) -- Bayern Munich celebrated the Bundesliga's 50th birthday by setting a new club record in Saturday's Bavarian derby against Nuremberg.
The European and German league champions triumphed 2-0 at home for a new milestone of 28 top-flight matches without defeat, giving new coach Pep Guardiola a perfect start of three wins from three.
The win left Bayern in third place on goal difference behind Bayer Leverkusen and table-topping Borussia Dortmund.
Having hit the post early on through Daniel Ginczek, Nuremberg had seemed set for a third successive draw after frustrating the home team in front of a 71,000 sellout crowd, as Raphael Schafer saved David Alaba's first-half penalty and denied several other Bayern efforts.
However, France midfielder Franck Ribery broke the deadlock with a header in the 69th minute after a teasing cross by captain Philipp Lahm to ensure that Bayern scored for a 40th successive match.
Arjen Robben, who had been fouled for the penalty, wrapped up the points nine minutes later as he finished a trademark run into the box with a low shot into the corner of the net.
Xherdan Shaqiri also hit the Nuremberg woodwork, having come on to replace Ribery.
"It's an important victory," said Guardiola, whose team next travels to Freiburg on Tuesday and then goes to Prague for Friday's European Super Cup match against English side Chelsea -- a rematch of the 2012 Champions League final.
"I'm satisfied, especially with the second half and our control of the game. Just like in Frankfurt, we hardly let them hit us on the break, which is something I've talked about a lot with the team.
"Especially when Franck and Arjen have the ball, we can attack at pace. Nuremberg were unbelievably well organized. It's always difficult against this type of team."
The match marked the debut of Bayern's new signing Mario Gotze, who played 68 minutes before being substituted in favor of Toni Kroos. Thomas Muller came on six minutes earlier, replacing Thiago Alcantara -- another newcomer, who made his first start.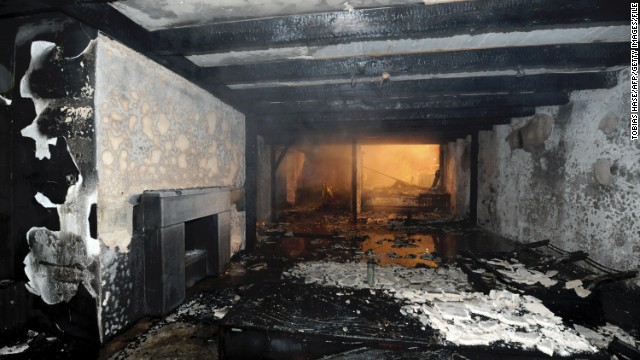 Former Bayern Munich defender Breno was sentenced to three years and nine months in prison in July 2012 for burning down his villa.
The Brazilian looked to have a bright career ahead of him when Bayern signed him from Sao Paulo in 2008.
Breno, pictured here taking on Argentina's Sergio Aguero, was part of Brazil's squad for the 2008 Beijing Olympics. He and he teammates battled their way to a bronze medal in China.
Breno was sent on loan to Nuremberg in 2010, but he sustained a cruciate ligament injury which meant he made just eight appearances for the club.
In July 2012, Breno was convicted of second-degree arson and ordered to serve three-and-a-half years at a correctional facility in Stadelheim.
This week he was back at Bayern. Breno will work with the club's young players while on day release from prison. He will almost certainly face deportation when he is released from prison, according to Bayern president Uli Hoeness, but Breno hopes to rebuild his playing career in Brazil.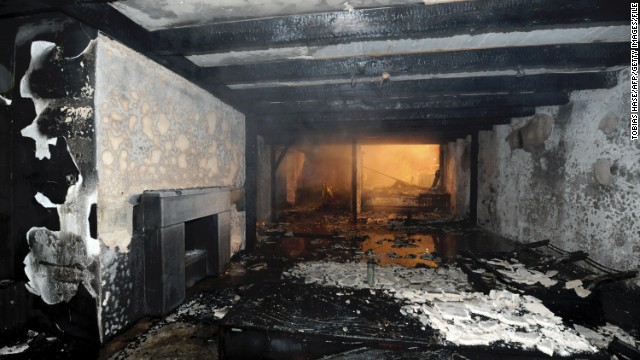 Breno's rise and fall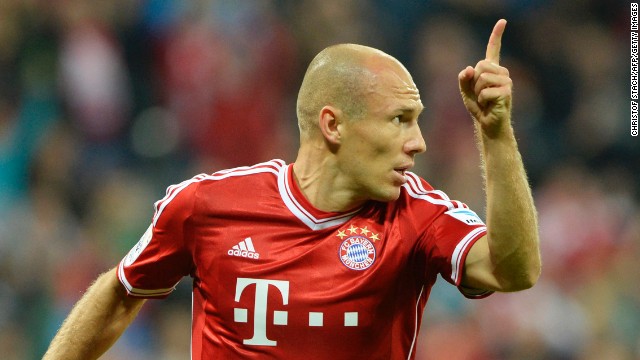 Argen Robben signals the opening goal of the 2013-14 Bundesliga season as Bayern Munich eased to a first day win.
Goalkeeper Marc-Andre ter Stegen of Moenchengladbach saves a penalty from Thomas Mueller of Bayern Munich.
David Alaba celebrates scoring his side's clinching third goal from the penalty spot in the 3-1 win over Borussia Moenchengladbach.
Montpellier's French midfielder Remy Cabella celebrates his opening goal of the Ligue 1 campaign against reigning champions Paris St German.
Maxwell picks up the ball after scoring PSG's equalizer in their first Ligue 1 match of the season at Montepellier.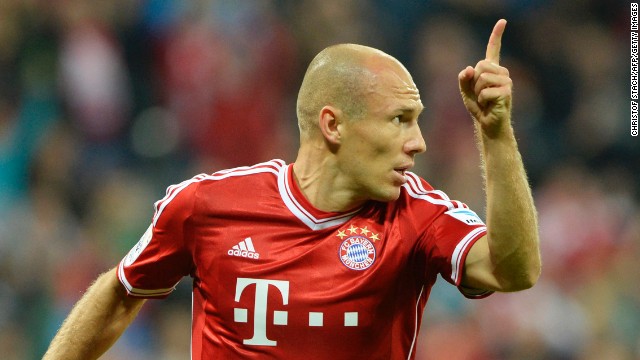 Bayern and PSG open league campaigns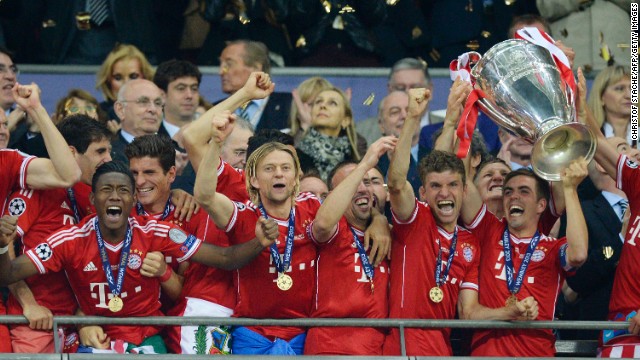 Bayern Munich players lift the trophy as they celebrate winning the UEFA Champions League final after beating Borussia Dortmund 2-1 at Wembley Stadium in London on Saturday, May 25.
Bayern Munich's midfielder Arjen Robben celebrates scoring the winning goal against Borussia Dortmund.
Bayern Head Coach Jupp Heynckes is carried by his players after winning the UEFA Champions League final.
Arjen Robben of Bayern Munich celebrates after scoring the winning goal against Borussia Dortmund during the UEFA Champions League final at Wembley Stadium in London on Saturday, May 25. Bayern defeated Dortmund 2-1.
Head Coach Jurgen Klopp, right, of Borussia Dortmund consoles his players after losing to Bayern Munich in the championship match.
Bayern players celebrate after match play was completed.
Dortmund players lie on the field in defeat after losing to Bayern 2-1.
Arjen Robben, left, of Bayern Munich challenges Mats Hummels of Borussia Dortmund for the ball.
Bayern Munich's striker Mario Mandzukic, left, scores the opening goal of the match.
Ilkay Gundogan of Borussia Dortmund, left, celebrates with teammates after scoring on a penalty kick to tie the game 1-1.
Bayern Munich supporters light flares in the stands during the game.
Dante, right, of Bayern Munich is given a yellow card after being called on a foul against a Borussia Dortmund player.
Bastian Schweinsteiger of Bayern performs a header against Marco Reus of Borussia Dortmund.
Bayern Munich's French midfielder Franck Ribery, center, talks with Borussia Dortmund's striker Robert Lewandowski after a penalty was called.
Mario Mandzukic of Bayern Munich celebrates after scoring a goal against Borussia Dortmund during the UEFA Champions League final at Wembley Stadium in London on May 25.
Borussia Dortmund's midfielder Jakub Blaszczykowski, left, vies with Bayern Munich's defender Jerome Boateng during the UEFA Champions League final at Wembley Stadium in London on Saturday, May 25.
Dortmund's goalkeeper Roman Weidenfeller makes a save against Bayern during the first half.
Borussia Dortmund's Polish midfielder Jakub Blaszczykowski, center, reacts after missing a goal against Dortmund.
Robert Lewandowski, left, of Borussia Dortmund collides with Franck Ribery of Bayern Munich.
Head Coach Jurgen Klopp of Borussia Dortmund shouts from the sidelines during the match.
Fans fill Wembley Stadium during the Champions League final match between Borussia Dortmund and Bayern Munich.
A fan of Bayern Munich wears face paint in support of his team during the match.
Thomas Mueller, left, of Bayern Munich goes after the ball against Neven Subotic of Borussia Dortmund during the UEFA Champions League final match at Wembley Stadium in London on May 25.
Marco Reus of Borussia Dortmund, center, drives to the goal against Dante, right, of Bayern Munich.
Bayern Munich fans wave red flags before the start of the championship game.
Borussia Dortmund supporters fill the stands as they wait for their team to take the field.
Borussia Dortmund fans in the upper deck of Wembley Stadium cheer for their team.
Bayern Munich supporters cheer from the stands.
Borussia Dortmund wear black and yellow attire in support of their team.
From left, UEFA President Michel Platini, German Chancellor Angela Merkel and German Football Association President Wolfgang Niersbach watch the action from the stands.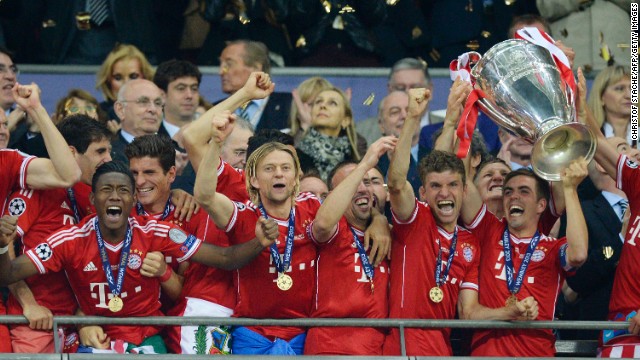 Champions League Final: Dortmund vs. Bayern
"We ran out of gas in the course of the second half," said Nuremberg coach Michael Wiesinger, a Champions League winner with Bayern in 2001.
"I was impressed with the way Bayern never became impatient. They imposed their game on us and deserved the win."
Leverkusen claimed second place after beating Borussia Monchengladbach 4-2 at home, with Germany winger Sidney Sam netting twice.
Mainz made it four clubs on nine points with a 2-0 win at home to Wolfsburg, whose new signing Luis Gustavo was sent off in the 64th minute for a second booking. It was the Brazilian's second game since leaving Bayern.
Schalke's poor start continued with a 2-1 defeat at Hannover, leaving coach Jens Keller under pressure ahead of next week's Champions League qualifier against PAOK Salonika. The Royal Blues have just one point from three games.
Hoffenheim drew 3-3 with Freiburg, while Hertha Berlin beat Hamburg 1-0 in Saturday's late match.
On Friday, last season's runners-up Dortmund won 1-0 at Werder Bremen thanks to a second-half goal from Poland striker Robert Lewandowski.
That match took place 49 years and 364 days after the two clubs met in the opening round of the newly-formed Bundesliga competition in 1963.
In France, Marseille notched a third successive win to move two points clear at the top of the table.
Striker Andre-Pierre Gignac netted a late winner at Valenciennes, while Lyon stayed third after losing 1-0 at home to Reims.
Second-placed Monaco drew 0-0 at home to Toulouse on Friday, while defending champions Paris Saint-Germain will seek a first win this season at Nantes on Sunday, following two draws.