STORY HIGHLIGHTS
Amanda Knox is set for a trial in Italy in the 2007 death of her roommate
A family spokesman says she won't return to Italy for the retrial
Italy could appeal to U.S. for Knox's extradition
(CNN) -- American Amanda Knox will not return to Italy for a retrial in the 2007 death of her British roommate, a spokesman for the Knox family said.
David Marriott said Knox had never agreed to attend, and there's "no requirement she be there." Still, there remains the possibility that Italy could request her extradition from the United States.
In an interview with CNN's Chris Cuomo in May, Knox said she "didn't know" whether she'd return.
"It's a really complicated question," Knox said. "I mean, I'm afraid to go back there. I don't want to go back into prison."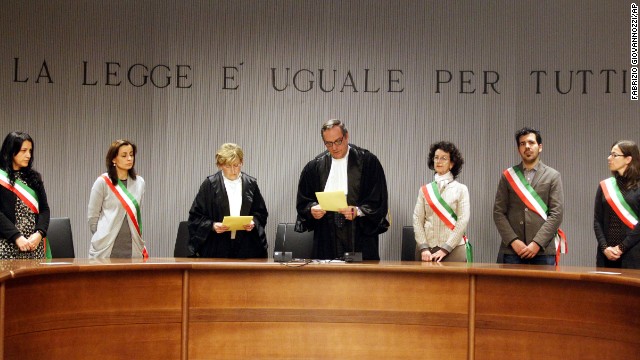 Appeals Court Judge Alessandro Nencini, center, reads out the verdict for the murder of British student Meredith Kercher in Florence, Italy, on Thursday, January 30, 2014. The appeals court upheld the convictions of U.S. student Amanda Knox and her ex-boyfriend Raffaele Sollecito for the 2007 murder of her British roommate. Knox was sentenced to 28 1/2 years in prison, raising the specter of a long legal battle over her extradition. Sollecito's sentence was 25 years.
Sollecito, left, and his father Francesco leave after attending the final hearing before the verdict on January 30. After nearly 12 hours of deliberation, the court reinstated the guilty verdict first handed down against Knox and Sollecito in 2009.
Patrick Lumumba, the Congolese bartender Knox originally accused of Kercher's murder, talks to the press outside the courthouse during a break form the appeal trial of Knox and Sollecito on September 30.
Knox appears on NBC's "Today" show. Knox spent four years in jail because of murder charges in the death of her roommate Meredith Kercher while studying abroad in Perugia, Italy.
Knox and her former boyfriend Sollecito were convicted in 2009 to 25 years in prison (Sollecito got 26 years). The conviction was overturned in 2011 for "lack of evidence." But Italy's Supreme Court decided last year to retry the case, saying the jury that acquitted them didn't consider all the evidence and that discrepancies in testimony needed to be answered.
Meredith Kercher, a 21-year-old British exchange student, was found dead with her throat slit in an apartment she shared with Knox on November 2, 2007.
When Knox was detained for questioning in 2007, she implicated Lumumba, the owner of a bar where Knox worked. Lumumba was taken into custody and released after two weeks in prison when his alibi was corroborated. He later won a libel suit against Knox.
Sollecito, Knox's boyfriend at the time of the murder, was convicted in December 2009 with Knox and released when their cases were overturned. Prosecutors testified that police scientists found Sollecito's genetic material on a bra clasp of Kercher's found in her room, while his defense claimed there wasn't enough DNA for a positive ID.
Rudy Hermann Guede, an Ivory Coast native raised in Perugia, was convicted separately from Knox and Sollecito and is now serving 16 years. Guede admitted to being with Kercher on the night she died, but said he didn't kill her. Both Knox and Sollecito argued that he was the killer, and Guede suggested the couple took Kercher's life.
Meredith Kercher's family lawyer Francesco Maresca, left, argued in court in 2011 that the multiple stab wounds implied more than one aggressor killed Kercher. Pictured from left are Maresca, Kercher's father John, sister Stephanie, brother Lyle and brother John at a press conference in 2008.
Carlo Dalla Vedova, one lawyer on Knox's defense team, argued in court that "the only possible decision to take is that of absolving Amanda Knox" in his closing argument for her appeal hearing.
Carlo Pacelli represented Patrick Lumumba in his civil suit case. He called Knox two-faced and a "she-devil."
Giulia Bongiorno, the lead lawyer on Raffaele Sollecito's defense team, compared Knox to Jessica Rabbit on the movie "Who Framed Roger Rabbit?" Knox is not bad, just "drawn that way," Bongiorno said in her closing statements in the 2011 trial.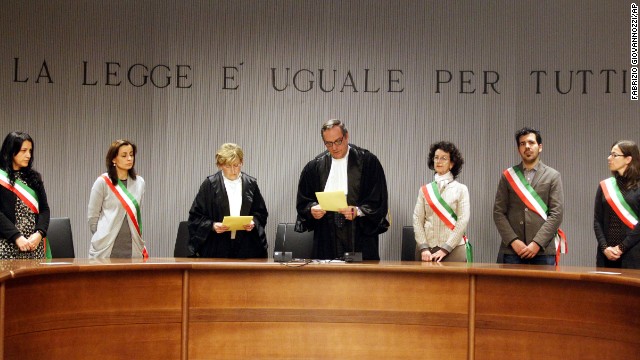 Photos: The Knox-Sollecito retrial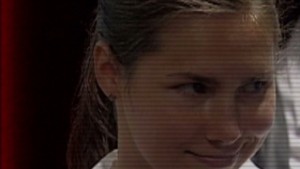 Crimes of the Century: Amanda Knox trial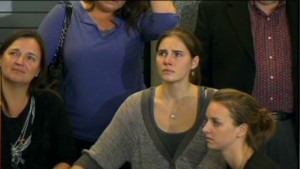 Knox ruling cites sex game gone wrong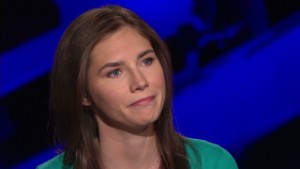 Amanda Knox: 'I'm afraid to go back'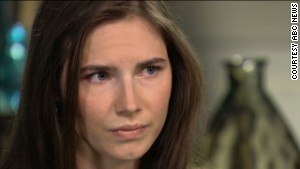 Amanda Knox: I am not a devil
Knox: Sometimes I can't stop crying
Knox spent several years behind bars in Italy, after she was convicted in 2009 of murdering 21-year old British exchange student Meredith Kercher.
Kercher was found stabbed to death in November 2007 in the villa she rented with Knox, then 20, in the central Italian university town of Perugia.
The convictions of Knox and her ex-boyfriend, Raffaele Sollecito, were overturned in 2011 for "lack of evidence."
After her acquittal, Knox returned to her hometown of Seattle, Washington, where she has been living since.
Italians ask: Can Americans get away with murder?
Italy's Supreme Court decided last year to retry the case, saying the jury that acquitted Knox didn't consider all the evidence, and that discrepancies in testimony needed to be answered.
The high court also said evidence could support prosecutors' initial argument -- that Kercher was killed in a twisted sex misadventure game, according to Italian news agency ANSA.
Knox says such claims were "a bombardment of falsehood and fantasy."
"No one has ever claimed that I was ever taking part in deviant sexual activity. None of my roommates, none of my friends, none of the people who knew me there. This is simply coming out of the prosecution," she told CNN in May. "I was not strapping on leather and bearing a whip. I have never done that. I have never taken part in an orgy. Ever."
Knox and Sollecito's retrial, which is expected to start this fall, should examine discrepancies in testimony, the high court said. These include differing witness accounts of when screaming could be heard from the home, ANSA reported.
Knox may be ordered to return to Italy for the retrial. If she refuses, the Italian government could appeal to the United States for her extradition. But even if it does, it's not clear whether the United States would extradite Knox.
Opinion: What Amanda Knox can and can't tell us