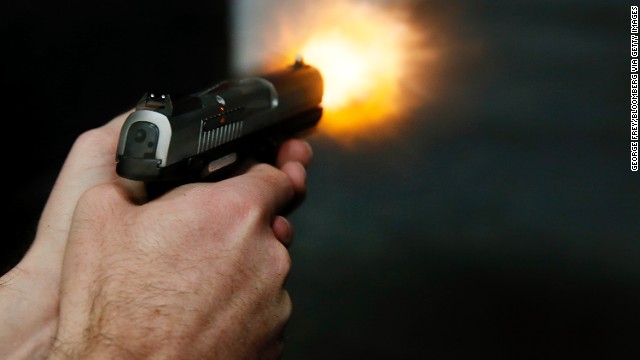 Citing an increase in shootings over the last few years, a number of companies have put out products that could help people survive urban attacks when least expected -- in homes, schools and offices. Here's a look at some of the ballistic-resistant products out there.
A few companies offer bulletproof backpacks or backpack inserts for children, including Bullet Blocker and Amendment II. After the December 2012 mass shooting at Sandy Hook Elementary in Newtown, Connecticut, both companies reported a temporary jump in sales. Rich Brand, COO of Amendment II, told CNN sales spiked 500% the week after the shooting.
This ballistic barrier blanket promises to protect from most bullets. Nick Paylor of bulletproofME.com said immediately after the Sandy Hook shooting the company saw a surge in sales of all sorts of products, but it has since died down.
the University of Maryland-Eastern Shore announced
that it is purchasing 200 bulletproof whiteboards from Hardwire LLC, a company based in Pocomoke City, Maryland. The shootings at Sandy Hook were a factor, said Juliette Bell, the university president. "Anything that we can do that could potentially save a life, we are going to explore," she said. Pictured, Police Chief Phil Jones, left, and Rocori School District Superintendent Scott Staska of Cold Spring, Minnesota, where schools acquired the kevlar whiteboards.
Ahead of the fall semester,
Impact Armor Technologies designed the ballistic clipboard at the request of local law enforcement, it says on its site. Since its products hit the market in 2010, the company has seen a steady gain in sales, said Rob Slattery, sales manager. School shootings create more interest in its products, Slattery said.
Charles Alan's Brian Poitevent told CNN affiliate WFAA
. "We make them with arm straps, so you can hold the cushion with one hand and fire with the other hand."
Charles Alan, a furniture maker based in Fort Worth, Texas, showed off a new couch with a hidden gun safe inside and bulletproof cushions at a gun show. "If there's a home invasion, you can take one of the cushions and hand it to one of your children or your spouse to protect them,"
the maker said
. BCB International, a Cardiff, Wales-based manufacturer of military and survival products, says the shorts could help reduce "life-changing" injuries to the genitalia and colon -- the type often caused by roadside bombs in Afghanistan.
In the form of a kind of super jockstrap, blast boxers protect important soldier parts,
Caballero told CNN
. "Bulletproof clothing is becoming a style."
Colombian designer Miguel Caballero sells bulletproof clothing -- from polos to trench coats to business suits -- for customers who want protection with a sharper look. Former Presidents Alvaro Uribe of Colombia and the late Hugo Chavez of Venezuela each owned a bulletproof guayabera, a cotton shirt common in Central America. "It's not just about bulletproofing with style anymore,"
Caballero also launched a new line for children after the Sandy Hook shooting, including a two-in-one protectant vest and backpack.
BulletBlocker's notebook folio provides multipocket organization and an 11-by-14-inch shield against ballistics. "The Defender Folio is perfect for situations where a backpack isn't practical or allowed," the company says on its website.
Based on testing by Engadget
, it will stop a bullet but doesn't guarantee your screen won't shatter.
Vestguard's Ballistic iPad Panel promises to "stop a 9 mm and .357 Magnum handgun round traveling at well over the speed of sound." It slips behind an iPad case. Vestguard says it's ideal for journalists, government officials and businessmen.
Another protection for the businessman: the bulletproof computer briefcase. This model from Yancheng Gotye in China comes in black and red.
Bulletproof products for urban survival
Back packs
Ballistic blanket
Whiteboards
Ballistic clipboards
Couch
'Blast boxers'
Fashionable outer wear
'V-bags'
Notebook folios
iPad panels
Briefcases