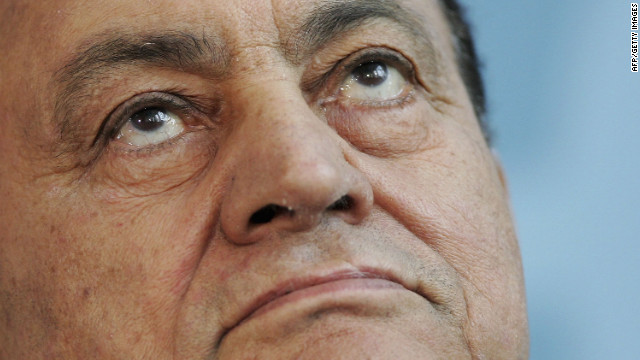 Former Egyptian President Hosni Mubarak, 85, has been held since shortly after he was removed from power in 2011. He was convicted last year on charges of inciting violence against protesters during the popular uprising the led to his ouster and, eventually, the elections that brought Mohammed Morsy to power. He was sentenced to life in prison but appealed, and a retrial was granted early this year.
Then-Vice President Mubarak, left, joins President Anwar Sadat at a military parade on October 6, 1981, the day Islamic fundamentalists from within the army assassinated Sadat. Mubarak succeeded Sadat as Egypt's president, maintaining power for nearly three decades.
Eight days after Sadat's assassination, Mubarak is officially sworn in as Egypt's president on October 14, 1981. Mubarak was re-elected in 1987, 1993, 1999 and 2005.
Mubarak poses with U.S. President Ronald Reagan at the White House in 1982.
British Prime Minister Margaret Thatcher meets with Mubarak in London in 1985.
Diana, Princess of Wales, visits Mubarak in 1992 during a trip to Egypt.
Mubarak and U.S. President Bill Clinton hold a joint press conference in 1995.
The front page of the Ethiopian Herald reports a foiled assassination attempt on Egypt's president on June 27, 1995. Mubarak survived an attempt by an al Qaeda-affiliated group in Addis Ababa, Ethiopia.
Mubarak, third from left, joins President Bill Clinton, Israeli Prime Minister Yitzhak Rabin, second from left, Jordan's King Hussein, third from right, and Palestinian leader Yasser Arafat, second from right, in Washington in 1995. The Israeli leader and Arafat signed maps representing the redeployment of Israeli troops in the West Bank.
Mubarak welcomes Pope John Paul II to Egypt for a three-day visit in 2000.
U.S. President George W. Bush greets Mubarak at the White House in 2002 to talk about the Middle East crisis and the war in Afghanistan.
In 2005, Mubarak again runs for a six-year term in the country's first multiparty presidential election. He was declared the official winner with about 88% of the vote, but many considered the election to be a sham.
After weeks of Egyptians protesting Mubarak's 29-year reign, the president steps down from office on February 11, 2011, causing celebrations in Cairo's Tahrir Square.
The ousted leader lies in a medical bed inside a cage in a courtroom during his verdict hearing in Cairo on June 2, 2012. A judge sentenced Mubarak to life in prison for his role in ordering the killing of protesters in the 2011 uprisings.
Mubarak and his sons Gamal, left, and Alaa are seen behind the defendants' cage during their retrial at the Police Academy in Cairo on June 8. Mubarak was granted a retrial in January. On August 21, a court ordered Mubarak be freed, pending his retrial.
Mubarak through the years
Mubarak through the years
Mubarak through the years
Mubarak through the years
Mubarak through the years
Mubarak through the years
Mubarak through the years
Mubarak through the years
Mubarak through the years
Mubarak through the years
Mubarak through the years
Mubarak through the years
Mubarak through the years
Mubarak through the years
Mubarak through the years