STORY HIGHLIGHTS
Premier League title contenders Manchester United and Chelsea draw 0-0
It was the first scoreless tie in a league game at Old Trafford since 2009
Wayne Rooney, linked with a move to Chelsea, played all 90 minutes for the Red Devils
The game marked David Moyes' first home game in charge since replacing Alex Ferguson
(CNN) -- Even before Manchester United and Chelsea kicked off at Old Trafford on Monday, there was ample intrigue.
With Chelsea making no secret about its interest in United striker Wayne Rooney, would the Englishman start?
Rooney, who United repeatedly insist isn't for sale despite the 27-year-old putting in a transfer request at the end of last season, did make the starting 11 and played the full 90 minutes.
Chelsea boss Jose Mourinho, meanwhile, didn't start a recognized striker, leaving $78 million man Fernando Torres on the bench.
He again omitted Chelsea's player of last season, creative midfielder Juan Mata.
In the end, both teams maintained their unbeaten start to the young season thanks to a mostly dour 0-0 draw.
In David Moyes' first home game in charge since replacing Alex Ferguson, the scoreless tie was the first in the league at Old Trafford in four years.
Read: Moyes named Ferguson's successor
The pre-game hype thus made for more fun than the game itself and the post-game comments from both managers provided yet more entertainment.
With reports of a club other than Real Madrid making a late bid for Tottenham winger Gareth Bale, a smiling Moyes didn't deny United was the team in question.
"Manchester United will always be interested in the best players," Moyes told Sky Sports. "We're always looking to try to improve the team and the owners have given me every opportunity to bring in whoever I want."
Mourinho didn't rule out Chelsea making a third bid for Rooney, although he acknowledged the support the England international received from the crowd would make it difficult for him to leave.
Rooney's shift was full of commitment, particularly evidenced when he tracked back late to dispossess Ramires. He was arguably United's best player.
"(United fans) supported him all the way so I think this is a real special club with special fans and I think probably now he decides he wants to stay," Mourinho told Sky.
Chelsea went top of the standings with seven points through three games, having contested a game more than its rivals when the fixture against Aston Villa was moved up due to the Blues' upcoming Super Cup clash against Bayern Munich.
United, Chelsea and Manchester City are thought to be the title contenders this season and City was the first team to flinch when it lost 3-2 at newly promoted Cardiff on Sunday.
Read: Cardiff comeback stuns City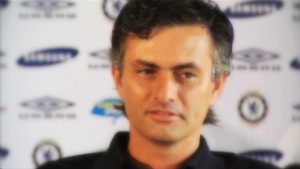 José Mourinho's press conference antics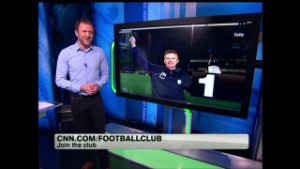 CNN FC: Moyes replaces Ferguson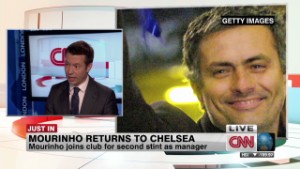 Mourinho returns to Chelsea
"I told the players before the game we want to win, we will play to win but if you don't win, you don't lose," said Mourinho. "I think the players understood this completely."
The first half Monday never took off. If ever a game needed a goal, as the saying goes, this was it.
United striker Robin Van Persie struck the side netting and somehow teammate Antonio Valencia escaped a yellow card from Martin Atkinson when he hacked down Oscar.
As the half drew to a close, Rooney almost slipped in van Persie but his pass was too heavy.
United began the second half with more urgency and Danny Welbeck -- who scored two goals in United's league opener last week versus Swansea -- should have done better when Rooney found him inside the box.
Chelsea's no-striker formation failed to match the potency of the Spanish national team and Torres entered in the 60th minute.
United wanted a penalty when it felt Tom Cleverley's shot struck Frank Lampard in the arm but Atkinson didn't budge.
"I think that's two in a week that Chelsea has had ... which have been good shouts," Moyes said, referring to an incident in the Villa game last week.
Rooney's rising shot in the 77th minute forced Petr Cech into a diving save and from the ensuing corner, Welbeck mistimed his header.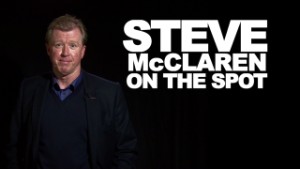 Alex Ferguson's recipe for success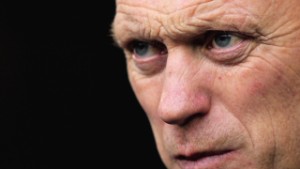 McClaren: Moyes was the right choice
Chelsea was by this time happy with a point, further shown when Mourinho replaced Kevin de Bruyne with not Mata but defensive midfielder John Obi Mikel.
Three points for Madrid
In Spain, Real Madrid made it two wins from two league games to match Barcelona after beating Granada 1-0 away.
Karim Benzema, the French striker linked with Arsenal, accounted for the scoring with a 10th-minute goal.
Real Madrid could have added to its lead, but Isco hit the post and Cristiano Ronaldo was denied by keeper Roberto.