German finance minister: 'I don't see' any further eurozone bailouts
August 27, 2013 -- Updated 1943 GMT (0343 HKT)
STORY HIGHLIGHTS
German finance minister: 'I don't see' any further eurozone bailouts
Greece, Portugal, Ireland and Cyprus remain dependent on EU/IMF bailout funds
Comments come ahead of September 22 elections for Chancellor Angela Merkel
The 17-nation eurozone recently emerged from its longest ever recession
(CNN) -- German Finance Minister Wolfgang Schaeuble says the eurozone's problems are not solved, but "we are in a much better shape than we used to be some years ago." Asked whether he foresaw any further bailouts coming, he replied: "No, no I don't see."
In a rare interview, conducted in English, he said: "If Chancellor Merkel (is) reelected I am confident that we will continue to work for a stronger Europe -- that's our general position. We don't want a German Europe but we want a strong Europe and that means every member state including Germany has to increase its competitiveness," Schaeuble said.
"A stronger Europe means that everyone has to do its duty and not to ask for more money by others -- that's the wrong way to get a strong Europe, that's the wrong incentive."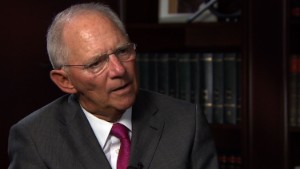 German FM: Greece needs until 2022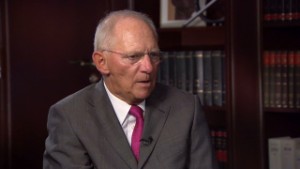 German FM: Eurozone in a better place
His comments come ahead of the September 22 election, as Merkel faces a German electorate weary of Europe's largest economy helping to bail out troubled eurozone nations, whose debt woes have threatened the stability of the currency.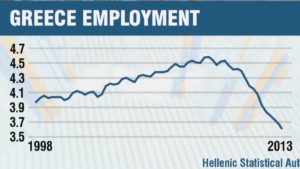 Greek unemployment hits record 27.6%
Greece, along with three other eurozone countries -- Portugal, Ireland and Cyprus -- remain dependent on rescue loans from the EU and International Monetary Fund (IMF).
The 17-nation eurozone has emerged from its longest ever recession, growing 0.3% in the second quarter after 18 months of contraction. Unemployment rates remain high, but worries that the debt crisis could spread to larger economies such as Spain and Italy -- which both saw borrowing costs climb dangerously high last year -- have abated.
"You can see if you look at the rates for sovereign debts they are stable. Markets have confidence in the stability of the eurozone as a whole. And economies are recovering in the whole of the eurozone and the average deficit has been halved in all member states of the eurozone in the last three years."
Schaeuble acknowledged that Greece will need further assistance, but said there will be no further "hair cuts" -- such as 100 billion euros in losses Greek debt holders were forced to incur last year -- for Greece or any other eurozone nation.
Schaeuble: Enthusiastic and on campaign trail
CNN's Nina dos Santos and Irene Chapple contributed this this report

Part of complete coverage on
December 10, 2013 -- Updated 1209 GMT (2009 HKT)

Presidents and prime ministers, celebrities and royals joined tens of thousands of South Africans to pay tribute to Nelson Mandela.
December 9, 2013 -- Updated 1558 GMT (2358 HKT)

The Web is set to change our lives over the next decade. This will also question the use of personal data and balancing new powers with ethics.
December 9, 2013 -- Updated 0111 GMT (0911 HKT)

The image of the Shinkansen bullet train streaking past Mount Fuji is a powerful part of the iconography of the resurgent post-war Japan.
December 9, 2013 -- Updated 2023 GMT (0423 HKT)

Imagine the delight at unwrapping your Christmas present in 2043 and discovering you've been gifted a trip around the Moon.
December 9, 2013 -- Updated 0727 GMT (1527 HKT)

A new political party claiming to champion ordinary Indian voters makes a startling electoral debut.

Few words in Hungarian, including place names, are easily recognizable to foreigners.
December 10, 2013 -- Updated 0933 GMT (1733 HKT)

Browse through images you don't always see in news reports, taken by CNN teams all around the world.
December 9, 2013 -- Updated 1234 GMT (2034 HKT)

Walking into one of Yayoi Kusama's infinity rooms is like walking into a completely different universe.
December 9, 2013 -- Updated 1529 GMT (2329 HKT)

Meet Tony Allen -- famous for helping create Afrobeat by fusing different beats and patterns.
December 8, 2013 -- Updated 2116 GMT (0516 HKT)

Fans converged on the site where Paul Walker died to pay tribute to the actor. CNN's Paul Vercammen reports.

He was imprisoned for life but that did not quiet him. Nelson Mandela became South Africa's first black president, and an icon and inspiration.
December 9, 2013 -- Updated 1002 GMT (1802 HKT)

Watching digital artist Kyle Lambert's stunning photo-realistic iPad paintings emerge from a blank screen is an awe-inspiring experience.

Today's five most popular stories