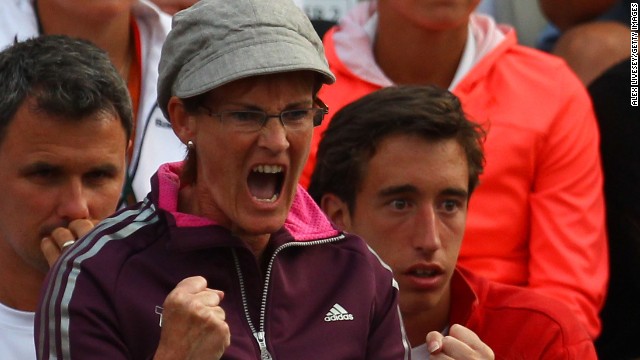 The first thing casual tennis fans might think of when Judy Murray's name is mentioned is how excitable she can get in the stands supoorting her son Andy.
But Judy isn't solely a cheerleader. She was the driving force behind the careers of both Andy and his older brother Jamie, right. Jamie is also a Wimbledon champion, capturing the mixed doubles event in 2007.
In the moments after he won Wimbledon in July 2013, Andy said he couldn't remember what happened in the final game. Overwhelmed, he almost forgot to hug mom.
Judy posed with Andy last September after her son won his first grand slam title and ended Britain's 76-year wait for a men's singles champion at a major.
Judy is often accompanied by Andy's girlfriend, Kim Sears, at tennis tournaments around the world. Sears' dad, Nigel, is a prominent tennis coach.
Judy, even when it's chilly, continues to coach kids as she tries to get more youngsters playing and boost the popularity of tennis in Britain.
Since the end of 2011, Judy Murray has been the captain of Britain's Federation Cup team. She has drawn praise from several team members.
After opting to hang around her brothers and kick around a soccer ball, Judy turned to tennis at the age of nine and prospered in the juniors in Scotland.
A constant supporter
A driving force
Almost forgotten
Celebrations in New York, too
The other woman in Andy's life
Her teaching continues
Leading the British women
A converted fan
STORY HIGHLIGHTS
Judy Murray may be best known for cheering on her son but she's not just a cheerleader
Murray is the captain of Britain's women's Fed Cup team and runs tennis events for kids
She had a fine junior career, believed to have won more than 60 titles in her career
Tennis runs deep in the family, as Judy's parents also played at county level
Open Court is CNN's monthly tennis show. Click here for videos, news and features.
(CNN) -- Tennis parents don't always have the best of reputations. Think Damir Dokic, John Tomic and Jim Pierce.
Former Wimbledon semifinalist Jelena Dokic said she was abused by her father and he spent time in jail for threatening the Australian ambassador to Serbia. Tomic, dad of the much-hyped Bernard Tomic, is waiting to discover if he'll face punishment for allegedly assaulting the player's hitting partner.
Mary Pierce, a two-time grand slam champion, once took out a restraining order against her father.
If you listen to Andy Murray his mother Judy sounds like the ideal tennis mom, even if she has been accused of being too pushy and can rub some the wrong way with her in-your-face cheering from the stands.
"My mum's the one person who gets me, who understands me really well," Murray was quoted as saying by Britain's Daily Express last month. "I can't remember the last time I was in an argument with her."
And as Andy prepares to defend his title at the U.S. Open, his biggest supporter will be right there with him.
Presumably if he wins another title in New York, he won't almost forget to hug mom like he did at Wimbledon after defeating Serbia's Novak Djokovic and climbing into the stands.
"The whole thing was just quite sort of surreal really, to see him up there," Judy Murray told CNN's Open Court.
However, Judy Murray is more than just the vociferous fan that's routinely seen in the world No. 3's player box at major tennis tournaments around the world.
As well as playing a major role in her son's successful career, she is also in charge of Britain's hopes in women's tennis' premier team competition.
Indeed, far from simply basking in her son's success, she organizes events for kids in her continuing quest to get more youngsters playing the sport that her family has loved for half a century.
Read: Murray conquers the Big Apple
Judy Murray was a fine player herself, contesting matches in the juniors before her focus in tennis shifted to her two sons.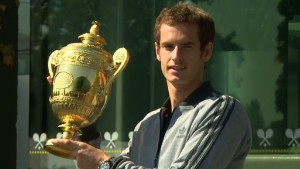 Andy Murray's historic Wimbledon win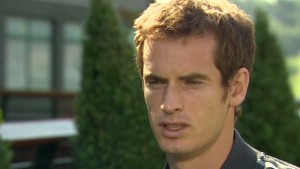 Murray: Wimbledon took so much out of me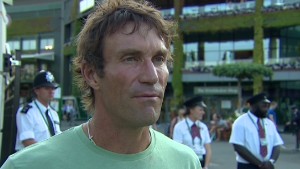 Andy Murray 'held his grit'
Andy isn't the only Wimbledon champion in the family -- his older brother Jamie combined with Jelena Jankovic to win the mixed doubles event at the All England Club in 2007.
"I think it's quite clear tennis is Judy's No. 1 passion," Anne Keothavong, who played under Murray on Britain's Fed Cup team, told CNN.
"She does put a lot back into the game and she's doing a lot to help promote and grow the game, too."
Judy Murray didn't always feel passionate about tennis, according to her mom Shirley Erskine.
As a child growing up in Scotland, she instead wanted to hang around her younger brothers and play soccer -- as her dad Roy did professionally.
Shirley and Roy were county tennis players in their day and although they no longer take to the court, Judy's mom remains a fixture at the Dunblane club where it all began for her daughter and Wimbledon-winning grandchildren.
"Now I just help out in the kitchen," Shirley told Open Court. "That's all I'm really useful for now, washing the plates and baking."
It was only when Judy was nine that she decided to give tennis a proper go.
"Things really took off," her mother said. "Gradually we would go up north, to northern Scotland for our holidays, and that's when we introduced her to minor competitions, holiday competitions that we all used to play as a family."
Judy soon flourished, winning what she thought was more than 60 titles -- although she was the first to admit that a small talent pool in Scotland made her task easier.
"There's no telling where she may have been if she had started younger," said Erskine. "Who knows?
"She's very competitive as well. I think that's where Andy must get it from."
When it came time to teach her children, Judy -- in a tale not uncommon among the parents of professional tennis players -- would spend hours feeding balls to her kids in days that would turn into evenings.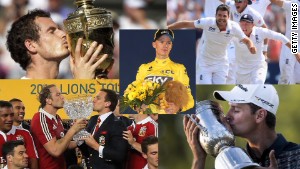 Sports create British summer of pride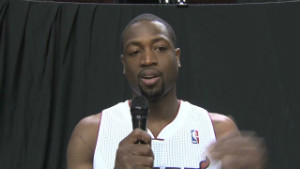 Dwyane Wade's shout out to Andy Murray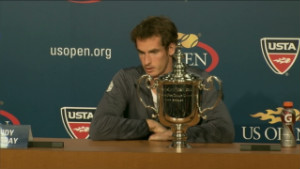 Britain's Andy Murray wins U.S. Open
She and ex-husband William made sacrifices financially to ensure Andy got the best coaching. He trained at a respected academy in Spain, where the weather, clay court surfaces and coaching are more suited to producing tennis champions.
All the family's hard work paid off as the brothers made the transition to the pros, and Andy won the U.S. Open last September to end Britain's 76-year wait for a men's singles winner at a grand slam.
When Murray claimed Wimbledon in July by topping world No. 1 Djokovic, it ended a 77-year British men's singles drought in southwest London.
Read: British drought over at Wimbledon
However, his earlier struggles -- losing his first four grand slam finals -- took their toll.
Judy received hate mail -- critics said she was too big of an influence on his career and rounded on her for her conduct as she watched her son's matches.
A few days, though, after Andy's dramatic victory over Djokovic, Judy was back at work instead of relaxing on a beach.
She visited schools in different parts of London as part of program she runs and then returned to Dunblane to oversee the Judy Murray Cup, a competition for kids under the age of 10.
"It wasn't my idea to call it that," she said.
Money isn't an issue nowadays for the family -- Andy's net worth was reported to be $38 million by the This Is Money website -- but Judy opted to make the eight-hour drive up north rather than fly.
"I understand the importance of community, clubs and everyone getting together to make a fun environment for kids and adults to thrive in," Judy told Open Court. "There are lots of parents helping their kids to keep the scores and lots of children playing, and it doesn't matter what level they are at.
"They're just having great fun and you can see so many people making the whole thing just buzz. It's all good fun."
Back at the pro level, Judy remains the captain of a British Fed Cup team that features two top prospects, Laura Robson and Heather Watson. She is helping to nurture them, too.
There's no telling where she may have been if she had started younger
Shirley Erskine
"She's a fun person to be around," the newly retired Keothavong said. "She likes to crack a few jokes and does keep things entertaining. As a Fed Cup captain she was very professional and was very into the video analysis and the practical side of things, which helped us as players."
Judy is sure to be a constant presence in the Big Apple over the next two weeks and is hoping for another celebratory hug from her son when the tournament ends.
She'd opt for a more straight forward conclusion than at Wimbledon, when Andy almost let slip a 40-0 lead in a thrilling, marathon final game.
"Suddenly match points came and went and then deuce, and then there was break point down and my heart was absolutely thumping," she said. "I could hear it. I was aware of it.
"I was like, 'Oh, God.' Bump, bump, bump, bump.' "