Reports: Apple will offer trade-ins for new iPhone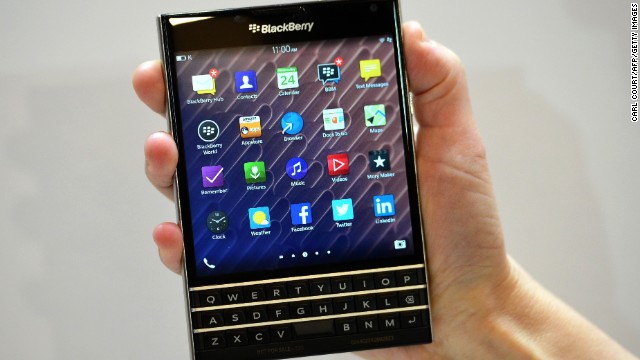 BlackBerry on Wednesday unveiled its newest smartphone with a full physical keyboard and a large screen, aiming to return to its roots targeting business users. The Passport is designed to win back users after BlackBerry was knocked out of the highly competitive consumer smartphone market dominated by Apple and Samsung. Here's a look at some other top smartphones on the market now or coming soon.
Amazon's Fire Phone, which was released this summer, has a 5-inch screen that displays 3-D images. A feature called Firefly offers instant image, text and audio recognition and reportedly can recognize more than 100 million songs, videos and consumer products.
The Galaxy S5 is the latest in Samsung's line of big-screen, feature-laden phones. Considered an improvement, but not radical departure from, the S4, the phone features a 5.1-inch screen, 16-megapixel camera with ultra-fast shutter speed and a fingerprint sensor for added security.
Apple CEO Tim Cook unveiled two new iPhones early this fall. The iPhone 6 and iPhone 6 Plus are bigger, rounder and faster and feature an 8 megapixel camera that comes with a new sensor that Apple claims will help the camera focus faster.
Hailed by some critics as the best Android phone yet, HTC's latest offering has a sleek, brushed-metal design that has charmed reviewers. It boasts a 5-inch screen, a dual-camera setup that lets users refocus even after they take an image, and a hefty 2GB of RAM.
Google has sold Motorola to Lenovo, but the Moto X still has its admirers. The Moto X claims to be the first phone manufactured in the U.S. Hands-free voice controls allow you to operate the phone without touching it -- a handy trick if you're across the room -- and it's highly customizable.
Samsung released their latest "phablet," the Galaxy Note 4, which has a vivid, 5.7-inch screen and a fingerprint scanner, and comes equipped with a stylus.
Some reviewers have called the Nokia Lumia Icon, with a fast processor, 5-inch display screen and 20-megapixel camera, the best Windows phone yet.
This is the second generation of the Sony phone with an unusual claim to fame: The company says it's water-resistant, for up to 30 minutes. It also boasts a 20-megapixel camera, which Sony claims has the industry's largest sensor.
The big-name smartphones
Amazon Fire Phone
Samsung Galaxy S5
iPhone 6 and iPhone 6 Plus
HTC One M8
Moto X
Samsung Galaxy Note 4
Nokia Lumia Icon
Sony Experia Z1s
STORY HIGHLIGHTS
Apple reportedly launching an iPhone trade-in program
Users could get a discount on new phone by trading in old ones
A new iPhone is expected to be introduced on September 10
(CNN) -- For the first time Apple stores will soon let iPhone owners trade in their old phones for credit toward a new one, according to multiple reports.
According to Apple-centric blog MacRumors, several sources say Apple store employees are currently being trained on the new program, which could go into effect around Apple's September 10 event, when new iPhones are expected to be introduced. That would let iPhone owners exchange their older handsets for an iPhone 5S, or whatever the new phone is called.
In June, Bloomberg quoted unnamed sources saying that Apple was working with recycling company Brightstar and that trade-ins could be refurbished by Apple and resold in emerging markets throughout the world.
During Apple's most recent earnings call, CEO Tim Cook said he was "not opposed" to in-store trade-ins.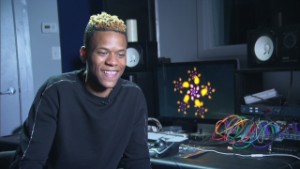 iPhone skill lands man a record deal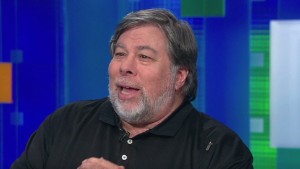 Wozniak on 'Jobs': The movie was flat
"I see channels doing it, and I like the environmental aspect of it, and so that part of it really is encouraging to me," he said. The "channels" he referred to are third-party vendors of Apple products, such as Best Buy, AT&T and Verizon.
The blog 9to5Mac says some Apple stores, including several in Dallas, Texas, already are running a limited pilot program.
According to the reports, people who bring in an older phone, like an iPhone 4 or iPhone 4S would get a gift card that could be applied to an iPhone 5. Presumably, the 5 would be added to the list of phones that can be traded in for a discount on the next iPhone.
It's not clear whether earlier models, such as an iPhone 3 or 3G, would be eligible for trade-ins, although given their limited resale value that seems unlikely.
Apple already has a similar mail-in rebate program. But the convenience of doing so in person, and walking out with a new phone instead of waiting for days or weeks, would be a big upgrade in terms of convenience.
If recent history is any guide, Apple's next iPhone will go on sale in mid- to late September and will likely to be called either the iPhone 6 or iPhone 5S. The company has not made an official announcement, but multiple observers expect Apple to announce the phone September 10 and begin selling it in stores about 10 days later.
The company has released a new iPhone model every year, and the release dates have all been in the summer or fall. The iPhone 5 came out in September 2012, the iPhone 4S in October 2011, and the three versions before that in the summer months.
The company is also rumored to be working on a cheaper version of the iPhone that would be sold in emerging markets. Other reports have speculated on features ranging from a larger, 4.7-inch display screen to a fingerprint scanner to an option to buy a gold iPhone.