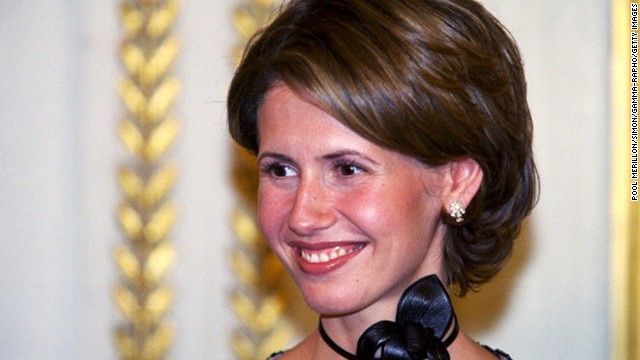 First lady of Syria Asma al-Assad attends an official dinner at Elysee Palace in Paris, on Jun 25, 2001. She grew up in London and has been married to Syrian President Bashar al-Assad for 13 years. She worked for JP Morgan as an investment banker before marrying Bashar in 2000, six months after he became president.
Syrian President Bashar al-Assad, right, and wife Amsa al-Assad, second from left, speak with the Spanish Queen Sofia and King Juan Carlos as they inaugurate the show "El Esplendor de los Omeyas Cordobeses," on May 3, 2001, in Cordoba, Spain.
The first lady arrives at No. 10 Downing Street in London to urge a peaceful solution to the Iraqi crisis, on December 16, 2002.
Asma al-Assad visits her former school, Queens College in central London, on December 17, 2002.
The first couple meets with Queen Elizabeth at Buckingham Palace in London, on December 17, 2002.
Bashar al-Assad and Asma al-Assad pose for photographers during their visit to Acropolis archaeological site in Athens, Greece, on December 15, 2003.
Al-Assad attends the first national childhood conference on February 8, 2004, in Aleppo, Syria. The first lady opened the conference with a speech on the status of children and called on parents to listen to their offspring and help them develop their full potential.
The first lady walks in downtown Beirut, Lebanon, on March 8, 2004.
Duchess Camilla speaks with Asma al-Assad in Damascus, Syria, on March 22, 2004.
The first lady attends an Arab women and war conference on March 8, 2004, in Beirut, Lebanon.
Al-Assad gets an honorary doctorate from Roberto Antonelli, the president of Rome's La Sapienza University, on October 20, 2004, in the Syrian city of Ebla.
Asma al-Assad and husband tour the Old City in Damascus with Turkish Prime Minister Recep Tayyip Erdogan and his wife Amina on December 22, 2004.
During a visit to Moscow's New Names Foundation, Asma al-Assad was awarded with an honorary doctorate on January 25, 2005.
The Syrian first lady waves under a portrait of her husband, right, and his late father, former President Hafez al-Assad, during the opening ceremony of the Syrian Special Olympics in Damascus, Syria, on May 15, 2006.
The Syrian first couple plant a jasmine bush in old Damascus on April 27, 2007.
In a ride for peace, Asma al-Assad, right, leads a pack of female bicyclists in the Ras Shamra area of Latakia in Syria on April 8, 2007.
Al-Assad smiles as she leaves the Istanbul Modern Museum in Turkey, on October 18, 2007. The day before her husband told reporters that the capital of Syria, Damascus, would back a possible Turkish incursion into northern Iraq to crack down "against terrorist activities" there. "We support the decisions the Turkish government has put on its agenda against terrorism and terrorist activities."
On the first day of the Eid al-Adha, Asma al-Assad visits a resident at a home for the elderly in Damascus, on December 19, 2007.
The Syrian first couple celebrate Orthodox Easter with orphans at the Mar Taqla convent in the village of Ma'loula, Syria, on April 27, 2008.
Asma al-Assad, left, chats with French Culture Minister Christine Albanel and Syrian artist Mustafa Ali on July 12, 2008, in Paris.
The first lady attends the opening of the Syrian abstract art exhibition in Damascus on July 21, 2008.
Al-Assad stands in the hull of a replica of a Phoenician ship being build on the Syrian island of Arwad, on July 19, 2008. The ship is handmade and is being constructed using the first materials utilized by Phoenicians who lived in the region. The ship was launched in August 2008, and carried historians and geographers from all over the world following the ancient trade route which started in Arwad. The ship then sailed across to Africa ending its trip in 2009 in Britain where she was put on display at a museum.
The first lady visits the Omayyad Mosque in Damascus, on October, 21, 2008.
Al-Assad plants trees with children during a tree planting campaign in Yafour, Syria, on December 5, 2009. Over 3,000 trees, including pine, cypress, linden and wild pear, were planted.
The first couple arrive in the capital of Tunis, Tunisia, on July 12, 2010.
During an athletics gathering in Damascus, al-Assad watches as a young person paints on September 5, 2010.
Syrian's first couple, left, and Bulgarian President Georgi Parvanov review an honor guard on November 9, 2010, during an official welcoming ceremony in Sofia, Bulgaria. It is the first visit to Bulgaria by a Syrian leader in 24 years.
Asma al-Assad, right, and husband Bashar sit at the Coupole restaurant in Paris on December 10, 2010.
The couple depart a Claude Monet exhibition on December 11, 2010, in Paris.
The first lady listens to a speech by her husband, during a rare public appearance in Damascus on January 11, 2012. Al-Assad vowed to defeat a "conspiracy" against Syria, a day after he blamed foreign interests for stoking months of deadly violence.
Asma al-Assad talks with families of the country's armed and security forces who were killed during the civil war in the capital. Her husband, Bashar al-Assad, set up a committee that will be in charge of taking care of all legal measures regarding families of Syrian troops killed in the fighting against rebels. According to a Syrian Presidency Facebook post on July 11, 2013.
Syria's first lady
Syria's first lady
Syria's first lady
Syria's first lady
Syria's first lady
Syria's first lady
Syria's first lady
Syria's first lady
Syria's first lady
Syria's first lady
Syria's first lady
Syria's first lady
Syria's first lady
Syria's first lady
Syria's first lady
Syria's first lady
Syria's first lady
Syria's first lady
Syria's first lady
Syria's first lady
Syria's first lady
Syria's first lady
Syria's first lady
Syria's first lady
Syria's first lady
Syria's first lady
Syria's first lady
Syria's first lady
Syria's first lady
Syria's first lady
Syria's first lady