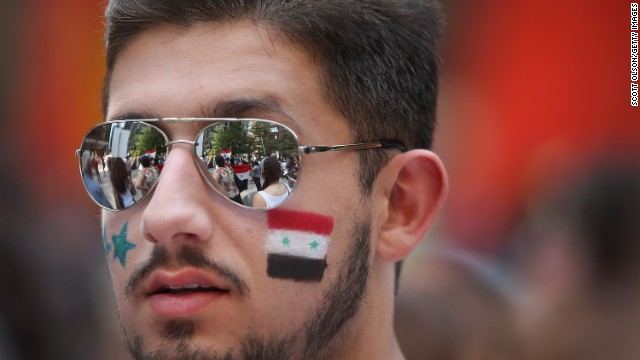 A protester demonstrates against potential U.S. intervention in Syria on Saturday, September 7, in Chicago. President Barack Obama has sought congressional approval to attack Syria in response to allegations that the Syrian regime had used chemical weapons on their own people.
People carry signs to protest U.S. intervention in Syria on September 7 in Chicago.
Indian students hold photographs during a protest against military intervention in Syria on Wednesday, September 4, in Hyderabad.
Demonstrators protest against military involvement in Syria outside the Houses of Parliament in London on Thursday, August 29. British Prime Minister David Cameron failed to secure Parliament's approval for military intervention in Syria. Western powers have debated the use of military force against Syria's government in response to a chemical weapons attack outside Damascus.
A Syrian-American supporter of Syrian President Bashar al-Assad participates in an anti-war rally in New York's Times Square on August 29.
Demonstrators, including former CIA analyst Ray McGovern, second from left, gather on the north side of the White House to protest possible U.S. military action against Syria on August 29.
A supporter of the Syrian regime demonstrates August 29 in Paris against possible Western military involvement in Syria.
Protesters rally in front of the U.S. Embassy in Athens, Greece, on August 29 against potential NATO military action and Greek involvement in Syria.
Palestinians, waving the Syrian and Palestinian national flags, demonstrate against possible Western military intervention in Syria in the West Bank city of Nablus on August 29.
A Ukrainian shouts anti-NATO slogans during a protest in support of the Syrian regime in Sevastopol, Ukraine, on August 29.
A protester stands outside Downing Street in London on Wednesday, August 28, to campaign against Western military intervention in Syria.
Protests against military action in Syria
Protests against military action in Syria
Protests against military action in Syria
Protests against military action in Syria
Protests against military action in Syria
Protests against military action in Syria
Protests against military action in Syria
Protests against military action in Syria
Protests against military action in Syria
Protests against military action in Syria
Protests against military action in Syria