U.S. beefs up security measures before possible military strike on Syria
September 1, 2013 -- Updated 1603 GMT (0003 HKT)
STORY HIGHLIGHTS
The FBI warns of a higher risk of cyber attacks
Hackers known as the Syrian Electronic Army have been blamed for recent disruptions
Iranian officials have warned that a U.S. attack on Syria could be met with retaliation
(CNN) -- U.S. authorities are tightening up domestic security measures ahead of a possible U.S. military attack on Syria.
The FBI and the Department of Homeland Security are warning of a higher risk of cyber attacks after months of similar disruptions by hackers known as the Syrian Electronic Army.
One such attack brought down the website of The New York Times in recent days, and authorities say more attacks are likely.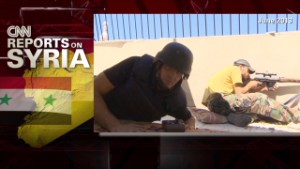 CNN reports from inside Syria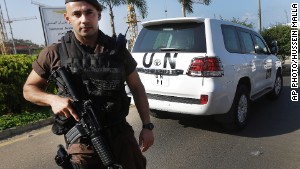 U.N. begins analysis of Obama decision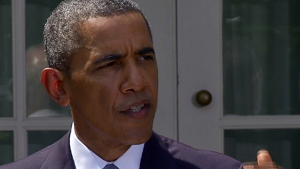 Analyst: Obama's authority now damaged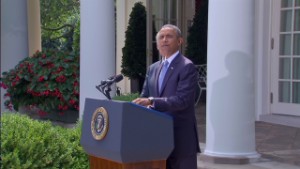 Dems, GOP react to Syria decision
Warnings from Iranian officials that any U.S. attack on Syria could be met with retaliation has also prompted warnings of possible terror threats in the United States or its interests abroad, U.S. law enforcement officials said.
FBI officials have asked agents around United States to focus on ongoing investigations related to Syria and the surrounding region, checking in with contacts and informants, and "redoubling their efforts," as one official said.
Iran and the Lebanese group Hezbollah have intervened in the 2-year-old Syrian civil war on the side of President Bashar al-Assad's regime. The United States has blamed al-Assad's regime for alleged chemical weapons attacks that have killed scores of civilians.
Hezbollah is known to have extensive fundraising operations inside the United States, and authorities often worry those assets could be used for terrorism.
Unlike previous U.S. military operations against Libya and Iraq, which prompted the FBI to conduct thousands of interviews with exiles living in the United States, FBI officials say the Syrian crisis isn't prompting such a move this time.
Instead, law enforcement officials say they are trying to focus on cases already under way and working to develop any new information that signals possible retaliation against the United States.
The Syrian diaspora in the United States amounts to fewer than 150,000 people with Syrian ancestry, according to 2010 U.S. Census estimates. Syrian immigrant communities in Pennsylvania, Illinois, New Jersey and elsewhere tend to be longstanding.

Part of complete coverage on
Syrian crisis
March 4, 2014 -- Updated 1328 GMT (2128 HKT)

Syria has submitted a revised proposal "that aims to complete the removal of all chemicals" from the country before the end of April.
February 18, 2014 -- Updated 1032 GMT (1832 HKT)

CNN's Arwa Damon reports on ISIS defector who says destroying ISIS as critical as defeating regime.
February 18, 2014 -- Updated 0353 GMT (1153 HKT)

The U.S. wants a United Nations resolution that will, among other things, bring humanitarian aid for refugees in Syria.
February 17, 2014 -- Updated 1259 GMT (2059 HKT)

When the radical Islamist militia ISIS arrived in the Syrian town of Addana a year ago, many welcomed them. What followed changed their minds.
February 17, 2014 -- Updated 1449 GMT (2249 HKT)

CNN obtained video clips from Syrian activists documenting the atrocities committed by members of the Islamic State in Iraq and Syria, known as ISIS.
February 18, 2014 -- Updated 2017 GMT (0417 HKT)

On Crossfire, Danielle Pletka discusses what the U.S. needs to do to resolve the Syria crisis.
February 6, 2014 -- Updated 0101 GMT (0901 HKT)

Her almond-shaped brown eyes shine through her sunken face as a doctor lifts her sweater to reveal a tiny rib cage pushing against her skin.
February 4, 2014 -- Updated 1746 GMT (0146 HKT)

The Zaatari refugee camp in Jordan is home to around 100,000 Syrian refugees. CNN spent several days meeting the residents of the camp.
January 22, 2014 -- Updated 1959 GMT (0359 HKT)

Renowned war crimes prosecutors and forensic experts have found "direct evidence" of "torture and killing" by the Assad regime.

Traumatized children who have witnessed the horrors of war are being helped to read -- and rebuild a normal life. CNN's Becky Anderson reports.
January 23, 2014 -- Updated 1207 GMT (2007 HKT)

A battle zone tour organized by the Syrian government for CNN and several other media outlets Wednesday was more than bizarre.
January 22, 2014 -- Updated 1735 GMT (0135 HKT)

CNN's Atika Shubert meets with the family of a little girl who was wounded in Syria, now living in a refugee camp.
January 27, 2014 -- Updated 1456 GMT (2256 HKT)

110 year old, Jabari Alawali walked for over 10 hours to reach Jordan from Syria.
Today's five most popular stories