STORY HIGHLIGHTS
Daniel Sturridge scores his fifth goal this season as Liverpool beats Manchester United
Liverpool is off to its best start in nearly 20 years and has yet to concede in the league
Manchester United played without striker Wayne Rooney, who was injured in training
Arsenal beat Tottenham 1-0 in the North London derby after a goal from Olivier Giroud
(CNN) -- When the English Premier League season began, Liverpool wasn't thought to be one of the title contenders.
The Reds might be changing the minds of a few after beating Manchester United, traditionally its fiercest rival, 1-0 at Anfield thanks to another goal from birthday boy Daniel Sturridge.
Liverpool owns a perfect 3-0 record in the league -- its best start in nearly 20 years -- and has yet to concede.
And this without still suspended forward Luis Suarez.
"I think we've been working hard as a team since the start of the season," Sturridge, who turned 24, told Sky Sports. "In pre-season the manager emphasized that.
"It's about the team, not about individuals, and it's showing on the field the dedication we've put in on the training ground."
Sturridge reacted quickest to Daniel Agger's headed flick off a corner kick in the fourth minute Sunday and Liverpool was mostly comfortable thereafter.
New keeper Simon Mignolet was indeed rarely tested despite United having most of the possession, with United striker Robin van Persie squandering his team's top chance in the dying minutes.
"It is a great win for our belief," Liverpool manager Brendan Rodgers was quoted as saying by the BBC. "Last season we drew too many of the big games and we lost both times to Manchester United."
The visitors' cause wasn't helped beforehand when Wayne Rooney was ruled out after suffering a head injury in training. He is set to miss England's upcoming World Cup qualifiers.
Sturridge could be the man to fill the void in the starting lineup, already netting five times in all competitions, although he continues to carry a slight thigh injury.
While Liverpool has started the campaign strong, Manchester United fell to one win, one loss and one draw under new manager David Moyes.
"I thought we played really well," Moyes was quoted as saying by the BBC. "We had long periods of the game but couldn't score."
The slow start will likely increase Moyes' desire to land a new player or two ahead of Monday's transfer deadline in England.
United has been quiet in the market in the off-season, thus far failing to lure midfielder Cesc Fabregas away from Barcelona. A bid for Everton pair Leighton Baines and Marouane Fellaini was also rejected.
"We will keep working for what's left of the window but I've got to say I was really happy with the performance here," Moyes said. "Maybe in the next few hours we will get a chance to do something but we couldn't give you a heads-up on anything."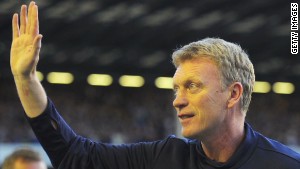 Man United names Moyes as new manager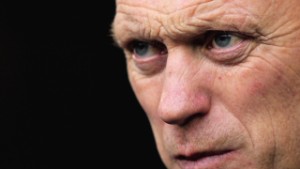 McClaren: Moyes was the right choice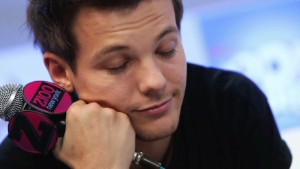 A new direction for boy band singer?
There was a minute's applause for legendary Liverpool manager Bill Shankly on the eve of what would have been his 100th birthday and the atmosphere seemed to lift the home side.
Agger beat United defender Rio Ferdinand to the ball on the corner and then Sturridge poked it into the net with his head.
"I just anticipated the header from Dan," said Sturridge.
Unable to create much going forward, United's frustration grew and van Persie exchanged angry words with Steven Gerrard.
Mignolet was comfortable in keeping out Nani's drive in the 77th minute and then van Persie shot wide -- with his right foot -- from a tight angle off Javier Hernandez's through ball in the 87th.
Another hot striker
Sturridge isn't the only hot striker in the Premier League.
Olivier Giroud matched him by scoring for the third straight time in the league and Arsenal blanked a Tottenham without Gareth Bale 1-0 at the Gunners' Emirates Stadium.
Giroud, bought last year to help fill the void created by van Persie's move to United, converted Theo Walcott's low cross in the 23rd minute.
Both keepers had to be sharp in an open North London derby but especially Tottenham's Hugo Lloris, who denied Walcott and Giroud.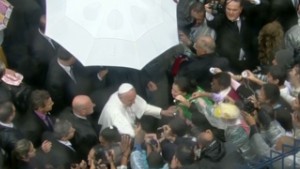 Pope walks among followers in Brazil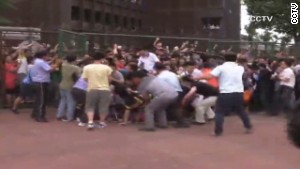 Beckham appearance causes stampede
Tottenham poured forward in a frantic finish, though couldn't find an equalizer.
Spurs and Arsenal now have identical records in the league at two wins and a loss.
While Tottenham has made seven signings this summer in anticipation of Bale's probable transfer to Real Madrid, Arsenal has merely brought in two free transfers even with ample funds available.
Manager Arsene Wenger, however, hinted it could be a busy Monday.
"Maybe we'll have a good surprise for you," he told Sky Sports. "We're working very hard."
In the lone other game in the Premier League, Swansea recorded its first league win by downing still-winless West Bromwich Albion 2-0 away.
French striker Nicolas Anelka returned for West Brom after taking time off due to the death of his agent.