What Beijing looks like on a gloriously clear day
September 2, 2013 -- Updated 0147 GMT (0947 HKT)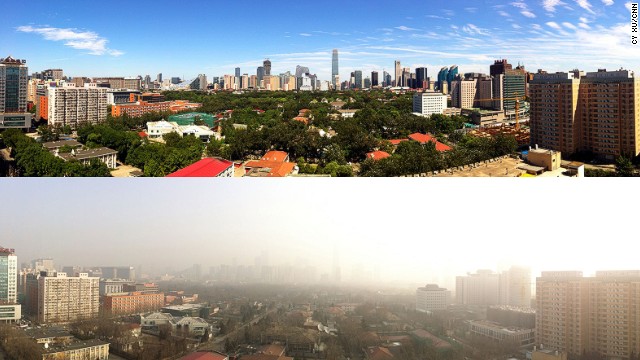 Beijing's smog has been particularly horrendous this year. Clear days like this one are photo-celebration worthy. Check out the contrast between the good days and the bad.
Even in Beijing, glorious days like this one come along once in a while. All photos in this gallery were taken August 29.
It's uncommon to be able to see buildings in the distance through the usual smog.
Travelers to Beijing this year will marvel at the clear skies in this photo.
Last July, China unveiled The Action Plan for Air Pollution Control (2013--2017), which calls for 1.7 trillion yuan ($230 billion) to be spent in air pollution controls over the next five years.
Cleaner air will mean the return of travelers who were put off by the city's bad air this year.
What the Great Wall should look like every day.
One of the main reasons for the city's pollution is the geography, as the city is surrounded by mountains like a horseshoe, which means pollution gets blown in, builds up and remains stagnant over the capital on windless days.
In addition to the government, the number of institutions and individuals looking for a solution is increasing.
On certain days in Beijing, people can barely see or breathe.
Quick, grab your cameras
One fine day
The sad truth
Rare sight
About time
To more transparency
To the top
Blame it on the geography
Finding a solution
Longing for clear skies
STORY HIGHLIGHTS
Beijing's smog has been particularly bad this year
China's Action Plan for Air Pollution Control calls for $230B to be spent on pollution controls
The rare clear day provokes a frenzy of picture taking in the capital
(CNN) -- It is not uncommon to see tourists and residents in Beijing frequently check their smartphones and laptops to get the city's latest air quality readings, such is the problem with pollution.
This year has been particularly bad as the Chinese capital has been blanketed by smog on most days. The gritty, dangerous air has shrouded buildings and caused flights delays.
To be fair, it is not always doom and Beijing-style gloom -- the city does enjoy good days too, as the gallery above shows.
Read: Beijing pollution: Does it put you off traveling there?
But these better days seem few and far between. Recent data from measurements of particulates in the air, indicated levels fluctuating between "very unhealthy" and "hazardous," according to the US Embassy's Beijing Air, an air-quality monitoring apps.
On a few occasions the numbers were so bad they were deemed "beyond index."
Taking action
In July, China unveiled The Action Plan for Air Pollution Control (2013--2017), which calls for 1.7 trillion yuan ($230 billion) to be spent on air pollution controls over the next five years.
In a separate initative, to help reduce smog, Beijing will begin testing a new automobile pollution tax this year, the first Chinese city to do so.
The pollution tax will be collected at the city's gas stations and will be added on to the standard gas prices. Beijing is also adding more than 1,000 electric taxis this year.
These measures may not be nearly enough, but they're still music to the ears of Beijing's 17 million residents who have been spluttering in the city's bad air.
Read: Living with Beijing's 'air-pocalypse'

Today's five most popular stories
Part of complete coverage on
November 16, 2014 -- Updated 2326 GMT (0726 HKT)

Take a trip to the Chinese town that has more relics than people.
November 13, 2014 -- Updated 1742 GMT (0142 HKT)
You know about reggae and Usain Bolt -- but you probably aren't aware of these other Jamaican superlatives.
November 14, 2014 -- Updated 1152 GMT (1952 HKT)

Artist creates brilliant tribute to Dutch impressionist painter -- a cycle route that glows in the dark
November 14, 2014 -- Updated 0633 GMT (1433 HKT)

European airlines beware: These 320kph trains are upping the travel game with roomy seats and onboard wi-fi.
November 24, 2014 -- Updated 0819 GMT (1619 HKT)

For such a relatively small collection of islands, the UK packs in an phenomenal range of beautiful scenery.
November 12, 2014 -- Updated 2237 GMT (0637 HKT)

Rovos Rail's epic trips out of South Africa pamper passengers with fine dining, vintage comfort and even a bathtub.
November 18, 2014 -- Updated 0137 GMT (0937 HKT)

Self-taught Iranian photographer gains rare access to shoot religious buildings as they've never been seen.
November 11, 2014 -- Updated 0345 GMT (1145 HKT)

The subject of erotica has a way of making people uncomfortable.
November 7, 2014 -- Updated 0037 GMT (0837 HKT)

UK's Heathrow Airport pairs destinations with fragrances to evoke long distance travel. We do too.
November 6, 2014 -- Updated 2100 GMT (0500 HKT)

Bumper cars, a freefall simulator and robot bartenders are just a few of the cool features on Royal Caribbean's new Quantum of the Seas.
November 2, 2014 -- Updated 2258 GMT (0658 HKT)

Up in the mountains and across deep chasms, these bridges are both spectacular and terrifying.