Fukushima radiation levels spike, company says
September 2, 2013 -- Updated 1030 GMT (1830 HKT)
STORY HIGHLIGHTS
TEPCO found high radiation readings Saturday
It said the highest levels measured were so-called beta radiation
(CNN) -- There's been a sharp spike in radiation levels measured in the pipes and containers holding water at the crippled Fukushima Daiichi nuclear plant in Japan.
But the company in charge of cleaning it up says that only a single drop of the highly contaminated water escaped the holding tanks.
Tokyo Electric Power Company said it is confident it can provide safety for workers dealing with the problem.
"We will find out the cause of this issue and make proper counter measures immediately, and continue to make every effort to secure safety of workers," the company said in a statement released Sunday.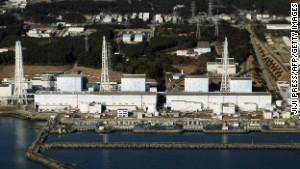 How dangerous is Japan's nuclear leak?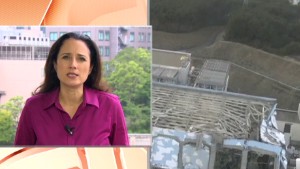 Fukushima plant 'house of horrors'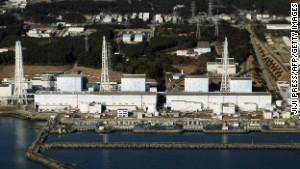 How dangerous is Japan's nuclear leak?
TEPCO found high radiation readings at the contaminated water storage tanks and pipe Saturday. The four locations are the bottom of three tanks and a pipe connecting tanks in separate area.
The highest reading as 1800 millisieverts per hour at the bottom fringe of the tank. 220 and 70 mSv were measured at the bottom of other two tanks. And TEPCO said they found a dried stain under the pipe with 230 mSv/h radiation measurement.
One drop of liquid fell when a staff member pressed on insulation material around the pipe. But TEPCO said no contaminated water leak is expected as there were no change in the water level in tanks.
The enormous tanks are identical to the container that was announced last week to have leaked 300 tons of highly toxic water and sparking a hike to the threat level to "serious."
TEPCO will investigate the cause and look further if there were any leakage.
But TEPCO also took issue with reporting by some news outlets that the new radiation levels were high enough to cause death after several hours of exposure.
It said the highest levels measured were so-called beta radiation, which quickly dissipates over short distances and is easily shielded through the use of thin sheets of metal and foil.
"Since beta radiation is weak and can be blocked by a thin metal sheet such as aluminum, we think that we can control radiation exposure by using proper equipments and cloths," the company added.
Why Fukushima is worse than you think
TEPCO looks for outside help to stabilize Fukushima
Fukishima tuna study finds miniscule health risks

Part of complete coverage on
December 12, 2013 -- Updated 1819 GMT (0219 HKT)

The sign language interpreter widely ridiculed for his performance at the Nelson Mandela memorial stands by his work.
December 12, 2013 -- Updated 1456 GMT (2256 HKT)

Behind the scenes in Cambodian karaoke bars -- a common front for child prostitution.
December 12, 2013 -- Updated 0446 GMT (1246 HKT)

A global risk firm surveys the most politically explosive countries.
December 12, 2013 -- Updated 1801 GMT (0201 HKT)

It's the battle of the tech titans. No, not Apple versus Samsung. Sony has gone head-to-head with Microsoft.
December 12, 2013 -- Updated 1509 GMT (2309 HKT)

On Tuesday, I was free. On Wednesday, I became a criminal. India's high court just made being gay illegal, writes Tushar Malik.
December 12, 2013 -- Updated 1046 GMT (1846 HKT)

A Japanese actor says playing villians in Chinese films has helped the China-Japan divide. CNN's Ivan Watson reports.
December 12, 2013 -- Updated 1612 GMT (0012 HKT)

New skyscraper-sized gas plant is the biggest thing on the waves.
December 11, 2013 -- Updated 1524 GMT (2324 HKT)

Pope Francis is Time's person of the year. His papacy has drawn adulation from people around the world for his man-of-the-people ways.

He was imprisoned for life but that did not quiet him. Nelson Mandela became South Africa's first black president, and an icon and inspiration.
December 12, 2013 -- Updated 1205 GMT (2005 HKT)

Turning 50 is a major milestone in a person's life -- and a country's history.
December 12, 2013 -- Updated 1907 GMT (0307 HKT)

Browse through images you don't always see in news reports, taken by CNN teams all around the world.

Today's five most popular stories