Miley Cyrus breaks her silence about VMA performance
September 4, 2013 -- Updated 1113 GMT (1913 HKT)
STORY HIGHLIGHTS
Miley Cyrus speaks out on her controversial performance
She said it's to be expected at the MTV Video Music Awards
Cyrus said the public is thinking about it more than she did
(CNN) -- Miley Cyrus has a message for the haters: You are overthinking it.
The singer has broken her silence regarding the MTV Video Music Awards performance that set tongues wagging (and some other parts shaking as folks tried to imitate her twerking).
Cyrus, in an interview feature on that network's site, said she doesn't "pay attention to the negative."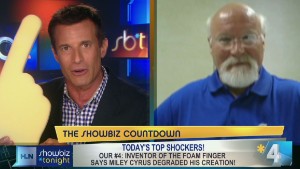 Foam finger inventor upset with Miley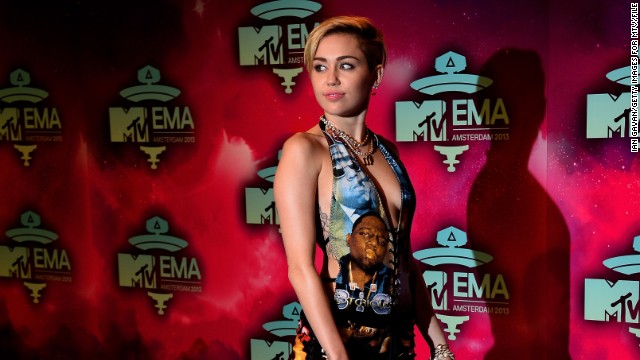 Miley Cyrus became a household name for families when her Disney Channel television show, "Hannah Montana," premiered in 2006. From there, Cyrus quickly rose to pop star fame and has been changing her appearance ever since.
The future pop star with her father, Billy Ray Cyrus, in October 1994 in Memphis, Tennessee.
The father and daughter team make a New York appearance for the Disney Channel in February 2006.
Cyrus performs during the Radio Disney Totally 10 Birthday Concert in July 2006 in Anaheim, California.
Cyrus chats with VJ Susie Castillo during an appearance on MTV's Total Request Live in February 2007 at MTV Studios in New York City.
Cyrus starred with Emily Osmand in an episode of "Hannah Montana" in June 2007.
Cyrus appears at the 2007 American Music Awards in Los Angeles.
The actress arrives at the Teen Vogue Young Hollywood Party at Vibiana in September 2007 in Los Angeles.
Cyrus arrives at a film premiere in Hollywood in January 2008.
Cyrus performs for ABC's "Good Morning America" at New York's Bryant Park in July 2008.
Cyrus appears at the Nickelodeon Kids' Choice Awards in Westwood, California, in 2009.
Cyrus performs during her "Wonder World" tour at Nassau Veterans Memorial Coliseum in November 2009 in Uniondale, New York.
Cyrus and her mother, Tish Cyrus, at the 52nd Annual Grammy Awards in January 2010 in Los Angeles.
Cyrus impersonates singer Justin Bieber in a Saturday Night Live skit with Vanessa Bayer in March 2011.
Cyrus performs at a music festival in June 2010 in Arganda del Rey, Spain.
Cyrus and Liam Hemsworth arrive at the 2012 People's Choice Awards at the Nokia Theatre L.A. Live in January 2012 in Los Angeles.
The singer arrives at the 2012 Billboard Music Awards in Las Vegas in May 2012.
Cyrus poses on the red carpet for the MTV Video Music Awards in Los Angeles in September 2012.
The grown-up Cyrus performs during the "VH1 Divas" concert in Los Angeles in December 2012.
Cyrus attends the Costume Institute Gala for the "PUNK: Chaos to Couture" exhibition at the Metropolitan Museum of Art on May 6 in New York City.
Cyrus winks during an interview at a radio station in Bad Vilbel near Frankfurt, Germany, on July 22.
Cyrus shows off her moves with Robin Thicke during the 2013 MTV Video Music Awards in Brooklyn, New York, on Sunday, August 25.
Cyrus is seen leaving her London hotel on September 11.
Cyrus performs onstage during the iHeart Radio Music Festival Village on September 21 in Las Vegas.
Taran Killam and Cyrus pose in a promo for her upcoming "Saturday Night Live" episode on October 5.
Bobby Moynihan, left to right, Vanessa Bayer and Cyrus perform a skit on "Saturday Night Live" on October 5, in which they mock Cyrus' VMA performance.
Cyrus smokes a marijuana joint onstage during the MTV Europe Music Awards in Amsterdam, Netherlands, on November 10.
Cyrus performs on the European competition show "The X Factor" in London on November 17.
Cyrus opens her Bangerz Tour on February 14, 2014 in Vancouver, Canada. The stage features a giant image of Cyrus' face with her signature exposed tongue serving as a slide.
Cyrus performs with false teeth during her Bangerz Tour at Rogers Arena on February 14, 2014 in Vancouver, Canada.
Cyrus rides an oversized hotdog during the Bangerz Tour opening concert in Vancouver, Canada.
Miley performs a racy number atop a car during her Bangerz Tour at Honda Center on February 20, 2014 in Anaheim, California.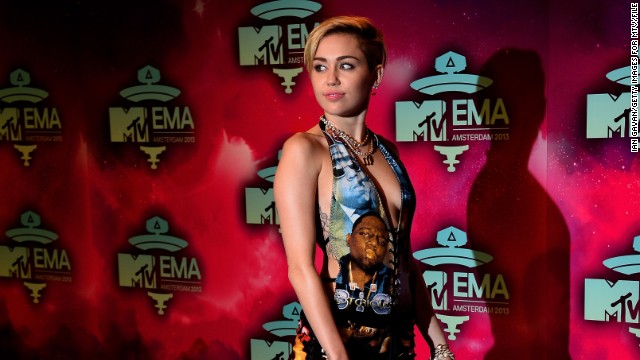 Photos: Evolution of Miley Cyrus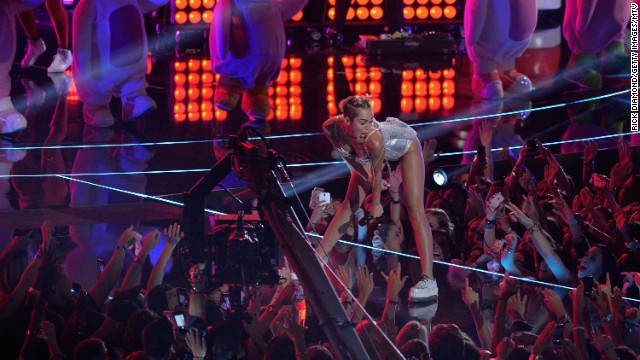 Miley Cyrus stunned the crowd at the Barclays Center in Brooklyn, New York, at the 2013 MTV Video Music Awards on Sunday, August 25. Cyrus' "We Can't Stop" performance featured her now-signature twerking and a crotch grab or two. After she donned the fuzzy gray leotard pictured here ...
... Miley Cyrus stripped down to a flesh-toned bra and panties while Robin Thicke performed "Blurred Lines" with 2 Chainz and Kendrick Lamar.
On receiving the Michael Jackson Video Vanguard Award, Justin Timberlake took the VMAs audience back in time through his jams, from his new single "Take Back the Night" to "SexyBack" and "Cry Me a River." And then ...
... 'N Sync "surprised" the crowd when the group reunited on stage. It was only a brief interlude during JT's performance, but it was awesome to see (from left) Lance Bass, JC Chasez, Joey Fatone and Chris Kirkpatrick making beautiful music together again.
Drake performed "Hold On, We're Going Home" and "Started From the Bottom."
Bruno Mars took to the VMAs stage in a leopard print button-down and performed his new single "Gorilla" among laser beams and bursts of fire.
After being introduced by NBA player Jason Collins and A$AP Rocky, Macklemore and Ryan Lewis performed their same-sex marriage equality song "Same Love" with Mary Lambert.
Kanye West performed a stirring rendition of "Blood on the Leaves" in silhouette, against a backdrop of Steve McQueen's "Lynching Tree."
Lady Gaga returned to the VMAs stage for the first time in two years. She opened the show with her new single "Applause," featuring the singer's requisite multiple costume and hair changes, starting with this conceptual get-up ...
... and ending in a sea-shell bra and flower-festooned thong.
Katy Perry was ready to rumble while playing her chart-topping single "Roar" under the Brooklyn Bridge. The song closed out the VMAs.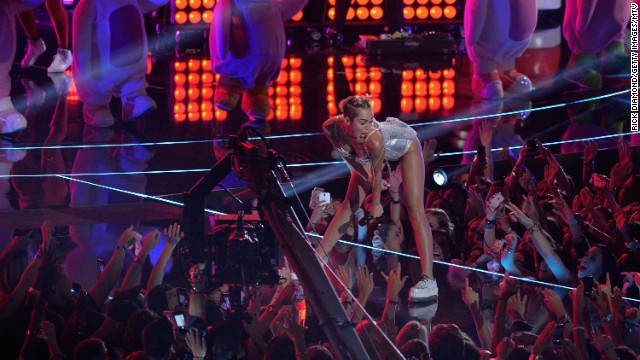 2013 VMAs: Performances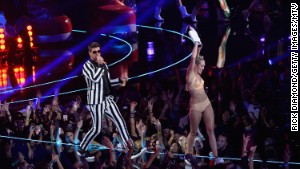 Why we can't stop talking about Miley
"Me and Robin (Thicke) the whole time said, 'You know we're about to make history right now,' " Cyrus said in a clip provided to MTV.
Cyrus' dance routine and provocative outfit were the talk of the VMAs, and the former child star is fully aware they have garnered her what most celebs covet -- the public's attention.
Opinion: Miley is sexual, get over it
She points out in the clip that what she did is nothing new.
Let's not let Robin Thicke off the hook
"How many times have we seen this play out in pop music?" Cyrus asked. "Madonna's done it, Britney's done it. Every VMA performance. Anyone that performs, that's what you're looking for. You are wanting to make history."
Miley Cyrus upholds MTV VMA tradition
She goes on to say in the clip, which was reportedly recorded three days after the performance, that it's amazing how much buzz the whole thing has garnered.
"You are thinking about it more than I thought about it when I did it," Cyrus said. "I didn't even think about it when I did it because that's just me."
There's something (potentially dangerous) about molly

Part of complete coverage on
August 20, 2014 -- Updated 2031 GMT (0431 HKT)

The beheading of U.S. journalist James Foley by ISIS militants brings into focus the risks faced by reporters in conflict zones.
August 20, 2014 -- Updated 1219 GMT (2019 HKT)

In an exclusive CNN interview, Lance Armstrong admits to having a "f**k you" attitude.
August 19, 2014 -- Updated 0858 GMT (1658 HKT)

Summer isn't over yet. These new hotels are keeping it alive and fresh.
August 20, 2014 -- Updated 1535 GMT (2335 HKT)

You've seen her turn on the catwalk, but her income might make your head spin.
August 20, 2014 -- Updated 0036 GMT (0836 HKT)

The pain that Michael Brown's parents are going through is something Sybrina Fulton can relate to. She, too, lost a son in a controversial shooting.
August 19, 2014 -- Updated 0904 GMT (1704 HKT)

19-year-old Udi Segal explains why he won't join the country's military.
August 20, 2014 -- Updated 1758 GMT (0158 HKT)

The sights couldn't be sadder: Animals killed or suffering through war in Gaza.
August 18, 2014 -- Updated 1314 GMT (2114 HKT)

They are the faces of a community on the run. Photographer Warzer Jaff documents the plight of the Yazidis.
August 19, 2014 -- Updated 1150 GMT (1950 HKT)

A cameraman films a massive New York City subway rat charging at him and attacking him. WPIX reports.

Drinkers guzzled an incredible 10.3 billion liters of this brand in 2013, making it the world's No.1 beer. And you may have never heard of it.

CNN joins the fight to end modern-day slavery by shining a spotlight on its horrors and highlighting success stories.

Browse through images from CNN teams around the world that you don't always see on news reports.

Today's five most popular stories