Stranger pays for 'special' family's dinner, leaves touching note
September 4, 2013 -- Updated 1741 GMT (0141 HKT)
STORY HIGHLIGHTS
Ashley England was having a difficult time with her special needs son at a restaurant
A stranger paid for their meal and left a note that touched her deeply
She posted the note on Facebook, and it has been shared by thousands
(CNN) -- A dinner out turned into an experience of a lifetime for a North Carolina family thanks to one stranger's heartfelt gesture.
Ashley England and her family want to thank a customer who paid for their meal Friday night and left behind a touching note about their special needs son. A photo of the note has gone viral, shared with thousands of people on Facebook.
England told CNN her family, including husband, Jason, 8-year-old son Riley, 4-year-old brother Logan, the boys' grandmother and their great-grandmother were together at the Stag & Doe restaurant in China Grove, North Carolina, for a family meal when their special needs son, Riley, started to get frustrated. He was hungry and couldn't get the Netflix on his mom's phone to work.
The waitress, the autistic girl and the broken hamburger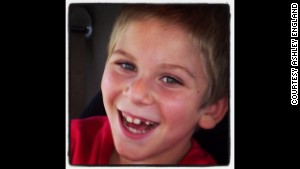 Riley, 8, suffers from epilepsy and is non-verbal.
Since Riley suffers from epilepsy and is non-verbal, England said, it's hard for him to communicate and he screams and acts out when he's frustrated. England said he started to make screaming noises, beat on their table and threw her phone, catching the attention of some nearby customers.
Although a few customers were looking, it wasn't the worst experience her family has had out in public since Riley's condition was diagnosed when he was a toddler, England said. But she was frustrated, she said, and in the past few weeks it has been really tough controlling Riley's behavior.
So what happened next was just what the family needed.
Autism, dining out and a side of kindness
As their waitress was delivering food to the family's table, England noticed another waitress, Tonya Griffin, walk up with a few tears in her eyes. She passed along a message from another customer that the England family says they will never forget.
Griffin told the family, "your meal's been paid for and he wanted me to give you this note." The note written on a customer's order slip read, "God only gives special children to special people."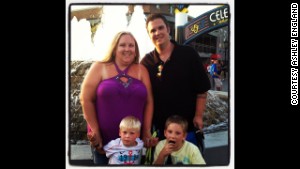 The England family.
England told CNN the gesture was really needed and it made her cry. "I just broke down, the past month has just been so hard."
She added, "He just doesn't know what we've been going through and how much it was needed at the moment."
When England updated her Facebook page about the family's experience Friday night, she ended it with this message: "Dear stranger, thank you for giving me a blessing tonight in a way you will never know."
England says she will be back at the restaurant when it reopens Wednesday -- its hours are 4 to 10 p.m. Wednesday through Saturday -- in hopes she can find the man to thank him personally.
Canadians paying the coffee forward -- by the hundreds

Part of complete coverage on
March 11, 2014 -- Updated 0753 GMT (1553 HKT)

Until clearer information comes to light, here's a summary of what we know, and what we don't.
March 11, 2014 -- Updated 0403 GMT (1203 HKT)

Turns out it's not as hard as you think to board a plane with a stolen passport.
March 10, 2014 -- Updated 1923 GMT (0323 HKT)

Was it a bomb? Mechanical failure? A hijacking gone awry? Pilot error? Here are four scenarios that aviation experts are discussing.
March 10, 2014 -- Updated 0300 GMT (1100 HKT)

Aaron Miller says even those with little knowledge of Ukraine should spot the myths we've heard.
March 10, 2014 -- Updated 2214 GMT (0614 HKT)

The father of Sandy Hook Elementary School shooter Adam Lanza said his son would have killed him if he'd had the opportunity.

Track star Oscar Pistorius is accused of killing his girlfriend, Reeva Steenkamp. Follow live updates of South Africa's trial of the century.
March 10, 2014 -- Updated 1342 GMT (2142 HKT)

Too lazy to have a shower? Worry no more, there's a lotion for that.
March 10, 2014 -- Updated 0500 GMT (1300 HKT)

A man-eating tiger is sparking terror in India, having killed at least 10 people in 6 weeks. Sumnima Udas reports.
March 11, 2014 -- Updated 0204 GMT (1004 HKT)

Just call it the Fake Leap Forward.
March 10, 2014 -- Updated 0156 GMT (0956 HKT)

There are five kinds of online user review -- and four of them are almost completely worthless.
March 11, 2014 -- Updated 0656 GMT (1456 HKT)

Browse through images you don't always see on news reports from CNN teams around the world.

What we commonly call the Web is really just the surface. Beneath that is a vast, mostly uncharted ocean called the Deep Web.

Today's five most popular stories