Stranger pays for 'special' family's dinner, leaves touching note
September 4, 2013 -- Updated 1741 GMT (0141 HKT)
STORY HIGHLIGHTS
Ashley England was having a difficult time with her special needs son at a restaurant
A stranger paid for their meal and left a note that touched her deeply
She posted the note on Facebook, and it has been shared by thousands
(CNN) -- A dinner out turned into an experience of a lifetime for a North Carolina family thanks to one stranger's heartfelt gesture.
Ashley England and her family want to thank a customer who paid for their meal Friday night and left behind a touching note about their special needs son. A photo of the note has gone viral, shared with thousands of people on Facebook.
England told CNN her family, including husband, Jason, 8-year-old son Riley, 4-year-old brother Logan, the boys' grandmother and their great-grandmother were together at the Stag & Doe restaurant in China Grove, North Carolina, for a family meal when their special needs son, Riley, started to get frustrated. He was hungry and couldn't get the Netflix on his mom's phone to work.
The waitress, the autistic girl and the broken hamburger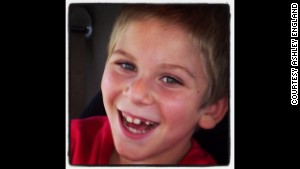 Riley, 8, suffers from epilepsy and is non-verbal.
Since Riley suffers from epilepsy and is non-verbal, England said, it's hard for him to communicate and he screams and acts out when he's frustrated. England said he started to make screaming noises, beat on their table and threw her phone, catching the attention of some nearby customers.
Although a few customers were looking, it wasn't the worst experience her family has had out in public since Riley's condition was diagnosed when he was a toddler, England said. But she was frustrated, she said, and in the past few weeks it has been really tough controlling Riley's behavior.
So what happened next was just what the family needed.
Autism, dining out and a side of kindness
As their waitress was delivering food to the family's table, England noticed another waitress, Tonya Griffin, walk up with a few tears in her eyes. She passed along a message from another customer that the England family says they will never forget.
Griffin told the family, "your meal's been paid for and he wanted me to give you this note." The note written on a customer's order slip read, "God only gives special children to special people."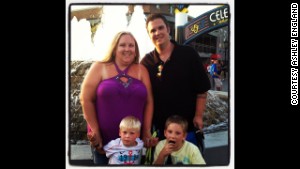 The England family.
England told CNN the gesture was really needed and it made her cry. "I just broke down, the past month has just been so hard."
She added, "He just doesn't know what we've been going through and how much it was needed at the moment."
When England updated her Facebook page about the family's experience Friday night, she ended it with this message: "Dear stranger, thank you for giving me a blessing tonight in a way you will never know."
England says she will be back at the restaurant when it reopens Wednesday -- its hours are 4 to 10 p.m. Wednesday through Saturday -- in hopes she can find the man to thank him personally.
Canadians paying the coffee forward -- by the hundreds

Part of complete coverage on
September 3, 2014 -- Updated 0145 GMT (0945 HKT)

ISIS has published a video titled "A second message to America," showing the beheading of American journalist Steven Sotloff.
September 2, 2014 -- Updated 0135 GMT (0935 HKT)

Three Americans detained in North Korea spoke out about their conditions and pleaded for U.S. help in interviews with CNN.

Hundreds of jihadis in Syria are from abroad -- which countries have the biggest problem?
September 1, 2014 -- Updated 1951 GMT (0351 HKT)

CNN attends a funeral where mourners keep their distance.
September 1, 2014 -- Updated 0913 GMT (1713 HKT)

Libyan militia members have apparently turned the abandoned U.S. Embassy in Tripoli, Libya, into a water park.
September 1, 2014 -- Updated 1126 GMT (1926 HKT)

A few miles south of the town of Starobeshevo in eastern Ukraine, a group of men in uniform is slumped under a tree.
September 2, 2014 -- Updated 0125 GMT (0925 HKT)

Beijing says only candidates approved by a nominating committee can run for Hong Kong's chief executive, prompting criticism.
August 29, 2014 -- Updated 0823 GMT (1623 HKT)

He should be toddling around a playground. Instead, his tiny hands grip an AK-47.
August 27, 2014 -- Updated 0023 GMT (0823 HKT)

Wilson Raj Perumal tells CNN how he rigged World Cup games: "I was giving orders to the coach."
September 2, 2014 -- Updated 1221 GMT (2021 HKT)

In a major breach of privacy, a hacker leaked a series of pictures allegedly showing Jennifer Lawrence and other female celebrities in the nude.

According to the International Labour Organization, there are 168 million child laborers around the world.

Browse through images from CNN teams around the world that you don't always see on news reports.

Today's five most popular stories