Stranger pays for 'special' family's dinner, leaves touching note
September 4, 2013 -- Updated 1741 GMT (0141 HKT)
STORY HIGHLIGHTS
Ashley England was having a difficult time with her special needs son at a restaurant
A stranger paid for their meal and left a note that touched her deeply
She posted the note on Facebook, and it has been shared by thousands
(CNN) -- A dinner out turned into an experience of a lifetime for a North Carolina family thanks to one stranger's heartfelt gesture.
Ashley England and her family want to thank a customer who paid for their meal Friday night and left behind a touching note about their special needs son. A photo of the note has gone viral, shared with thousands of people on Facebook.
England told CNN her family, including husband, Jason, 8-year-old son Riley, 4-year-old brother Logan, the boys' grandmother and their great-grandmother were together at the Stag & Doe restaurant in China Grove, North Carolina, for a family meal when their special needs son, Riley, started to get frustrated. He was hungry and couldn't get the Netflix on his mom's phone to work.
The waitress, the autistic girl and the broken hamburger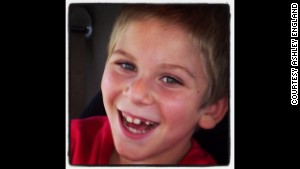 Riley, 8, suffers from epilepsy and is non-verbal.
Since Riley suffers from epilepsy and is non-verbal, England said, it's hard for him to communicate and he screams and acts out when he's frustrated. England said he started to make screaming noises, beat on their table and threw her phone, catching the attention of some nearby customers.
Although a few customers were looking, it wasn't the worst experience her family has had out in public since Riley's condition was diagnosed when he was a toddler, England said. But she was frustrated, she said, and in the past few weeks it has been really tough controlling Riley's behavior.
So what happened next was just what the family needed.
Autism, dining out and a side of kindness
As their waitress was delivering food to the family's table, England noticed another waitress, Tonya Griffin, walk up with a few tears in her eyes. She passed along a message from another customer that the England family says they will never forget.
Griffin told the family, "your meal's been paid for and he wanted me to give you this note." The note written on a customer's order slip read, "God only gives special children to special people."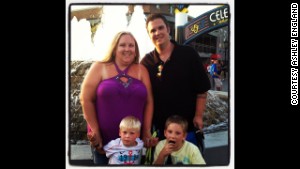 The England family.
England told CNN the gesture was really needed and it made her cry. "I just broke down, the past month has just been so hard."
She added, "He just doesn't know what we've been going through and how much it was needed at the moment."
When England updated her Facebook page about the family's experience Friday night, she ended it with this message: "Dear stranger, thank you for giving me a blessing tonight in a way you will never know."
England says she will be back at the restaurant when it reopens Wednesday -- its hours are 4 to 10 p.m. Wednesday through Saturday -- in hopes she can find the man to thank him personally.
Canadians paying the coffee forward -- by the hundreds

Part of complete coverage on
December 5, 2013 -- Updated 1625 GMT (0025 HKT)

Mohammed Jamjoon interviews the American performer who stunned the Arab world by singing in Arabic.
December 5, 2013 -- Updated 1532 GMT (2332 HKT)

"Sometimes it just takes one incident to galvanize a society," says CNN's Sumnima Udas.
December 5, 2013 -- Updated 1426 GMT (2226 HKT)

Drones hover like a bee, flap like a bird and bounce like a ball. These awesome flying robots are taking unmanned flight in new directions.
December 5, 2013 -- Updated 1225 GMT (2025 HKT)

The mysterious "catacomb saints" were venerated by the Catholic Church and encrusted with gold and jewels -- before disappearing for centuries.
December 5, 2013 -- Updated 1228 GMT (2028 HKT)

A report in 1972 made the initial connection between cannabis and gynecomastia, otherwise known as "man boobs."
December 5, 2013 -- Updated 1315 GMT (2115 HKT)

The KAZA conservation area is working to make it easier to cross borders.
December 5, 2013 -- Updated 1256 GMT (2056 HKT)

He started his first business venture with capital of just $200 but today, he is one of Liberia's most prominent businessmen.
December 5, 2013 -- Updated 0009 GMT (0809 HKT)

North Korea is showing no signs of scaling back its fearsome labor camp system, says human rights group Amnesty International.
December 5, 2013 -- Updated 0501 GMT (1301 HKT)

A yellow jumpsuit worn by martial arts legend Bruce Lee in one of his final fight scenes goes on sale in Hong Kong on Thursday.
December 5, 2013 -- Updated 1051 GMT (1851 HKT)

Meet 24-year-old Marita Cheng: the talented technician bringing robots to your home.
December 5, 2013 -- Updated 0323 GMT (1123 HKT)

Japanese blogger Keisuke Jinushi started the "hitori date" (one-man date) blog two years ago.
December 4, 2013 -- Updated 2128 GMT (0528 HKT)

Even by the standards of supercars, the Porsche Carrera GT is something remarkable.

Today's five most popular stories