Eight patients monitored for deadly Creutzfeldt-Jakob brain disease, N.H. says
September 5, 2013 -- Updated 2206 GMT (0606 HKT)
STORY HIGHLIGHTS
Contaminated surgical equipment leads to concerns for 8 patients
The patients may have been exposed to proteins that cause Creutzfedt-Jakob disease
But the risk of infection is "very low," hospital chief says
CDC says no cases have been linked to surgical equipment since 1976
(CNN) -- New Hampshire health officials say they're monitoring eight patients for signs of a fatal brain disease after medical equipment was found to have been contaminated by proteins that cause the ailment.
The equipment had been used to operate on a patient now suspected of having Creutzfeldt-Jakob Disease (CJD), the state Department of Health and Human Services announced Wednesday. The now-deceased patient had undergone neurosurgery at Catholic Medical Center in Manchester, and normal sterilization practice doesn't get rid of the proteins, known as prions, the health department said.
"Our concern is with the health and well-being of the eight patients who may have been exposed to CJD," Dr. Joseph Pepe, the hospital's CEO, said in a statement issued with the state agency Wednesday. "We will work closely with these families to help them in any way possible, even though the risk of infection is extremely low."
An autopsy to confirm the illness -- which differs from variant CJD commonly known as "mad cow disease" -- was being conducted at the National Prion Disease Pathology Surveillance Center, the hospital said. The only way to confirm the illness is with an autopsy.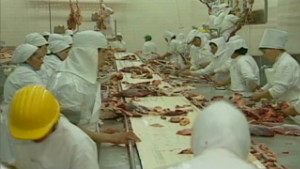 2012: Mad cow: Adequate testing?
"CMC has notified all of these patients about their potential risk," the health department said. "The general public and any other patients at CMC and their employees are not at any risk."
A similar incident occurred at Emory University Hospital in Atlanta in 2004, leading to 98 brain and spinal surgery patients being monitored for possible exposure to CJD.
The CDC says no cases of the disease have been linked to the use of contaminated medical equipment since 1976. Most medical devices are sterilized by heat, but the World Health Organization recommends the use of a caustic chemical like sodium hydroxide to disinfect equipment that may have come in contact with tissues that could cause CJD.
CJD strikes fewer than 400 people a year in the United States, according to the Centers for Disease Control and Prevention. Victims show signs of memory loss and cognitive difficulty early on; the ailment is "rapidly progressive and always fatal," the CDC says.
Florida boy dies from brain-eating parasite
CNN's Matt Smith, Miriam Falco and Jennifer Bixler contributed to this report.

Part of complete coverage on
Inside Your Brain
September 11, 2013 -- Updated 1352 GMT (2152 HKT)

At 101, Frank Iacono still plays the violin. The concertmaster for the Providence Civic Orchestra of Senior Citizens in Rhode Island, he particularly enjoys playing polkas and jigs.
July 25, 2013 -- Updated 1936 GMT (0336 HKT)

Scientists say they have, for the first time, generated a false memory in an animal by manipulating brain cells that encode that information.
August 18, 2013 -- Updated 2045 GMT (0445 HKT)

Scientists are examining whether Alzheimer's could be predicted through measuring a protein in the retina.
June 16, 2013 -- Updated 1107 GMT (1907 HKT)

Trees once looked like green panels for Bruce Bridgeman. He'd have to move his head to gauge the relative closeness of objects.
June 13, 2013 -- Updated 1756 GMT (0156 HKT)

Martha Farah is leaning forward, furiously typing on her thin laptop in her spacious office at the University of Pennsylvania. Awards, paintings and posters lean against the walls on the floor as she puts the final touches on a grant proposal.
June 7, 2013 -- Updated 1807 GMT (0207 HKT)

Dr. Rudolph Tanzi is a highly regarded Alzheimer's researcher, and also has a passion for music.
May 25, 2013 -- Updated 1132 GMT (1932 HKT)

Dr. Alfredo Quinones-Hinojosa insists, "I just think of myself as a regular guy." But the neurosurgeon has an incredible story of overcoming obstacles to get where he is today.
April 15, 2013 -- Updated 1609 GMT (0009 HKT)

Music has a special ability to pump us up or calm us down. Scientists are studying how music affects the brain.
April 4, 2013 -- Updated 0156 GMT (0956 HKT)

A better understanding of how neural circuits lead to disease could influence treatments for conditions like epilepsy. Ed Boyden at MIT is working on new brain technologies.
Today's five most popular stories