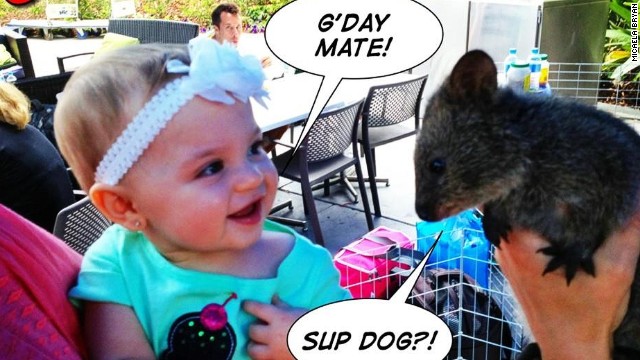 Micaela Bryan has become an internet sensation, gaining more than 12,000 followers thanks to her posts from around the tennis circuit.
Roger Federer is not one of her followers, but he was more than happy to pose with the baby at the 2012 French Open.
However, Micaela, the daughter of doubles star Bob Bryan, can count men's world No. 1 Novak Djokovic among her followers.
"Uncle Nole" makes regular appearances on Micaela's Twitter page -- when he manages time away from his dog Pierre. The poodle also has
his own Twitter handle.
Micaela's online adventures began after an early snap taken with Rafael Nadal.
"Uncle Rafa" also has a special place in Micaela's heart -- here she teases Spain's "King of Clay" over his dislike for the blue dirt used at the Madrid Masters tournament in 2012.
She also gave Djokovic some tips on how to beat Nadal at last year's French Open -- here referring to his obsessive pre-match rituals, which include carefully ordering his water bottles. It didn't help though, Nadal beat the Serbian in the final to retain his title.
Micaela met Andy Murray's coach Ivan Lendl at January's Australian Open. "Lendl's a buddy of ours, he actually has four girls," Bob says of the Czech-born former world No. 1. "But he said, 'No absolutely not, you have to be in the picture, I'm not going to do it by myself.' And I'm like, "Is it that long since you had a baby?' "
Micaela, reverting to "Star Wars" Yoda-mode, had some sage advice for Murray ahead of last year's U.S. Open. It had good effect -- he became the first British grand slam winner since 1936 and ended his own long wait for a major after four losing finals.
Now used to her celebrity friends, Micaela was seemingly more interested in her iPad when snapped with women's star Serena Williams at the ITF Champions dinner.
"Sloane Stephens was begging us in Australia to get a picture with Micaela," says Bob. "This was before she beat Serena, and we're like, 'Maybe next time.' Then she beat Serena and then we're calling her!"
Victoria Azarenka is one of Williams' main title rivals at the 2013 U.S. Open. "We know her well but she hadn't had a picture with Micaela," Bob says. "Micaela loves to swim in the pool in Monte Carlo, and Vika happened to be doing laps and came over and posed there for a few pics and reposted it, and now she follows Micaela." The speech bubble refers to Azarenka's gaudily-dressed popstar boyfriend Redfoo.
Micaela also had a close encounter with golf's "Golden Bear" Jack Nicklaus during the 2013 Wimbledon Championships, where her dad and his twin brother Mike completed a "Golden Slam" of doubles titles.
She has also shared a photo with one of golf's current stars, Rory McIlroy --
and his tennis-playing partner Caroline Wozniacki
, together known in the media as "Wozilroy."
Micaela met Pat Cash for the Bryans' interview with CNN's Open Court, but she was not too impressed by the former Wimbledon champion's trademark headgear.
She was just as bemused by what her dad and uncle wore for a TV shoot this year. The duo, who are also keen musicians, dressed up as in Andre Agassi-style glam-rock mullet wigs.
She has had a close view of her dad's on-court success, including his triumph with Mike at the 2013 Australian Open.
She came to the Open Court shoot at London's Queen's Club with her dad, uncle and mom Michelle.
And Micaela will again be at the U.S. Open, where last year she met "Anchorman" film star Will Ferrell among other celebrities.
Last year the Bryans won the U.S. Open on the way to holding all four grand slams across two seasons. With another New York triumph they will have done this within the same calendar year. Just what will Micaela say?
Tennis baby is a Twitter star
Tennis baby is a Twitter star
Tennis baby is a Twitter star
Tennis baby is a Twitter star
Tennis baby is a Twitter star
Tennis baby is a Twitter star
Tennis baby is a Twitter star
Tennis baby is a Twitter star
Tennis baby is a Twitter star
Tennis baby is a Twitter star
Tennis baby is a Twitter star
Tennis baby is a Twitter star
Tennis baby is a Twitter star
Tennis baby is a Twitter star
Tennis baby is a Twitter star
Tennis baby is a Twitter star
Tennis baby is a Twitter star
Tennis baby is a Twitter star
Tennis baby is a Twitter star
Tennis baby is a Twitter star
Tennis baby is a Twitter star
STORY HIGHLIGHTS
Baby daughter of tennis star Bob Bryan has become a big hit on the internet
Micaela Bryan had her own Twitter account set up before she was born last year
She now has more than 12,000 followers, including the biggest names in tennis
Micaela travels with the Bryan brothers and has snaps from all aorund the world
(CNN) -- Before she was even born, Micaela Bryan already had her own Twitter handle.
Now just over 18 months old, she has more than 12,000 online followers. Some of them are among the biggest names in sport, including Serena Williams and Novak Djokovic.
The top-ranked tennis duo have both had star billing on @micaelabryan -- and Djokovic is quite the regular guest. "Uncle Rafa" might have been the early inspiration, but his on-court rival "Uncle Nole" has made a serious play for her affection.
"Every time Novak sees her it's really funny, he'll say, 'Micaela, my little buddy, how are you doing?' and he'll go and give her a hug," her mom Michelle Bryan told CNN's Open Court.
"And if she doesn't give him what he wants, like a good response, he'll say, 'You've forgotten about me already.' "
But Micaela will never forget Djokovic. When she grows up she'll have a permanent record of her encounters with Serbia's favorite sporting son -- it's all documented on social media.
"My wife masterminded it," says Bob Bryan, one half of the most successful men's doubles partnership in tennis history.
"She got @micaelabryan before she was born and I didn't even know about it, and then we got this picture with Nadal in Miami when he was just walking through the corridor toward the locker room and he kneeled down and took a picture with her.
"He says as a joke, 'Let's put it on our Twitter account,' and we put it on and woke up the next day, she had something like 750 followers.
Read: Bryan brothers complete Golden Slam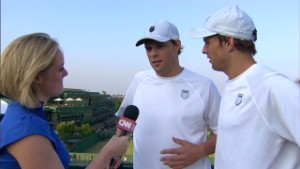 Bryan brothers win Wimbledon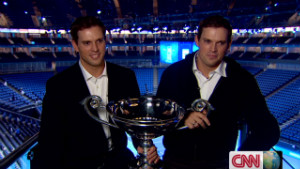 Bryan twins top doubles rankings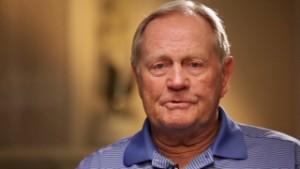 'Golden Bear' on tennis love
"So it was kind of born right then. We were like, 'Now she has all these fans we've got to keep them happy,' so we just kept getting pics with stars."
The biggest "get" so far is undoubtedly Roger Federer, the record-setting 17-time grand slam champion of the men's game, who was pinned down at the 2012 French Open.
"He's one of those guys, sometimes at tournaments you don't see him he's so busy," says Bob of the Swiss superstar, himself a father of two young girls.
"He doesn't stay at the player hotel ... you might catch him in the locker room. But we saw him hanging out at the French. He was so nice, he's like, 'Take one this way, let's try this one,' doing lots of little poses. Micaela loved him and that was a high-five moment for sure."
Bob and his twin brother Mike have had plenty of "high-five moments" on the court in the past year -- or, to be more accurate in their case, "chest-bumping moments."
By winning Wimbledon in July, they became the first doubles team to hold all four grand slams and the Olympic title at the same time -- and success in their home U.S. Open this weekend would create history as they would own all four majors in a calendar year.
Read: Bryan brothers break McEnroe's record
Only one other partnership has achieved it -- Ken McGregor and Frank Sedgman in 1951 -- but the Australians did so before the advent of the professional Open era in 1969.
On Monday the identical twins needed to save two set points in the opening set in a 7-6 (9-7) 6-4 victory over the British pairing of Colin Fleming and Jonathan Marray.
Though doubles is considerably lower profile than singles competition, the 35-year-old brothers have both earned more than $10 million in tournament prize money on top of their endorsement deals.
And both are acutely aware that, to capitalize on their playing success, they need a strong online presence.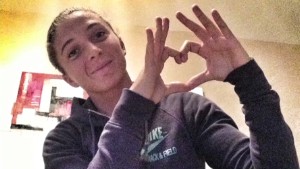 'Little Giant' aims for Grand Slam glory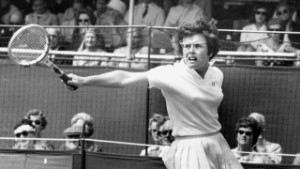 King still fights for tennis equality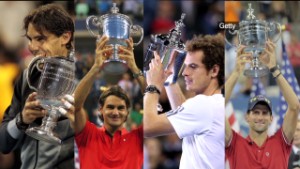 Secret to beating tennis' big four
Bob (@Bryanbros) has almost 110,000 Twitter followers, Mike (@Bryanbrothers) has nearly 75,000, their Facebook page has just passed 45,000 likes and they also have an official website.
"When companies are deciding between two athletes, they'll pick the one that's got the most followers or is more active on social media. They're looking at players that give them that extra marketing pop," explains Bob.
"It's really important for the athletes to stay connected with the fans, they really appreciate it. It's good for promoting yourself and promoting your sport. I think companies now really understand and appreciate the value of an athlete who has a big social reach.
Watch: Twin trouble for Pat Cash
"In our contracts now -- clothing, shoes rackets -- it's all built in, the number of tweets we have to send, the number of times you have to post on Facebook."
Although he has nowhere near the online following of Nadal and Federer, who both have upward of 10 million followers on Facebook alone, Bob says he was one of the first regular tennis tweeters -- and now many players use it to communicate during the downtime of touring life.
"I had a birthday (in April) and Novak Djokovic wrote me a direct message on Twitter -- it's a way we stay connected. It's getting away from email and texts and going towards Twitter and Facebook.
"It's one of the big reasons why I decided to put my daughter on it -- it's just another way to stay active and be creative with it. I don't like to just post pictures of rackets, so if I meet someone cool, or go to an interesting place..."
Micaela, too, is getting to see the world. And she's being primed for a life in tennis -- already boasting a racket deal "after a long 16 months of negotiations" according to a post on her Twitter page in June.
"I played tennis my whole life so I would love for her to play tennis, because for me it was amazing," says mom Michelle, a lawyer who played the sport at college.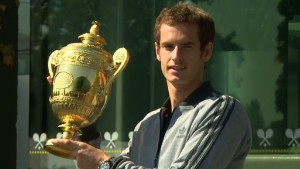 Andy Murray's historic Wimbledon win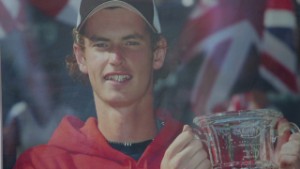 Andy Murray inspires Scottish hometown
"I developed mentally, I think I benefited from it growing up, all my friends played tennis -- the culture is something I want her to experience as well. But ultimately it's up to her."
Micaela may still be getting to grips with her nascent tennis swing, but she's already a dab hand with technology -- though more often than not it ends up in her mouth.
"She's a genius with the iPhone, she loves it. She's got the swiping down," says Mike, as he retrieves his mobile from the baby before it receives a terminal dribbling .
"We love having her on the road. That's the only way Bob would do it. He wants to see her develop and grow up, and we've seen her first steps, we see her roll over for the first time. And I'm a good babysitter -- I ask for $100 and I'll do it."
Life on the tour can be a grind, but having a baby on board can alleviate some of the stress.
"She doesn't care if we win or lose, so it keeps things in perspective," says Bob.
"We lost a tough one in Monte Carlo and had seven match points. We wouldn't usually talk for a few days, but she comes running at us, gives us a hug and laughing, she doesn't care."
Micaela may soon have company on the circuit -- Michelle is pregnant again. And the brothers have no intention of quitting yet.
"We're still having fun, we're eager, we still have some goals left," says Mike.
Bob: "We're perfectionists, I still don't think we're playing our best tennis. There's stuff we can improve and you want to get to that level before you shut it down."