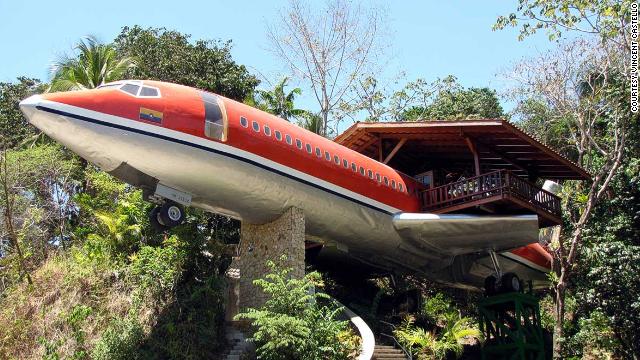 This suite at the Hotel Costa Verde on the Costa Rican coast was once a Boeing 727. For $250 a night ($500 during peak season) you can sleep next to tropical beaches in an airplane that can no longer fly.
The emergency door on the 727 leads to a relaxing lunch area on the patio, built above the right wing of the airplane. Unexpected guests may include sloths and monkeys.
Made from the fuselage of a Boeing 307 Stratoliner, this shipshape little vessel once belonged to Howard Hughes. As it passed between owners, it evolved into its current seafaring form. Singer-songwriter Jimmy Buffett christened it the "Cosmic Muffin." Current owner, Dave Drimmer, purchased it as a houseboat 1981. It now sits in Fort Lauderdale, Florida.
Owner Dave Drimmer, rebuilding the hull of his "planeboat" in 1994.
California-based MotoArt designs and builds unconventional furniture from decommissioned aircraft. Clients include AOL, Microsoft, GoDaddy, NetJets, Alitalia, Boeing, Northrup Grumman and Royal Jordanian.
A section of airplane fuselage, pretty much useless on its own. Add a desk and it becomes a stylish aluminum alloy partition that also happens to be extremely tough and durable.
This MotoArt's seat design is called the "Albatross," and made from parts rescued from airplane bone yards.
"About 120 man hours go into each piece with MotoArt's technician grinding, cutting, sanding and polishing," says MotoArt's website about creating corporate desks from airplane parts. "The wing is buffed for 12 hours to bring about the stunning finish of your piece of art." The website has detailed information about the aircraft each piece is made from.
MotoArt creates all sorts of tables -- martini tables, coffee tables, conference tables -- from unexpected plane parts, including propellers.
Magic Mike would love this MotoArt coffee table. It comes with a fancy name -- the F-4 Phantom -- and includes 10 burner cans with red LED internal illumination for mood lighting.
As this simple but brilliant bordbar design proves, getting furniture from airplanes doesn't have to mean cutting through an aluminum fuselage or hacking off the engine. Sometimes it's a matter of taking what's already there and giving it a slight facelift.
That annoying elbow-jostling drinks cart has a classy new look, thanks to Skypak.
Skypak, a German company that specializes in selling refurbished trolleys, has a clever storage idea: use trolleys to store ties and shirts. You can purchase customizations such as shelves and drawers with the trolleys at the Skypak store. More innovative conversions include DVD racks, coffee bars and shoe cabinets. Skypak trolleys start at €1,380 ($1,833).
Once it held ginger ale and packets of peanuts. Now it holds important documents; bordbar trolleys start at €979 ($1,300).
The Hotel Suite in the Netherlands consists of a completely intact 1960 Ilyushin Il-18 converted into a hotel suite for two.
The Hotel Suite is equipped with this bed, a Jacuzzi, infrared sauna and mini-bar. It's a plane of many lives: it started out as a political transport, was converted to a commercial airplane seating 120, then used as a restaurant for 15 years until it became a hotel in 2007.
He throws his suitcase in a gesture of celebration -- he's going to be bunking in a jet tonight. That jet is Jumbo Stay at Stockholm's Arlanda Airport, the only jumbo jet hotel in the world. It also happens to be an affordable hostel, fitted with 76 beds.
With commercial seats removed, airplanes look surprisingly larger inside. This is the dining area at Jumbo Stay.
Bio-Luminum is an aluminum tiling product made by U.S.-based Coverings ETC. It's made from 100% recycled aircraft aluminum. Unidentifiable aircraft parts -- cockpit? wingtip? -- get new lives as parts of a decorative wall.
The game: spot the airplane. It's there, in its new form as Bio-Luminum, and it's clean, understated and -- we'll say it -- stylish.
The Kiehl's storefront at the Yorkdale Shopping Center in Toronto is adorned with Bio-Luminum bricks. "The objective was to stand out among the many other larger storefronts," says Tom Berroth, Global Store Designer at Kiehl's. "One of Kiehl's founding fathers -- Aaron Morse -- was a military pilot and collected stunt planes. So a significant aspect of Kiehl's heritage and brand references Mr. Morse's passion for flying and adventure."
Architect David Hertz designed this Wing House in Malibu from the wing of a Boeing 747 for a client who requested "curvilinear, feminine shapes." While the roof looks durable, we're wondering what it sounds like when it rains.
Given the strength and durability of aircraft aluminum, building a home from a former aircraft is practical.
Joe Axline's airplane home, "Project Freedom," involves two airplanes. Axline works in IT, but with a father who used to fly for Pan Am, he's always had an interest in airplanes. "When I was 15 my dad would drive me to the airport so I could get in an airplane and go fly around the country," says Axline, who moved into the airplane in November 2012.
"The baggage compartments are really huge and will be turned into the kids' game room," says Axline.
Once a Boeing 737, this artificial reef off the coast of British Columbia is so covered in algae that it's hard to believe that it was once airborne. "It sits in about 90 feet of water suspended on an underwater 'cradle,' to simulate 'flying' underwater," says Deidre Forbes McCracken of the Artificial Reef Society of British Columbia. "The reef attracts divers from all around the world."
Vintage Boeing 727 now rainforest suite
Hotel Costa Verde, Costa Rica
It's a plane! It's a boat! It's a house!
The Cosmic Muffin
Corporate furniture from airplane parts
Office space by MotoArt
If only all airplane seats were this comfy
Executive desk
"We went for the 'raw machine' look this time"
For a certain type of bachelor pad
A new way to serve
Wine trolley
A perfect fit
Right at home
The Hotel Suite, Netherlands
Plane on the outside, party on the inside
A comfortable hostel
Room to breathe
Aluminum bricks
Bio-Luminum style
Decorative storefronts
Hot aluminum roof
Winged house
Private homes
Coolest dad in the world?
From up in the air to underwater
STORY HIGHLIGHTS
Visionaries have been making furniture, hotels and private homes from decommissioned airplanes
Airplane trolleys can be converted into wine bars or foosball tables
Plane-turned-boat Cosmic Muffin can reach speeds up to 13 knots
(CNN) -- Images of the latest gleaming aircraft models regularly pepper websites (including this one), but where do all of those dead airplanes go?
The numbers are huge: approximately 12,000 aircraft are set to be decommissioned by 2020.
In addition, 2,000-3,000 planes are estimated to have been abandoned around the world (primarily in developing countries) according to the Aircraft Fleet Recycling Association (AFRA).
As their aircraft near the end of their service lives, aircraft owners must find ways for dealing with retirees.
For aircraft at that awkward stage when they're no longer safe to fly but still too sturdy to demolish, there are storage facilities like that at Marana Aerospace Solutions in Arizona or the Mohave Air and Space Port in California.
The problem is, they're only temporary.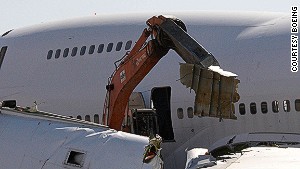 Too dangerous to fly, too strong to die. Unfortunately they can't all be luxury hotel suites.
While some parts -- especially engine parts -- practically sell themselves and find new homes on new planes, other airplane parts can get more innovative second lives, such as the ones featured below.
Furniture
Futuristic rivets, elegant curves, gleaming surfaces and the ability to withstand extremes ... it's easy to see why furniture designers would be intrigued by the potential of decommissioned airplanes.
The widely acknowledged leader in this niche industry is MotoArt, a California-based company that's been designing sleek, sexy beds, tables, chairs and sculptures constructed from deconstructed airplanes for more than a decade.
"We have over 100 designs and have produced thousands of pieces that you find nearly in all parts of the world, from the Dubai Burj, to the Sears Tower, and even as far away as the North Pole," says managing partner Dave Hall.
Read: How low-cost carriers are changing the world's largest aviation market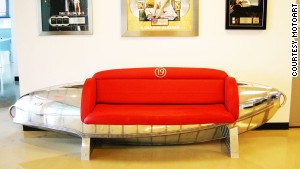 Nothing to jazz up a waiting room like some cool airplane art. The kind you can sit on.
Germany's bordbar, the first company that thought to revamp airline trolleys as multifunctional and decorative furniture, customizes trolleys.
This can mean incorporating butterfly patterns or corporate logos, transforming the trolley into a filing cabinet or mini-bar, complete with shelves, glass front and LED lighting.
"We sell our products around the globe, with approximately 220 wholesalers," says bordbar co-founder Valentin Hartmann. "There is definitely a market for trolleys."
Bordbar trolleys start at €979 ($1,300).
German company Skypak also specializes in glammed-up airline trolleys, selling luxurious, attention-grabbing designs like the Pure Gold trolley, decorated with 24-carat gold leaf.
The company's star product, the Luxury Crystal trolley, is covered in 82,000 Swarovski crystals.
Skypak's trolleys start at €1,380 ($1,833), but luxury trolleys go for anywhere from €3,900 ($5,180) to €27,800 ($37,000).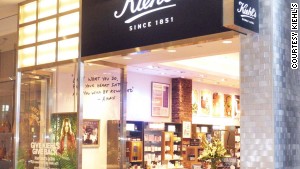 Save trees. Bring a dead airplane back to life.
Floor and wall tile
Aircraft aluminum isn't like the aluminum most of us know.
Because of the alloys that make it sturdy and fit for flight, it's also difficult to recycle.
Bio-Luminum, a building material from U.S.-based Coverings ETC, is made from completely recycled aircraft aluminum.
"The energy used in recycling aluminum is 5% of what would be used during the first generation of aluminum production," says Jennifer Ryan, business development director for Coverings ETC.
The best part is that Bio-Luminum is itself recyclable.
"So if you ever desire to change your decor, Bio-Luminum can be removed and used over again," says Ryan. "It is truly a cradle-to-cradle product."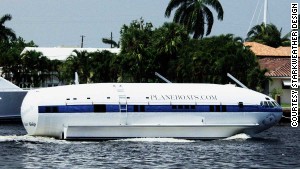 The Cosmic Muffin takes recycling to another level. Sea level. Next step: a plane-submarine.
Boat
Planeboats, or "flying boats," are rare (the Japanese Imperial Navy developed a fleet during World War II), but a former 1939 Boeing 307 Stratoliner converted into a boat that can reach up to 13 knots occupies a remarkable place in recycled plane lore.
The boat has an unforgettable name -- the Cosmic Muffin -- as well as an equally interesting history.
It belonged to aviation pioneer Howard Hughes in the 1940s. After it was re-christened by pilot Jimmy Buffett, its current owner, Dave Drimmer, purchased it in 1981 to live aboard.
"The original aircraft controls in the cockpit are now used to drive the boat with both the pilot and co-pilot controls," says Drimmer. "This is what makes the planeboat so unique and novel; you sit where Howard Hughes used to fly the plane to drive the boat."
Jealous?
Intensely curious?
The Cosmic Muffin is open for tours and charters out of Fort Lauderdale, Florida.
Read: 12 in-flight innovations that will make your trip better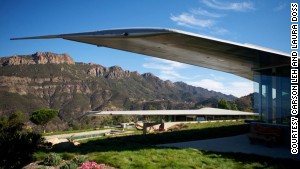 Wing House owner David Hertz compares converting a Boeing 747 into a home to the way "the Native American Indians used every part of the buffalo."
House
Architect David Hertz's design, the Wing House, a Malibu mansion constructed from an entire Boeing 747, manages to be striking and graceful, even without the knowledge that it was built on ecologically sound principles.
Via his website, Hertz compares the process of converting the 747 into a house to the way "the Native American Indians used every part of the buffalo."
The most obviously aerial feature is the curvilinear roof, constructed from the wings of the former plane.
Working with a smaller budget, but no less entrepreneurial, Oregon resident Bruce Campbell's Airplane Home is a structurally untouched Boeing 727-200 that's been gutted on the inside.
Then there is Joe Axline's "Project Freedom," involving two airplanes, an MD-80 and a DC-9-41, that have been converted into a home.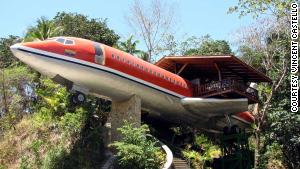 In a landfill, an airplane's just trash. But as a hotel in the lush Costa Rican rainforest, it's a place where people will pay to stay.
Hotel
It's difficult to imagine a traveler disembarking from an airplane wanting to spend a night in one.
But if the number of hotels built into airplanes is any indication, such travelers do exist.
Costa Verde, a luxurious hotel located in a Costa Rican rainforest, is a recycled Boeing 727.
Despite its clipped wings, from the exterior it looks like an aircraft emerging from the jungle ready to fly out over the Pacific.
The fuselage that encases the two bedrooms of the "727 Fuselage Home" suite is intact. Apart from the distinctive shape of the portholes and curved ceiling, however, the interior feels more woodsy bungalow than aircraft.
Meanwhile, Stockholm's Arlanda Airport has budget accommodation Jumbo Stay, a hostel built into a Boeing 747, popularly known as a Jumbo Jet.
"I financed and built the whole hostel," says owner Oscar Diös. "We wanted to be unique, but not discriminating toward anyone with a smaller budget."
This welcoming attitude may be why the cockpit has served as the setting of several weddings, and why former 747 pilots are regular visitors.
"Jumbo Stay is a place for everyone," says Diös.
For €350 ($465) a night, there's the Airplane Suite for two in the Netherlands.
Built inside a decommissioned Ilyushin Il-18, it comes with amenities you couldn't have on a private jet -- Jacuzzi, sauna, flat-screen TVs and basic kitchen equipment, not to mention a mini-bar and DVD collection.
Read: 10 of the world's most loved airports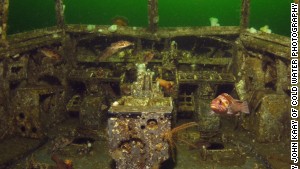 This is one Boeing 737 that will never fly again. Thankfully, it looks right at home with the fish.
Artificial reef
Most airplanes try to avoid submersion in large bodies of water. That sort of thing is usually called an "accident."
But if the airplane is empty, then sinking it into the sea to create an artificial reef, like the Artificial Reef Society of British Columbia (ARSBC) did with a Boeing 737, it might actually be a good thing, as they become homes for, and thus promote, local marine life.
"The 'passenger list' of creatures that now inhabit the reef has grown to over 100 species," says Deidre Forbes McCracken, director of public relations at the ARSBC.
Read: World's 50 best dive sites
Anything else
Recycling an airplane means recycling the interior as well.
Australian retailer Rushfaster stocks laptop messenger bags fitted with former airplane seatbelts as straps -- a good gift for university freshmen who need to lug around textbooks.
Then there's British retailer Worn Again, with its Worn Again Virgin line. Though often out of stock (recycling depends on the availability of discarded materials), the company stocks a line of bags, clothes and accessories made from recycled Virgin Atlantic interiors.
Read: Virgin launches live comedy, music on flights
European architectural firm LOT-EK has ambitious concept designs for a library of more than 200 stacked Boeing fuselages; Sky Tram presents the idea of converting fuselages into futuristic supertrains that would run on tracks suspended several stories above the ground.
Sure, these innovations don't actually exist.
Yet.
But people laughed at airplanes, too, until they really took off.
Originally published March 2012; updated September 5, 2013.