Keep your shoes, jackets on: TSA to expand pre-screening program
September 5, 2013 -- Updated 1224 GMT (2024 HKT)
STORY HIGHLIGHTS
The TSA will allow pre-screening at 60 more airports, expand it at 40 current airports
PreCheck participants can skip removing shoes, other items after verifying their identities
Expansion is part of TSA effort to change "one-size-fits-all approach" to security
Washington (CNN) -- More airports around the United States will soon allow passengers to go through security without removing their shoes, light jackets, and belts.
The Transportation Security Administration is expanding its expedited screening program called PreCheck to 60 new airports by the end of the year and is increasing the number of lanes for the program at the 40 airports that currently offer it.
PreCheck passengers also can leave laptops and small liquids in their carry-on luggage.
Right now only very frequent fliers invited by their airlines and passengers who are members of U.S. Customs and Border Protection's trusted traveler programs can participate.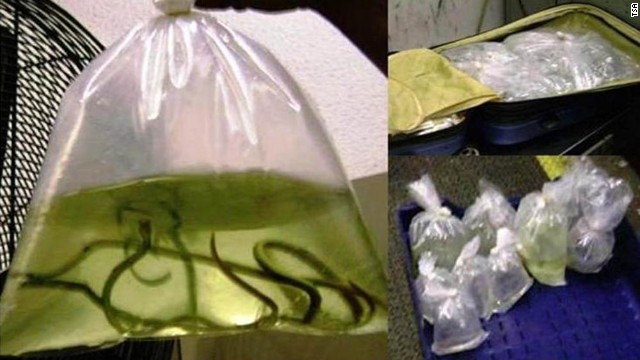 In 2012, a passenger traveling from Miami International Airport attempted to transport 163 marine tropical fish, 12 pond slider turtles, 22 invertebrates, 24 live coral pieces, 8 pieces of stony corals with mushroom polyps and 8 pieces of soft coral to Maracaibo, Venezuela. Transportation Security Administration officers discovered the animals, and the passenger surrendered the items to the U.S. Fish and Wildlife Service. Check out what other strange items travelers have attempted to get past airport security, according to the TSA's blog.
TSA agents at Fort Lauderdale-Hollywood International Airport discovered human skull fragments in a clay pot in checked luggage. The owners of the bag said they did not know there were skull fragments in the pots.
A box with "explosive" scrawled across it was checked at San Francisco International Airport; it contained an airbag.
A passenger at Dayton International Airport set off alarms when he tried to get a tobacco grinder shaped like a hand grenade through security. Officers also found a soda can with a false bottom that contained marijuana.
An Atlanta traveler used a PVC pipe with end caps to protect a portable printer. TSA agents flagged the item because of its resemblance to a bomb.
A gun with no cylinder was found inside a cutout book at Honolulu International Airport.
An AT4 rocket launcher was found in checked baggage at Arnold Palmer Regional Airport in Latrobe, Pennsylvania.
Twenty-four pounds of black powder were found at Chicago Midway Airport. Though properly packaged ammunition is permitted in checked baggage, black powder is not.
An inert Claymore mine and grenade were discovered at San Jose International Airport in California.
A gag gift made to look like an explosive device was found at Florida's St. Petersburg/Clearwater International Airport.
Law enforcement officers evacuated Dallas-Fort Worth's baggage area and the terminals near a bazooka round found in checked luggage. The item was moved to a remote location, where it was deemed inert.
A carryon with a powder horn containing approximately 3 ounces of black powder was found at Clinton National Airport in Little Rock, Arkansas.
Two swords were found in a guitar case that a Salt Lake City passenger was attempting to carry on to a flight.
Throwing stars shaped like the Batman symbol were found at San Diego International Airport.
A spear gun was confiscated at New Jersey's Newark Liberty International Airport. The passenger claimed he thought spear guns were OK to bring on board, according to the TSA blog.
A traveler at Seattle-Tacoma International Airport attempted to get marijuana onto a flight in a jar of peanut butter.
An inert grenade was found at San Antonio International Airport.
A hairbrush with a concealed dagger was discovered by TSA agents at Kahului Airport in Hawaii.
A throwing star was found at Los Angeles International Airport.
Two cannonballs were found in luggage at Hawaii's Kahului Airport.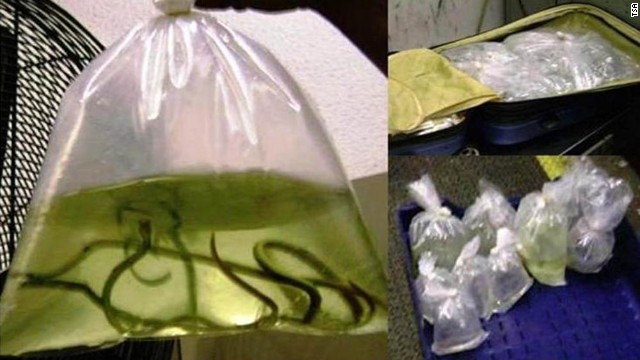 Photos: 20 odd items confiscated by TSA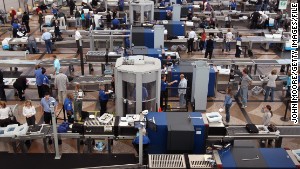 TSA under fire for misconduct
TSA says later this year it will launch an application process to allow passengers who want to join PreCheck to pay $85, verify their identity and provide fingerprints at an enrollment center.
Alaska Airlines, American Airlines, Delta Air Lines, Hawaiian Airlines, United Airlines, US Airways and Virgin America currently participate in the program. JetBlue and Southwest will begin taking part when they are "operationally ready," according to the TSA.
PreCheck is part of a larger effort by TSA to move to security based more on risks that certain passengers may pose.
"As TSA continues to move away from a one-size-fits-all approach to transportation security, we are looking for more opportunities to provide the most effective security in the most efficient way possible," TSA Administrator John Pistole said in the news release announcing the expansion.
To see the list of participating airports, go here.

Part of complete coverage on
March 7, 2014 -- Updated 1527 GMT (2327 HKT)

The U.S. huffing over Ukraine jars with many after recent U.S.-led interventions, writes Simon Tisdall.
March 8, 2014 -- Updated 0354 GMT (1154 HKT)

Venezuelan President Nicolas Maduro is unapologetic about his government's response to opposition protesters.
March 6, 2014 -- Updated 1653 GMT (0053 HKT)

He's 12 years old and going blind -- so his parents are taking him on a trip to fill his world with beautiful images.

Track star Oscar Pistorius is accused of killing his girlfriend, Reeva Steenkamp. Follow live updates of South Africa's trial of the century.
March 6, 2014 -- Updated 1357 GMT (2157 HKT)

To celebrate International Women's Day, CNN's Leading Women is inviting you to a Tweetchat.
March 6, 2014 -- Updated 2247 GMT (0647 HKT)

Women journalists in the testosterone-fueled world of sports are still the target of abuse.
March 6, 2014 -- Updated 1027 GMT (1827 HKT)

Photographer Zack Seckler's series presents Botswana from between 50 and 500 feet, providing a unique view of the savannah.
March 5, 2014 -- Updated 0218 GMT (1018 HKT)

Concorde is a thing of the past, but a number of companies are racing to release the first supersonic business jet.
March 9, 2014 -- Updated 0228 GMT (1028 HKT)

Browse through images you don't always see on news reports from CNN teams around the world.
March 7, 2014 -- Updated 1852 GMT (0252 HKT)

From U.S. President Obama's phone call to Russian President Putin, to a python swallowing a crocodile, browse photos from last week.
March 7, 2014 -- Updated 0543 GMT (1343 HKT)

Did you know that the idea to mark road surfaces reportedly came from watching a milk truck drip milk on the road?

The undersea cables wiring the Earth: this is what the Internet actually looks like.

Today's five most popular stories