Keep your shoes, jackets on: TSA to expand pre-screening program
September 5, 2013 -- Updated 1224 GMT (2024 HKT)
STORY HIGHLIGHTS
The TSA will allow pre-screening at 60 more airports, expand it at 40 current airports
PreCheck participants can skip removing shoes, other items after verifying their identities
Expansion is part of TSA effort to change "one-size-fits-all approach" to security
Washington (CNN) -- More airports around the United States will soon allow passengers to go through security without removing their shoes, light jackets, and belts.
The Transportation Security Administration is expanding its expedited screening program called PreCheck to 60 new airports by the end of the year and is increasing the number of lanes for the program at the 40 airports that currently offer it.
PreCheck passengers also can leave laptops and small liquids in their carry-on luggage.
Right now only very frequent fliers invited by their airlines and passengers who are members of U.S. Customs and Border Protection's trusted traveler programs can participate.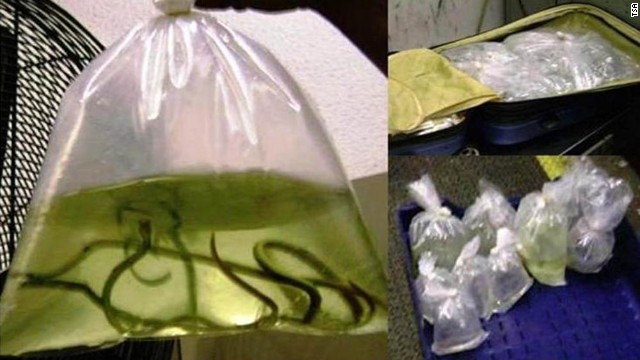 In 2012, a passenger traveling from Miami International Airport attempted to transport 163 marine tropical fish, 12 pond slider turtles, 22 invertebrates, 24 live coral pieces, 8 pieces of stony corals with mushroom polyps and 8 pieces of soft coral to Maracaibo, Venezuela. Transportation Security Administration officers discovered the animals, and the passenger surrendered the items to the U.S. Fish and Wildlife Service. Check out what other strange items travelers have attempted to get past airport security, according to the TSA's blog.
TSA agents at Fort Lauderdale-Hollywood International Airport discovered human skull fragments in a clay pot in checked luggage. The owners of the bag said they did not know there were skull fragments in the pots.
A box with "explosive" scrawled across it was checked at San Francisco International Airport; it contained an airbag.
A passenger at Dayton International Airport set off alarms when he tried to get a tobacco grinder shaped like a hand grenade through security. Officers also found a soda can with a false bottom that contained marijuana.
An Atlanta traveler used a PVC pipe with end caps to protect a portable printer. TSA agents flagged the item because of its resemblance to a bomb.
A gun with no cylinder was found inside a cutout book at Honolulu International Airport.
An AT4 rocket launcher was found in checked baggage at Arnold Palmer Regional Airport in Latrobe, Pennsylvania.
Twenty-four pounds of black powder were found at Chicago Midway Airport. Though properly packaged ammunition is permitted in checked baggage, black powder is not.
An inert Claymore mine and grenade were discovered at San Jose International Airport in California.
A gag gift made to look like an explosive device was found at Florida's St. Petersburg/Clearwater International Airport.
Law enforcement officers evacuated Dallas-Fort Worth's baggage area and the terminals near a bazooka round found in checked luggage. The item was moved to a remote location, where it was deemed inert.
A carryon with a powder horn containing approximately 3 ounces of black powder was found at Clinton National Airport in Little Rock, Arkansas.
Two swords were found in a guitar case that a Salt Lake City passenger was attempting to carry on to a flight.
Throwing stars shaped like the Batman symbol were found at San Diego International Airport.
A spear gun was confiscated at New Jersey's Newark Liberty International Airport. The passenger claimed he thought spear guns were OK to bring on board, according to the TSA blog.
A traveler at Seattle-Tacoma International Airport attempted to get marijuana onto a flight in a jar of peanut butter.
An inert grenade was found at San Antonio International Airport.
A hairbrush with a concealed dagger was discovered by TSA agents at Kahului Airport in Hawaii.
A throwing star was found at Los Angeles International Airport.
Two cannonballs were found in luggage at Hawaii's Kahului Airport.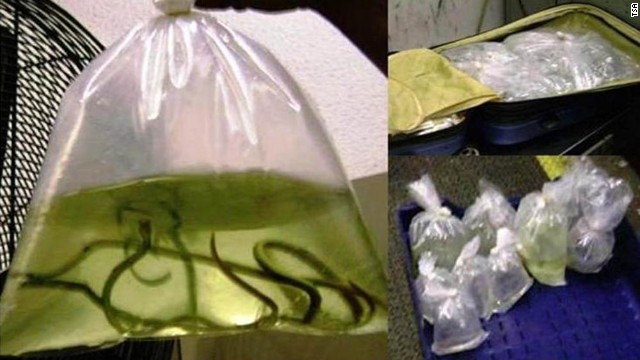 Photos: 20 odd items confiscated by TSA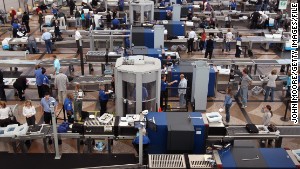 TSA under fire for misconduct
TSA says later this year it will launch an application process to allow passengers who want to join PreCheck to pay $85, verify their identity and provide fingerprints at an enrollment center.
Alaska Airlines, American Airlines, Delta Air Lines, Hawaiian Airlines, United Airlines, US Airways and Virgin America currently participate in the program. JetBlue and Southwest will begin taking part when they are "operationally ready," according to the TSA.
PreCheck is part of a larger effort by TSA to move to security based more on risks that certain passengers may pose.
"As TSA continues to move away from a one-size-fits-all approach to transportation security, we are looking for more opportunities to provide the most effective security in the most efficient way possible," TSA Administrator John Pistole said in the news release announcing the expansion.
To see the list of participating airports, go here.

Part of complete coverage on
July 12, 2014 -- Updated 0008 GMT (0808 HKT)

A makeup artist, writer and model who loves monkeys and struggles with demons.
July 11, 2014 -- Updated 1342 GMT (2142 HKT)

Lionel Messi's ability is not in question -- but will the World Cup final allow him to emerge from another footballing legend's shadow?
July 11, 2014 -- Updated 1029 GMT (1829 HKT)

Why are Iraqi politicians dragging their feet while ISIS militants fortify their foothold across the country?
July 11, 2014 -- Updated 1332 GMT (2132 HKT)

An elephant, who was chained for 50 years, cries tears of joy after being freed in India. CNN's Sumnima Udas reports.
July 11, 2014 -- Updated 0732 GMT (1532 HKT)

Beneath a dusty town in northeastern Pakistan, CNN explores a cold labyrinth of hidden tunnels that was once a safe haven for militants.
July 10, 2014 -- Updated 2249 GMT (0649 HKT)

CNN's Ravi Agrawal asks whether Narendra Modi can harness the country's potential to finally deliver growth.
July 10, 2014 -- Updated 0444 GMT (1244 HKT)

CNN's Ben Wedeman visits the Yazji family and finds out what it's like living life in the middle of conflict.
July 9, 2014 -- Updated 1423 GMT (2223 HKT)

Israel has deployed its Iron Dome defense system to halt incoming rockets. Here's how it works.

Even those who aren't in the line of fire feel the effects of the chaos that has engulfed Iraq since extremists attacked.

CNN joins the fight to end modern-day slavery by shining a spotlight on its horrors and highlighting success stories.

Browse through images from CNN teams around the world that you don't always see on news reports.
July 11, 2014 -- Updated 1634 GMT (0034 HKT)

Plane passengers are used to paying additional fees, but one airport in Venezuela is now charging for the ultimate hidden extra -- air.

Today's five most popular stories