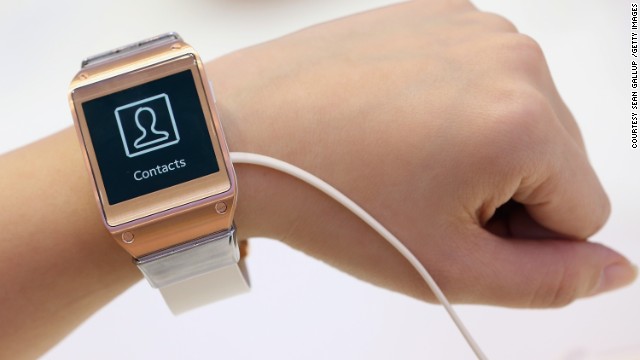 For some people it's all so very "James Bond." For others it's a bit dated -- more like Marty McFly from "Back to the Future." Ever since the grand unveiling of the Samsung Galaxy Gear in Berlin this week, the internet has been awash with mixed reviews. Has it fallen short of the hype? If so, what
is
the smartwatch of technorati dreams?
The Galaxy Gear, which connects to the latest Samsung smartphone via Bluetooth, has a 1.6-inch display, 1.9 megapixel camera and 4GB of storage. It has 24 hours of battery life and comes in six colors: Rose Gold, Lime Green, Mocha Gray, Wild Orange, Oatmeal Beige, and Jet Black. Their names, not ours.
Hot on the heels of the big Samsung reveal was unexpected competitor Qualcomm, with its own offering called "Toq." The watch uses "Mirasol" technology that gives it an always-on display and a battery life of three-four days. It can be paired with almost any Android device and comes with Bluetooth earphones and a case that acts as a wireless charging device.
Sony's SmartWatch 2 also syncs with most Android devices. When paired with a phone over Bluetooth, it can receive notifications for e-mail, texts, social networks and calendars.
The Pebble Watch, which many consider the first commercial smartwatch, first gained attention by pulling in more than $10 million through crowdfunding on Kickstarter. Pebble connects to an iPhone or Android via Bluetooth and has a growing slate of its own apps.
The web is replete with rumors of a Google timepiece and this is how one designer, called Adrian Maciburko, imagines it to look. His Google Time concept would respond to a series of gestures and voice searches to navigate the OS, displaying information like weather, notifications and maps.
quite in the shops yet but it's a cool idea, alright?
Brazilian designer Dinard de Mata proposes the 'Creative Player' - a smartwatch and MP3 player concept that charges with your own pulse. OK so it's not
Also in the pipeline (not definitely but almost certainly) is an Apple smartwatch. They've given nothing away except a major harbinger in the form of a registered trademark - 'iWatch'. Predictions are a-plenty and this concept design by Federico Ciccarese is probably the most realistic one out there.
Far less likely to hit an Apple store near you yet a product of the same imagination is Ciccarese's design for a wearable iPhone 5. Inspired by the pre-release rumor that Apple's iPhone 5 would be "spider-like" (really?!), his concept has metal legs that clamp around the user's hand.
This discreet smartwatch is transparent, touchscreen and has no visible mechanics. It is the iWatch vision of San Francisco digital creative Yrving Torrealba.
It's iWatch concepts all the way now and this plausible design by James Ivaldi has a fully flexible touchscreen interface with the all the mod cons of a normal iPhone.
Comfort reigns supreme with Esben Oxholm's sleek black iWatch concept. It has a curved aluminum exterior with a soft matte rubber interior. It's the design with the greatest resemblance to Apple's current products.
Pavel Simoenov's iWatch concept constantly checks and learns about your environment. You don't have to ask -- you just twist your arm to check for weather, location, places nearby or even your medical condition.
This solar-powered iWatch design by Tolga Tunver has cloud capabilities and syncs with most Apple products. Unlike the other designs it does not have a touchscreen but rather a slim touchpad.
Not as smart as we thought?
The specs
Tick Toq
Sony SmartWatch 2
The crowd pleaser
Google Time?
Creative Player
iWatch?
Spider man
The invisi-Watch
iPhone bracelet
Keeping it simple
Doctor Smartwatch
Sun and clouds
STORY HIGHLIGHTS
Samsung launch new 'smart watch' with built in camera and pedometer
Many commentators critical of the new design
Designers have their own visions of the perfect smart watch
Blueprint is a new series exploring the intersection between high-concept design and practical technology.
(CNN) -- After months of hype and speculation, the Samsung Galaxy Gear smart watch arrived this week with a bang... followed by a whimper.
Some commentators were impressed with the device's technical specifications including its 320 x 320-pixel, 1.63-inch AMOLED touchscreen, an 800MHz processor, a 315mAh battery, and the camera mounted in the wrist strap capable of capturing 1.9-megapixel stills and 10-second video clips. But many were disappointed by the countless features the smart watch did not include.
Prior to the Galaxy Gear's launch, the internet was awash with fervent speculation as to what the watch would do. Many hoped that it would come replete with remarkable features such as acting as a projector, or allowing you to check your pulse and body temperature.
Some commentators envisaged a watch made of radical new lightweight or transparent materials that could interface with the world around you to offer a genuine new experience not currently offered by smartphones or tablets.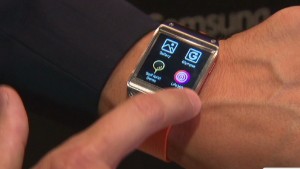 How does Samsung's smartwatch work?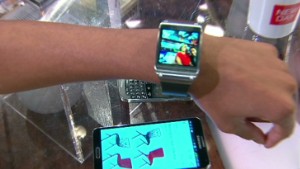 Smartwatch a smart idea?
Read more: 20 wearable technologies from the future
At the device's glamorous launch, JK Shin, president of Samsung's IT and Mobile Division, said that the "Samsung Galaxy Gear benefits consumers by integrating smart device technology even deeper into their everyday lives, and bridges the gap between the mobile device and fashion worlds to create truly wearable technology." But does it really deliver on its promise?
CNN spoke to a number of amateur designers who had mocked up smart watch ideas of their own about their impressions of the Galaxy Gear. Most seemed united in their disappointment.
"I'm waiting for a smart watch that does something extra than just bring my phone to my wrist," says design engineer Esben Oxholm, who mocked up his own smart watch concept in February. "I can't tell you what it is, because I don't know. I just know that I'm not paying 300 to 400 bucks for a wrist attaching remote control that needs to be recharged every day."
Christoph Behling, lead designer for Tag Heuer watches, shared Oxholm's criticisms, saying that in his view the Galaxy Gear will not serve as a replacement for regular watches, because it is lacking in two fundamental aspects: both in its form and its function.
Read: Making music from body movement
"At the moment, it is a decent enough electronics product, but it is not a decent enough watch," Behling says. "I can't see how it will benefit my life. Do I really want to leave my lovely Swiss watch at home in order to have a piece of mass produced consumer product with, in my view, limited functionality?"
I can't see how it will benefit my life
Christoph Behling, watch designer
Behling says that Samsung's decision to tie the Galaxy Gear to a mobile phone means it cannot act as a proper cell phone substitute. Equally, he thinks that its rather industrial looking design, with exposed screws and a metallic finish will win few fans: "They didn't really engage with the idea that the watch is an accessory. It needs to be more targeted to a specific lifestyle where it delivers a particular function."
Not all reviews have been negative. TechCrunch reporter Matt Burns praised the Galaxy Gear's 'attractive' screen and design; The Verge's Vlad Savov described it as "quite unlike anything you've seen before."
Some have noted that the smart watches have in fact been about for years. Others say that the smart watch proper still hasn't been invented. Through all the fevered commentary, technological enthusiasts continue to draw up their own visions of what a smart watch should be. Many now rest their hopes on Apple to deliver the device they are waiting for, with countless speculative designs being proffered by the vast community of "Macolytes."
Read: The dos and don'ts of product design
So how far are we still from a watch that offers haptic feedback, wrist-based payments, gesture controls, and agnostic support for devices regardless of whether they are iOS, Android or Windows phone?
According to some commentators, we are still Galaxies away.