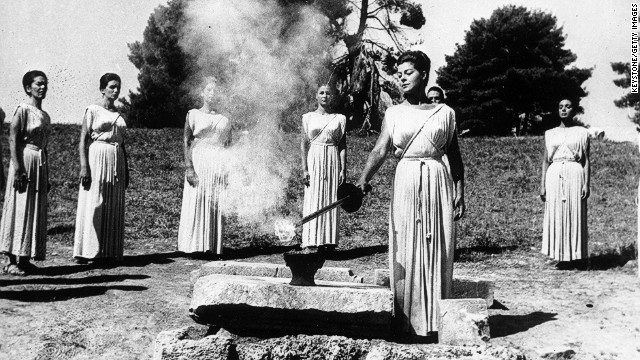 September 22, 1964: During the ancient ceremony at Olympia, Greek actress Aleca Katseli, lights the Olympic torch which will be carried to Tokyo by a relay of runners.
Tokyo has been chosen by the International Olympic Committee
to host the 2020 Summer Games. We revisit the Games hosted by Japan in 1964.
The National Stadium in Meiji Park, Tokyo, pictured on April 23, 1964, where tens of thousands of spectators watched the opening and closing ceremonies.
The construction of the National Gymnasium of the Olympic Village at Yoyogi in Tokyo, where the athletes lived for the duration of the Games, pictured on June 6, 1964.
The completed National Gymnasium. The building was designed by Japanese architect Kenzo Tange.
Olympic hostesses receive a briefing from an official at the main stadium in Tokyo, 1964.
September 1964: A Japanese policeman checks the signs to be used during the opening parade.
October 1, 1964: American pole vaulter Fred Hansen trains on a trampoline at the Olympic village in Tokyo.
Yoshinori Sakai, a student born in Hiroshima on the day the first atomic bomb devastated the city, carries the torch up the stairs to light the cauldron during the opening ceremony on October 10, 1964.
October 10, 1964: Edith McGuire and Wyomia Tyus of the U.S. and Ewa Klobukowska of Poland during the Women's 100 meter final. Tyus won the race.
Australian swimming champion Dawn Fraser (in front) with her country fellow Linda McGill before the race where she set a new 100 meter record and became the first ever woman to finish in under a minute. During her career, she won eight Olympic freestyle medals, including four golds, and beat 27 world records.
The three winners of the featherweight weightlifting event on October 14, 1964. From left to right, they are Isaac Berger of the U.S. (silver), Yoshinobu Miyake of Japan (gold) and Mieczyslaw Nowak of Poland (bronze).
October 15, 1964: Robert Hayes of the U.S. (center) stands on the podium after receiving his gold medal for winning the men's 100 meter final. Silver medal winner Enrique Figuerola of Cuba (left) congratulates Harry Jerome of Canada, who came third. Hayes' time of 10.0 seconds was a new Olympic record.
October 21, 1964: Marathon runners keep warm in patterned blankets after the race.
Soviet athlete Valery Brumel (1942 - 2003) clears the bar at 2.18 meters in the high jump event during on October 21, 1964. Brumel set six world records, won the silver medal in the 1960 Olympics and the gold medal at these Games.
October 21, 1964: The Polish winners of the women's 4 x 100 meters relay race celebrate on the podium, with the American team who came second and the British team who came third.
When Japan hosted the Olympics in 1964
When Japan hosted the Olympics in 1964
When Japan hosted the Olympics in 1964
When Japan hosted the Olympics in 1964
When Japan hosted the Olympics in 1964
When Japan hosted the Olympics in 1964
When Japan hosted the Olympics in 1964
When Japan hosted the Olympics in 1964
When Japan hosted the Olympics in 1964
When Japan hosted the Olympics in 1964
When Japan hosted the Olympics in 1964
When Japan hosted the Olympics in 1964
When Japan hosted the Olympics in 1964
When Japan hosted the Olympics in 1964
When Japan hosted the Olympics in 1964
When Japan hosted the Olympics in 1964