Search for the world's ugliest animal
September 12, 2013 -- Updated 1140 GMT (1940 HKT)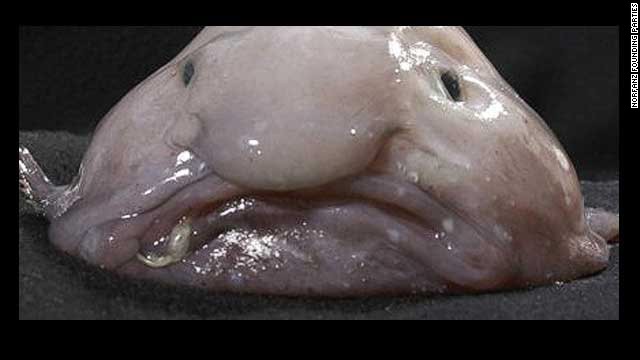 The Ugly Animal Preservation Society named the blobfish as its mascot after a global online vote in 2013. The gelatinous fish lives at depths of up to 1,200 meters off the coast of Australia where it feeds on crabs and lobsters. It's under threat as it often gets caught up in fishing nets... but you wouldn't want to eat it.
On the right you'll notice a somewhat ugly bird named the kakapo, a critically endangered parrot. It's the only flightless parrot in the world and has very muscular thighs, according to the British Science Association. On the left is former New Zealand Prime Minister Helen Clark.
The blobfish also had stiff competition for the title of world's ugliest animal from the likes of the proboscis monkey, a big-schnozzed primate that avoids mirrors on the Southeast Asian island of Borneo.
Found throughout sub-Saharan Africa, the warthog is like a weird assemblage of other animals' parts. Surely only its own mother could love it ... but even then.
North America's largest land bird is likely to get by on brains, rather than looks.
This living dinosaur native to the Indonesian island of Komodo and others actually drools slime. And its bite is venomous. Don't keep as a pet.
Despite its name, implying -- in English, anyway -- some sort of affirmation, this teeny Madagascan primate looks like something left behind in a horror movie prop department and mysteriously brought to life.
Found lounging hugely on beaches worldwide, the elephant seal looks like someone big, ugly and violent you wouldn't want to encounter in a pub. Curiously enough, those three words also nicely sum up the animal's striking sexual encounter.
The monkfish. Hangs out in: the Atlantic. Lacks: aesthetic charm. What more to be said?
Draping itself around Central and South America, the three-toed sloth has a face that looks as if it was put together by a negligent depressive.
The world's ugliest animal? The blobfish
Kakapo
Proboscis monkey
Warthog
California condor
Komodo dragon
Aye aye
Elephant seal
Monkfish
Three-toed sloth
STORY HIGHLIGHTS
Ugly Animal Preservation Society champions nature's less gorgeous endangered creatures
Nascent society is in search of mascot
Aptly named blobfish and pig-nosed frog among contenders
Leave your nomination for grossest organism
(CNN) -- Save the panda!
Sure: how could the world do without such cute, endangered creatures?
And tigers.
Never mind that the adult of the species will happily rip your head off and lick its lips afterward, can you think of a better mascot for a creature threatened with extinction than those adorable, fluffy feline cubs? (Miaow!)
Trouble is, goofy humans that we are, we tend to equate (what we consider) beauty with importance in the ecological scheme of things.
In fact, nature's many repugnant, repulsive -- or just very small -- denizens can be just as important for the environment's health.
The monkey with the hideous schnoz
It's just that the proboscis monkey (with its frankly obscene schnoz), the pubic louse (whose name speaks for its own, hideous self) and the aptly named blobfish tend not to front animal conservation campaigns.
Or none that anyone's ever heard of.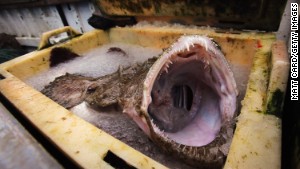 The monkfish ... probably wouldn't get by on its looks
Step forward the Ugly Animal Preservation Society.
The British group, sounding like something that's just funny-walked out of a Monty Python film, is, it says, dedicated "to raising the profile of some of Mother Nature's more aesthetically challenged children."
To the end of saving ugly endangered creatures, reports Wanderlust travel magazine, the Society is in search of a mascot -- something nice and slimy, like the jumping slug, or just malformed-looking and squat, like the New Zealand kakapo parrot.
Introducing the hagfish
The group has garnered public nominations for those neglected organisms -- also including the hagfish, the purple pig-nosed frog and the giant Palouse earthworm -- that make us shudder, but that no doubt consider each other ethereally beautiful after a pint of slime or two.
And that possibly also think Natalie Portman and Ryan Gosling look like bats' bums.
Comedians will champion the public's nominations at money-raising gigs for the Society later this month and next.
Read more: Are these the world's cutest creatures?
In the meantime, the gallery above shows off some of the most unfortunate beasts from the Ugly Animal Society's shortlist and elsewhere on the Web.
Have you encountered worse on your travels?
Let us know, in the comments section below, which animal you'd least like to be reincarnated as.

Today's five most popular stories
Part of complete coverage on
November 16, 2014 -- Updated 2326 GMT (0726 HKT)

Take a trip to the Chinese town that has more relics than people.
November 13, 2014 -- Updated 1742 GMT (0142 HKT)
You know about reggae and Usain Bolt -- but you probably aren't aware of these other Jamaican superlatives.
November 14, 2014 -- Updated 1152 GMT (1952 HKT)

Artist creates brilliant tribute to Dutch impressionist painter -- a cycle route that glows in the dark
November 14, 2014 -- Updated 0633 GMT (1433 HKT)

European airlines beware: These 320kph trains are upping the travel game with roomy seats and onboard wi-fi.
November 13, 2014 -- Updated 1053 GMT (1853 HKT)
For such a relatively small collection of islands, the UK packs in an phenomenal range of beautiful scenery.
November 12, 2014 -- Updated 2237 GMT (0637 HKT)

Rovos Rail's epic trips out of South Africa pamper passengers with fine dining, vintage comfort and even a bathtub.
November 18, 2014 -- Updated 0137 GMT (0937 HKT)

Self-taught Iranian photographer gains rare access to shoot religious buildings as they've never been seen.
November 11, 2014 -- Updated 0345 GMT (1145 HKT)

The subject of erotica has a way of making people uncomfortable.
November 7, 2014 -- Updated 0037 GMT (0837 HKT)

UK's Heathrow Airport pairs destinations with fragrances to evoke long distance travel. We do too.
November 6, 2014 -- Updated 2100 GMT (0500 HKT)

Bumper cars, a freefall simulator and robot bartenders are just a few of the cool features on Royal Caribbean's new Quantum of the Seas.
November 2, 2014 -- Updated 2258 GMT (0658 HKT)

Up in the mountains and across deep chasms, these bridges are both spectacular and terrifying.