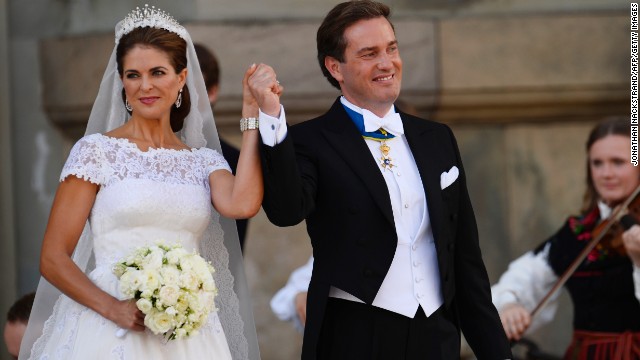 A trip down the aisle shouldn't mean stumbling into debt. Experts say it's important to determine your spending priorities as a couple -- and then skimp on the rest as needed.
Favors are frequently left behind on the tables. As one expert says, guests just don't care -- they're just there to party. If you really want your guests to go home with a token, consider making it edible.
Wedding cake makes a great photo op, but many guests just take a bite or two, if any. Consider a small "show cake" and a less-expensive dessert bar.
Wedding planners say full glasses of Champagne are routinely left un-sipped. Skip the Champagne toast and just have it as option at the bar, or offer sparkling cider.
A bride may have dreamed of a frothy, fancy designer dress since childhood, but many come to regret the expense and the discomfort of wearing it all night. Plenty of brides say they're just as happy having an off-the-rack or sample dress altered so it fits perfectly.
Fancy shoes also might not be worth the splurge. They're often hidden under the dress, and brides slip them off the first second they can.
A vintage veil that's been passed down for generations is one thing. But many brides find that the cumbersome veil they've spent a fortune on is the first thing to go the second the ceremony is over.
One bride says she worked out a deal with her florist to "rent" the flowers, which were collected at the end of the night and brought in to decorate local hotels and restaurants.
Printed programs and menus are lovely, but often skippable. If you're determined to have a menu for everyone, print each guest's name at the top so it becomes a place card.
It might seem incredibly necessary to drape every last surface with flowing fabric, it's often less expensive just to focus on better lighting. Plus -- guests are too busy drinking, dancing and merrymaking to look up and see what's above them.
Wedding $: Where to skip or splurge
Wedding $: Where to skip or splurge
Wedding $: Where to skip or splurge
Wedding $: Where to skip or splurge
Wedding $: Where to skip or splurge
Wedding $: Where to skip or splurge
Wedding $: Where to skip or splurge
Wedding $: Where to skip or splurge
Wedding $: Where to skip or splurge
Wedding $: Where to skip or splurge
STORY HIGHLIGHTS
It's easy to fall into a trap of thinking that every item is a "must-have"
If something isn't a priority for you, don't waste money on it
There are simple, still elegant, ways to curb spending
Champagne, favors and programs can easily be sliced from the budget
(CNN) -- Regrets: Brides and grooms have had a few.
Sometimes, sadly, it's over the person to whom they've pledged their undying devotion. Other times, it's about the cash they've dropped on their wedding.
It's easy to get caught up in a nuptial frenzy. At every turn, family members, friends, experts, magazines, blogs and Pinterest are there to offer inspiration and instill panic. A bride or groom's "nice-to-have" is inevitably someone else's essential ("You can't possibly get married without a DJ, champagne toast, church full of flowers, fill-in-the-blank!").
Thing is, a couple will still be just as married whether or not the guests go home with "Amanda 'n' Drake 4EVA" commemorative matchboxes or the bridal gown has a designer label. So how does a couple decide to save or splurge?
Here's a little perspective from people who have taken that pricey stride down the aisle.
The favors
Your guests' presence is a present, indeed, but you don't have to pay them back with custom-printed tchotchkes that you might end up lugging home or tossing in the trash.
Don't miss out on the conversation we're having at CNN Living.
Follow us on Twitter
and
Facebook
for the latest stories and tell us what's influencing your life.
Wedding planner Tracie Domino says to skip the favors that aren't really personal. "If you give your guests something meaningful, they will be very appreciative," she says, "but if it's a bottle of bubbles or a cheap picture frame, it will most likely get left behind by your guests."
Even with the custom stuff, you might save a little cash, but isn't your time equally valuable? "While some DIY projects are worth it, many are huge time and money wasters that might not even be noticed by your guests," says Domino. "Unless you are already crafty and have a bunch of time on your hands, try to avoid taking on big DIY projects."
Bay Area wedding planner Erica Ota says to consider edibles if you're going the favor route. "The majority of guests don't even take them home and pricey favors end up getting left on the table," she says. "Provide edible favors like chocolates, olive oil, or balsamic vinegar that are less expensive and more likely to go home with your hungry guests."
But even then, the well-intentioned treats don't always make it off the premises. When Katie Rossi got married last November, she thought custom-made cookies would be pretty sweet, but more than half of the favors got left on the table. "At $6 a cookie, that's a lot of money down the drain," she says. "The cookies were delicious but since over half of the wedding guests didn't get to taste them, I felt it was a waste."
The dress
On one hand, it's a once in a lifetime occasion. On the other, it's just that -- once -- that you'll only be wearing your wedding dress, so do you really want to spend a couple of mortgage payments on it? For brides brought up dazzled by Disney princesses, nothing else but a handmade, frothy concoction will suffice. Meanwhile, an off-the-rack frock that didn't cost as much as a minivan may have worked just as well.
Event designer Shondra Cheris has seen it time and time again. "I have clients regretting spending over-budget for the fabulous dress that they are uncomfortable in the entire wedding," she says. Another tip she offers spendthrift brides: Skip spending big bucks on "shoes that they take off as soon as they are able."
Fashion blogger Tanya Thamkruphat wishes she'd kept it simple. "The one thing I definitely would have skipped on was my wedding dress," she says. "I would have opted for a simpler, flexible and probably a mass merchandise store dress. I would have been much happier if I could have done all my crazy dance moves I wanted to do that night if I had a more comfortable -- and still chic -- dress!"
Maureen Bolus Wilkey gave herself and her bridesmaids a break in the wardrobe department. For her August wedding at Chicago's Lincoln Park Zoo, she bought a store sample that wasn't perfectly sized and had a few marks on it from being tried on and dragged around dressing rooms. Wilkey admits that she spent more on the alterations than she did on the dress itself, but, "It looked perfect." Her bridesmaids selected slightly upscale J. Crew dresses that they could wear again, and everyone spent the evening in happy comfort.
Blogger Ericka Andersen spent all of $300 on her wedding dress, loved it and says it was worth every penny. And she didn't just avoid the couture gown route; after seeing her loved ones spend thousands on a single day, she and her fiance decided on a two-person wedding in Jamaica.
"I'm so thankful I skipped the expensive dress and reception," she says. "It was just for us and that's what mattered. Now we have money to put a down payment on a house and take care of the more important expenses of everyday life."
The champagne toast and cake
It's bubbly, elegant and oh so festive, but truth be told, champagne is a lousy pairing with cake, and half-filled glasses and barely eaten slices end up littering the tables.
It's a pricey scenario that Ota sees played out time and time again. "Typically, most people spend between $700 to $1,000, yet I find that only 60% of guests even take a slice. Factor in a $2.50 per person cake cutting fee and you're looking at an expensive dessert," she says.
Ota sees dessert buffets as a fun, less expensive (around $400) and increasingly popular alternative, and says that for people afraid they'll miss out on a photo op, there's always a "show cake." These are smaller cakes given only to family members, not guests, and they work just as well for those Instagram shots.
Realtor Chantay Bridges regrets her opulent dessert (not to mention the designer gown that she says is still taking up space in her closet). "Gourmet seven-tier cake, really? A traditional cake that tasted good would have pleased any crowd," she says.
David Render and his betrothed opted for a small, 35-person wedding -- and the guest list wasn't all they sliced. "We appreciate the symbolism of the traditional wedding cake, but we chose to represent it in our own unique way," he says.
For less than $100 total, the couple bought imperfect cheesecakes from a local company that makes them for restaurants, covered the tops with fruit, and made their wedding guests awfully happy. "We don't know anyone who doesn't like cheesecake," he says.
Lauren Swoboda also heard no complaints from guests who got an open bar and Publix supermarket cake ($400) rather than a champagne toast and a $1,000 cake from a local bakery. The tiers were dressed up with help from her florist, who also helped her nip costs in the bud by letting her "rent" flowers. They were collected at the end of the night and redistributed to hotels and restaurants around the area, which gave Swoboda a significant discount.
If guests are still thirsting for something fizzy with which to toast, wedding planner Sandy Wieber believes there is no need to splurge on the Dom Perignon. "I throw out a lot of full glasses of champagne! More people like sparkling cider," says Weiber, "and it's cheaper."
The printed programs and menus
If your guests can't tell the players without a program, perhaps they've stumbled into the wrong wedding. Ely Anne Vedar runs a boutique agency and advises clients to save both money and trees by skipping the printing.
"Everyone there is there for your wedding, and if they don't know who the bride and groom are then they shouldn't be there," she says. "Save that money and splurge on your food and beverages for the reception!"
Event planner Robyn Bruns believes printed programs can be a nice touch, but they often get left behind after the ceremony. She recommends handing one out per couple rather than per person to cut the cost in half.
Similar cutbacks can be made at the table. "I do believe the guests do like to get an idea of what they are eating, however a menu per person is not necessary. Use one or two menus per table and display them for everyone," says Bruns.
For couples who do decide to go the menu route, it can do double duty, Bruns advises. "Put the guests' names on the menu and then it becomes a place card instantly."
Every couple has different priorities, and one couple's must-have is another couple's "meh." Priorities can even vary between the betrothed. Wieber helps them sort it out by asking them a few questions:
1. Pick your top three priorities: dress, flowers, food, cake, champagne, music, favors or guest gifts, venue, decor, printed items, photography, videography, reception, transportation, drinks or honeymoon. (Wieber notes that grooms always choose the honeymoon, so brides are really picking one, and then the couple is picking one jointly.)
2. What is important in other areas of your lives? Hobbies and ideas about how you'll spend your first honeymoon can help offer clues.
3. Do any important family members have expectations? If they do, that's the fourth priority.
After those are set, Wieber says everything else can be skimped on because it doesn't matter as much. "And if it doesn't matter, then it's a waste of money to go all out in that particular area."
Write down your priorities, stick to your budget, don't spend too much time getting distracted by Pinterest, and you, too, can stroll happily down the aisle together, debt-free, 'til death do you part.
Got any regrets or wedding elements you wouldn't have missed for the world? Please share them in the comments below.