Eli vs. Peyton: Manning Bowl III
September 13, 2013 -- Updated 1217 GMT (2017 HKT)
STORY HIGHLIGHTS
Eli Manning and Peyton Manning play against each other for the third time
Eli's New York Giants play older brother Peyton's Denver Broncos
Peyton beat Eli twice while playing for the Indianapolis Colts
Eli has two Super Bowl rings, compared to Peyton's one
(CNN) -- It's Manning vs. Manning, Eli vs. Peyton, New York Giants vs. Denver Broncos. Less brother in arms more grappling brothers.
This weekend the NFL's most high-profile sibling rivalry is reignited, as two brothers who first played football together in their New Orleans front yard go head-to-head in the big league.
But don't expect any animosity between the two Super Bowl-winning quarterbacks.
"I'm proud of Peyton, he's proud of me and we've worked hard to get to this point and into the NFL," younger brother Eli, 32, told CNN as his Giants prepare to welcome Peyton's Broncos on Sunday.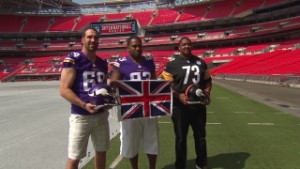 Young fans attracted to EPL and NFL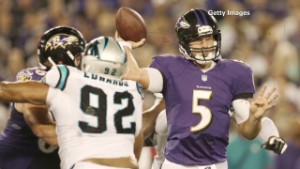 Why fantasy football = big money
"We support each other and we want each other to play well each year. Just seeing him before the game, shaking his hand and just talking for those few minutes are special moments, that's what you'll remember down the road."
Read: NFL, ex-players reach deal in concussion lawsuit
The brothers have met on two previous occasions, when Peyton was playing for the Indianapolis Colts in 2006 and 2010. Peyton beat his little brother on both occasions.
But Eli has won most when it counts. He has two Super Bowls rings, one more than his big brother.
Caught in the middle at MetLife Stadium will be their parents. When both your boys are going toe-to-toe, who do you cheer for?
"I think they'll just root for offense, a high-scoring game," replied Eli. "Both quarterbacks did everything they could but something happens where one team loses but it's still some sort of moral victory, if that exists."
The two brothers had contrasting results in week one of the NFL regular season.
The Broncos beat the Baltimore Ravens 49-27, while the Giants went down 36-31 at the Dallas Cowboys.

Part of complete coverage on
U.S. Sport

Is 80 years of sporting tradition really more important than respecting Native American rights, asks CNN's Kurt Mullen?
October 25, 2013 -- Updated 1734 GMT (0134 HKT)

Women dancing on the fringes of competitive sport has been labeled an echo from an age of sexism and misogyny.

CNN's Dane Stallone argues that the Women's National Basketball League deserve more respect.
October 19, 2013 -- Updated 1555 GMT (2355 HKT)

A Texas white hat has crossed through the pearly gates.
October 9, 2013 -- Updated 2309 GMT (0709 HKT)

American football is continuing its love affair with London.
October 21, 2013 -- Updated 1638 GMT (0038 HKT)

Former NBA player Shaquille O' Neal buys part of NBA's Sacramento Kings. CNN's Rachel Nichols has more.
October 7, 2013 -- Updated 1519 GMT (2319 HKT)

It was only a year and a half ago that a phenomenon swept the globe and made basketball fans a little, well, "Linsane."
September 24, 2013 -- Updated 1002 GMT (1802 HKT)

Soccer may be the No. 1 sport in most of Africa but basketball is growing fast and the NBA is courting the continent in a big way.
June 14, 2013 -- Updated 1645 GMT (0045 HKT)

Sebastien De La Cruz has become a household name after his renditions of the U.S. national anthem during the NBA Finals.
May 31, 2013 -- Updated 2004 GMT (0404 HKT)

OK, readers, let's have a debate: Who is the best player in the NBA? Is it Kevin Durant, LeBron James or Kobe Bryant?
June 6, 2013 -- Updated 1629 GMT (0029 HKT)

Tiger Woods has not only climbed back to the top of the golf rankings, he has reclaimed his crown as the world's highest-paid athlete.
May 28, 2013 -- Updated 2223 GMT (0623 HKT)

After a prolonged courtship with Seattle, the Sacramento Kings are officially staying put.
May 27, 2013 -- Updated 2134 GMT (0534 HKT)

Robbie Rogers became the first openly gay male athlete to play in a pro American sporting match when he took the field for MLS team LA Galaxy.
Today's five most popular stories