Al Qaeda issues message about September 11th
September 13, 2013 -- Updated 1033 GMT (1833 HKT)
STORY HIGHLIGHTS
To commemorate 9/11, al Qaeda's leader issued new threats
Ayman al-Zawahiri called on his followers to "land a large strike"
He named the Boston Marathon bombings as an example
Drone strikes have weakened al Qaeda in Yemen
(CNN) -- Americans commemorated this week the loss of those who died at the hands of al Qaeda terrorists on September 11, 2001. Their leader chimed in a day later with new threats against the United States.
Ayman al-Zawahiri called on his followers in an audio message posted on the Internet on Thursday to "land a large strike on it, even if it takes years of patience for this."
9/11 anniversary: 'Our hearts still ache,' Obama says
Al-Zawahiri has headed al Qaeda, since a U.S. military operation killed his predecessor and al Qaeda's founder, Osama bin Laden, in May 2011 in Pakistan.
In his message, he claimed victory against the United States in Iraq and Afghanistan. He called on terrorists to continue the battle on American soil.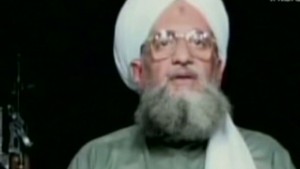 Al Qaeda leader orders immediate action
Al-Zawahiri named the Boston Marathon bombings on April 15 as an example of such an attack.
Read more: Jihadist terrorism in America since 9/11
He encouraged his followers to provoke the United States into spending more on security, in order to "bleed America economically."
In August the Obama administration closed 19 embassies and consulates across the Middle East and North Africa after intercepting communications between al Qaeda leaders indicating possible strikes on U.S. interests.
In a message between al-Zawahiri and a top ally in Yemen, Nasir al-Wuhayshi, the leader of Al Qaeda in the Arabian Peninsula, the terror chief told the Yemeni commander to "do something," which U.S. officials inferred to mean an attack.
In his audio message Thursday, Zawahiri also claimed victory over the United States in Yemen.
But extensive drone attacks there allegedly carried out by the United States over the past two years have whittled away at al Qaeda's infrastructure and killed key leaders, diminishing its ability to carry out attacks.

Today's five most popular stories
Part of complete coverage on
October 29, 2014 -- Updated 1331 GMT (2131 HKT)

A terminally ill woman who plans to take her own life checks off the last item.
October 30, 2014 -- Updated 0115 GMT (0915 HKT)

Armed with Kalashnikovs and chanting for the dead comrades, women are among ISIS' most feared enemies. They are fighting for their families -- and now they are getting U.S. help.
October 28, 2014 -- Updated 1246 GMT (2046 HKT)

Lere Mgayiya put his best foot forward and set up a shoe-shine firm after his career plans fell flat.
October 30, 2014 -- Updated 0528 GMT (1328 HKT)

One Chinese drone manufacturer wants to take away the warmongering stigma of "drones."
October 30, 2014 -- Updated 0312 GMT (1112 HKT)

Sketcher Luis Simoes is traveling the world -- slowly. And he's packed his sketchbook.
October 28, 2014 -- Updated 2043 GMT (0443 HKT)

European states help North Korea's brutal treatment of its people by allowing luxury goods like cars and cognacs to evade sanctions, two experts say.
October 29, 2014 -- Updated 1520 GMT (2320 HKT)

Groping, lewd comments, and that's not the worst of it.
October 28, 2014 -- Updated 0133 GMT (0933 HKT)

British hostage John Cantlie appears from the battle city of Kobani.
October 28, 2014 -- Updated 1443 GMT (2243 HKT)

A captured fighter tells CNN's Ivan Watson: "They gave us drugs... that made you go to battle."
October 24, 2014 -- Updated 0345 GMT (1145 HKT)

Chinese leaders want less odd architecture built in the country.
October 30, 2014 -- Updated 1106 GMT (1906 HKT)

Each day, CNN brings you an image capturing a moment to remember, defining the present in our changing world.

Browse through images from CNN teams around the world that you don't always see on news reports.