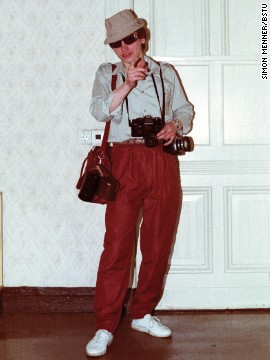 Disguises as tourists were often used to help agents appear "inconspicuous" in places frequented by Westerners. Props such as plastic shopping bags and cameras were often used.
These pictures from a staged surveillance scene helped to train prospective agents in how to keep suspects under watch. The dates all these photos were taken is unknown.
All parcels mailed to the GDR from West Germany were opened by the Stasi. The contents were sometimes confiscated.
The U.S. Embassy in East Berlin was constantly photographed and filmed.
An arrest is staged and documented for training purposes.
This picture was taken in the room of a teenager that allegedly showed pro-Western sympathies.
High-level Stasi functionaries pose for the camera.
Many of the disguises used by Stasi agents are detailed in Simon Menner's book.
Who would have guessed this gentleman was a Stasi agent?
So versatile: A Stasi agent blends in with the crowd.
East Germany had one of the highest levels of surveillance in the world.
After the fall of the Berlin Wall and the GDR, the Stasi began destroying its files by hand and with shredders, but many documents and images still exist.
So casual: This Stasi agent can blend into any situation.
Agents bugged apartments and drilled small holes in walls to film citizens with video cameras to find out intimate details of their lives.
A Stasi agent takes a picture of himself in the car.
The lives of Stasi agents
The lives of Stasi agents
The lives of Stasi agents
The secret techniques of Stasi agents
The lives of Stasi agents
The lives of Stasi agents
The lives of Stasi agents
The lives of Stasi agents
The lives of Stasi agents
The lives of Stasi agents
The lives of Stasi agents
The lives of Stasi agents
The lives of Stasi agents
The lives of Stasi agents
The secret techniques of Stasi agents