Parties, piñatas and penguins: Independence Day, Central America style
Join the conversation
CNN iReport
September 13, 2013 -- Updated 1742 GMT (0142 HKT)
Peaceful Costa Rica
Red, white and blue
Mexico City lights
A trip down memory lane
Guatemala's motley crew
Banging the drum for Honduras
Love, peace, justice and liberty
Fire of Freedom
Charros in Chicago
El Salvador's peace bands
Military parade
We are family
Reflecting on solidarity
Piñatas of Tijuana
Week-long celebrations in Nicaragua
She nailed it!
Viva Las Vegas
Proud parading in Guatemala
The battle of the marching bands
The beauty of buildings
On a mission
The ox and cart of Costa Rica
STORY HIGHLIGHTS
Guatemala, El Salvador, Honduras, Nicaragua and Costa Rica celebrate on September 15
Mexico celebrate its Independence Day, sometimes referred to as El Grito, on September 16
iReporters from all six countries shared their best Independence photos
(CNN) -- For one weekend in September more than 155 million people in six neighboring countries in one continent pull out all the stops to honor the birth of their nations.
Five Central American countries -- Guatemala, El Salvador, Honduras, Nicaragua and Costa Rica -- kick off their Independence Day celebrations on September 15, the date when, in 1821, they declared independence from Spain, while the following day Mexico holds its own independence celebrations.
We asked people from each country to send in their best images from past and present Independence Day celebrations. From masked revelers in Guatemala to elaborately costumed dance troupes in Honduras, we received stunning images from nations proud to celebrate their beginnings.
More Celebrates: The world's best firework displays
Like the best birthday celebrations, the events are marked with glorious parades, street parties, festivals and family gatherings.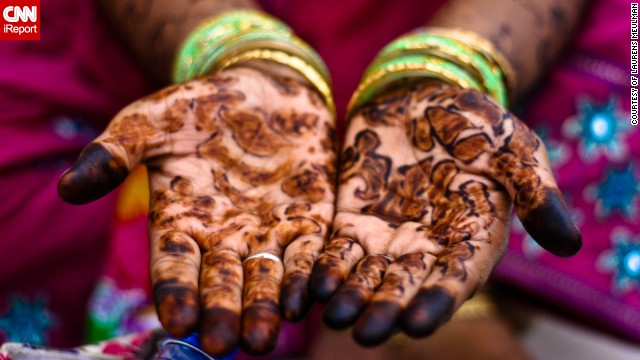 During an Eid spent in India, Laurens Meulman, 35, from the Netherlands, spotted an irresistible photo-opportunity after she'd been invited to share food with a family in a square behind the Taj Mahal. "The henna-painted hands of one of the women in the group caught my eye and I asked her if I could to take a photo," she said.
This Eid 3-year-old Mazin from Jeddah in Saudi Arabia will be wearing a brand new customized thobe. His father Yassir Nassif said that for most people Eid is a family holiday where you go from house to house to visit relatives they never got around to visit during the rest of the year. "We have scheduled breakfasts, lunches and dinners. I never knew how exhausting it was on my parents until I became one myself, but I enjoyed it as a kid and would love my children to have the same pleasures."
The hustle and bustle of the Matia Mahal bazaar close to Old Delhi's principal mosque Jama Masjid was captured on film by 70-year-old Ramesh Lalwani. The samosas are in the process of being fried and the pakoras, jalebis and gulab jamuns are ready for sale to the Eid crowds.
The night cooking at the Nakhlistan Eid-al-fitr Feeding Scheme in Cape Town, South Africa was captured by Amien Phillips. More than 69,000 people were fed and five tons of meat, four tons of rice, 2.7 tons of potatoes, 850 kilograms of onions, 27,000 pieces of wood and 151 pots were used.
This colorful feast of a photo was taken by Ashish Tibrewal in his native Mumbai, India, during Eid in 2009. "Being a Hindu, I do not celebrate Eid myself but I visit my Muslim friends to greet them on Eid, and it's a great symbol of peace and brotherhood between different religions," he said.
This moment of brotherly love was taken by Anupama Kinagi in Mumbai, India: "Muslims had just offered prayers and were wishing each other a very happy Eid. It is absolutely fine to hug and wish strangers on this auspicious occasion. The police officer specially arranges for rose flowers and greets Muslims outside Masjid on this special day. The Muslims accept their wishes and thank them for their extraordinary service," said the 37-year-old graphic designer.
"There are four mosques in the immediate neighborhood and each one celebrates Eid slightly differently," said Stephanie Keith from Bedford-Stuyvesant, a part of Brooklyn that has become a popular area for African immigrants. "One mosque has the street blocked off during prayer time and all the worshippers fill the streets. Another mosque blocks off the street for the whole day and has a street party. But at every mosque, people don their fanciest outfit of the year most in an African style," said the 47-year-old travel journalist who used to live and work in Egypt.
Sammi Addahoumi, 30, from South Carolina snapped this photo of a Benghazi sweet shop while traveling through Libya for Ramadan. "Sweets, especially during Ramadan, offer a guiltless pleasure that all of Benghazi can indulge in," he said. The sweets in this photo are called Kunafah and are filled with almonds, pistachios, hazelnuts, cashews, cheese, cream, or cream cheese.
Anupama Kinagi, 37, shot this photo of Muslims in prayer from a terrace near the Hamidiya Masjid mosque in Mumbai, India. He said he wanted to capture the geometric pattern formed by so many bowed heads and bodies: "It was a beautiful morning. The sky was clear. There were hundreds of men gathered to prayer as a ritual. The men were dressed in Kurta Pajama. The place was noisy but as soon as the prayers started it was so peaceful and pin drop silence. After the prayers everyone hugged and greeted each other 'Eid Mubarak'."
This photo of a young Muslim boy was taken by Dinesh Maneer, from Bangalore, India. "Though I am from a different religion I was invited by a friend to the mosque for photographing the celebrations," said the 33-year-old engineer.
In this photo Farrah Azam can be seen drawing one of her henna designs in the sand at a beach in Antalya, Turkey. The 26-year-old henna artist from London creates bespoke designs but unusually she paints it on canvases and other objects rather than on body parts. "I am a practicing Muslim who participates in the month of fasting. Eid marks the end of the month of fasting and I celebrate it with my family and friends by visiting the mosque for the special Eid prayer, having a lavish meal, exchanging gifts and meeting relatives," she said.
Renisha Leah Bisnath took this photo of a local mosque in her native Trinidad and Tobago where Eid is one of the year's biggest celebrations. "It is a special local custom for the Muslims in my neighborhood to invite us over at their house for food."Here in Trinidad, people of different religious backgrounds live in harmony. Many of my best friends are Muslims, so maybe one or two days during the month of Ramadan, I try to observe the fast to experience what it is like. I must say, it is very enriching," said the 21-year-old medical student.
This photo of Syrian refugee children was taken last year at the Hatay's Yayladağı refugee camp in Turkey by TV journalist Can Hasasu. "Eid, or Bayram as we call it in Turkey, is like Christmas for children, a cheerful feast. They collect money and gifts. Families buy new clothes for them. It was sad to see these children behind the fences of the camp. No money, no new clothes, no gifts and for some no family anymore. Despite all the sufferings in their country these children were smiling," said the 36-year-old from Istanbul.
Dina Syazwani Sipal Anuwar, a 24-year-old teacher from Selangor in Malaysia, took this photo of her family celebrating Eid last year. The photo means a lot to her as it was the last Eid she was able to spend with her father Sipal, a policeman, who unexpectedly passed away in January 2013. It was also the first time the family had ever managed to color coordinate their outfits. "I think it was one of the signs that father would be leaving us, last Eid we could take a perfect photo as a whole family," said Dina, pictured top left. This year the family have decided to all wear pink.
This beautiful Eid decoration entitled Pillars of Celebration can be seen in a shopping center in Damansara, a suburb to Malaysia's capital Kuala Lumpur. "From the picture, you can see that it's actually a stage, build on the roof while the shoppers shop below. It's the best Eid decoration in town I've seen so far," said 34-year-old Raja Marliza Safia who shared he photo with CNN via Instagram.
In Bangladesh it is common for the city folks to return home to their villages in the days leading up to Eid to avoid the last-minute rush, according to Ata Mohammad Adnan from Chittagong. "Railways prove to be a popular form of transport, but the numbers of seats available don't do justice to the number of prospective passengers. The journey they are making is of great significance because I believe the journeys that take you home are always the most meaningful," said the 24-year-old doctor.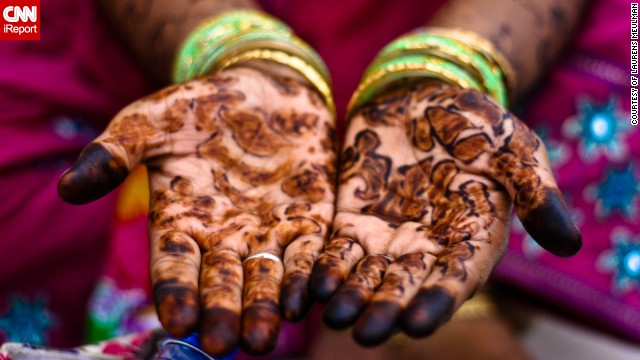 Your Eid celebrations photos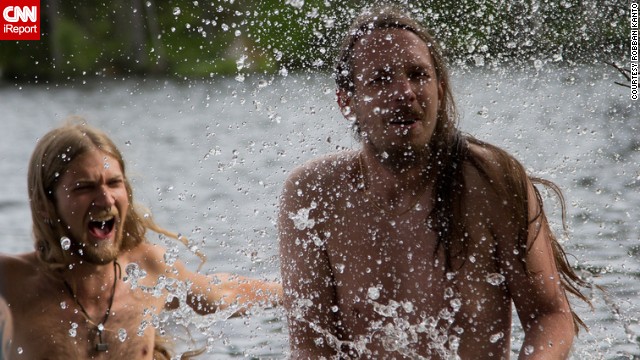 Summer solstice, the longest day of the year, arrives in the Northern Hemisphere on June 21. It's a time when bonfires are lit, traditional songs are sung and more often than not, clothes come off. Robban Kanto and his friends, who celebrated the longest day in Zinkgruvan in Sweden last year, couldn't resist a quick skinny-dip before the night was up.
There weren't many more clothes on display at the Santa Barbara 3-day summer solstice parade last year. "It's one of the largest, most festive, and longest-running events of its kind in the U.S." said Scott London, who documented the event.
In Germany, the distinctive 'Externsteine' rock formation is an important venue for large festivals during the longest day of the year, similar to the UK celebrations at Stonehenge. Bernd Mestermann, who took this photo, has been going to this German event for 20 years.
In Sweden, where Midsummer is one of the biggest celebrations of the year, singing and dancing are central to the fun and frolics. But before all that the maypole has to be decorated and raised. Ulf Bodin took this photo in the small town of Sigtuna, an hour north of Stockholm.
After the Swedish midsummer maypole has been raised, it's time for the dancing, which, to outsiders, might look odd, embarrassing and weird. But don't laugh! The Swedes take their Midsummer dancing very seriously. This photo, shot by Mats Edenius, shows the end of the "rocket" dance. "It starts with low clapping going more intense, trying to make as much noise as possible. Then it takes off and everybody jumps synchronized."
64-year-old Janto Marzuki captured these images of a typical Stockholm midsummer celebration in 2008, in the historic open air museum and zoo 'Skansen', where you can relive the days before the industrialization and see people dressed up in Swedish traditional dresses.
This shot, however, is the real deal. It was taken in 1957 by iReporter Paul Jackson's uncle Sven Eric Andersson on Midsummer's Day on the Swedish island of Gotland in the Baltic Sea. Jackson, who is half Swedish, says he is very proud of his ancestry and that he always "pauses a moment to think of my Swedish relatives on midsummer evening."
Traditional costumes are also an important part of the midsummer celebrations in Novo Cice, a small village in central Croatia. They organize a folklore festival every year to celebrate the arrival of summer and birth of St. John the Baptist. "During the years, the festival has become bigger and we have started to get visits by folklore societies from nearby countries," says the photographer Vedran.
Valeria85 took this photo in the cathedral of Bari, Italy. She says that only during summer solstice does the light coming from the ceiling align perfectly onto the special mosaic pattern. Watching this "game of light" in the cathedral has been her midsummer tradition for a couple of years and she will be there again this year.
In Denmark it's common to have big bonfires during summer solstice. Londoner Mitchel David Needham attended the Danish 'Sankt Hans Aften' in 2011. "Whilst the bonfire was burning, several bands performed, a lot of families played games with their children around the fire and young people were drinking and generally having a great time!"
"The Uluu Ot, or Sacred Fire, has been remembered in Kyrgyz oral storytelling for 40,000 years. The Uluu Ot was rekindled in Kyrgyzstan on the summer solstice of 2010, attended by traditional cultural practitioners representing the Central Asian migration out of Africa," says iReporter Maryka Ives Paquette
The bonfires are also one of the highlights during Norwegian midsummer, or 'Sankthansaften'. This photo taken by Jon-Arne Belsaas in 2009 shows one of the world's largest bonfire made of barrels. He had hurried back to the town of Bergen from his work on a Navy ship to witness it. "I wanted to catch this magnificent sight," he says.
In Finland the midsummer celebrations are called 'Juhannus'. "Lots of people- friends and family- gather together somewhere near water and set up a huge bonfire called "Kokko" and usually drink lots of alcohol and go to the sauna. That's just somehow the Finnish thing," says 24-year-old Tom Rantala who took this photo during midsummer celebrations in 2011.
Witnessing the summer solstice in Scandinavia is an experience many from abroad want to experience at least once in their lives. Luke Isaac and his wife are currently enjoying their first midsummer in Finland. He took this photo June 17 at the Lake Äkäslompolo in Lapland, a region stretching across Norway, Finland, Sweden and Russia. He said they will watch the bonfire. "All is quiet at the moment".
For those living far from home, midsummer traditions can be a way to reconnect with one's roots. Darius Kuzmickas shared this photo from a midsummer celebration by the Lithuanian community in Portland, Oregon . "We sing and dance until sunset."
For some, summer is marked by special foods. The San Diego Fair tends to adventurous taste buds during summer months. Californian Chris Morrow starts her summer by trying the fair's food. This photo shows her husband's Krispy Kreme Sloppy Joe. "It's a taste conflict of sweet and savory that are not complimentary. The confusion in your mouth is weird and awesome!"
Food is indeed an important part in many solstice celebrations, especially in Sweden. 35-year-old Robban Kanto documented last year's midsummer celebrations with his friends where they served traditional midsummer food, like pickled herring, hard bread, caviar on egg and meatballs.
If summer solstice celebrations sound too stressful, there is always the option to join the 'Solstice in Times Square' event in New York City, where thousands of people practice yoga together. "Yoga has always been associated with the sun as a life-giving and healing force," says Asterio Tecson, who took these photos in 2012.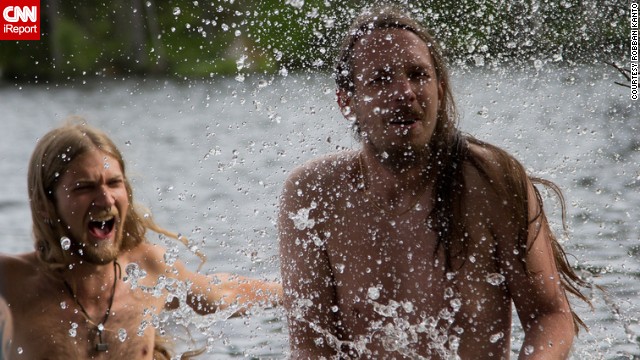 How do you welcome summer?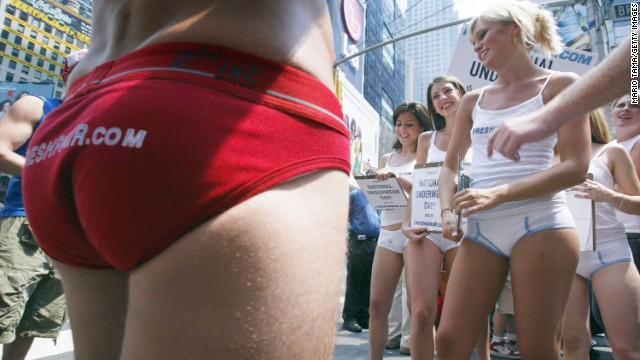 Underwear brand Freshpair coined National Underwear Day (August 5) to market their brand of panties. The company celebrates by hiring models to parade in their underthings at New York's Time Square. Civilians are welcome to join the fun as well.
Ever wanted to go UFO spotting? World UFO Day is the time to do it. The day is celebrated on June 24 to commemorate the first UFO sighting, and July 2 in honor of the supposed Roswell UFO crash.
There's no shortage of reasons to dance like a chicken. Some -- like PETA organizers -- chose to do it in protest, while others are simply fans of Arrested Development. The best time to do it, though is on May 14, aka, National Dance Like a Chicken Day.
While there's not much role for town criers these days, in the United Kingdom, some celebrants chose to honor the history of the broadcasters of old on National Town Crier Day on July 8.
Star Wars fans have recently appropriated May 4 as their own. The date is significant mainly because it makes for a handy pun ("May the fourth be with you"). The date has become so popular that Hallmark has even introduced Star Wars Day e-cards.
Fans of the Korean alphabet can rejoice on Hangul Day, which commemorates the invention of the writing system. The Hangul Society created the holiday in 1926, though there has been some debate over the actual date. The day is celebrated on October 9 in South Korea, and January 15 in North Korea.
While the Qixi Festival in China is supposedly 2600 years old, it is only recently that it has been deemed China's equivalent to Valentine's Day. The holiday is commemorated with several ancient rituals but some newer, edgier traditions have started to make the rounds, such as this condom-blowing match.
Black Friday, commonly known as the biggest shopping day of the year in the U.S., has become a holiday in its own right in recent years, at least from a retail point of view. Consumers often line up as early as midnight to take advantage of pre-Christmas sales.
The Left Handers' Club launched International Left Handers Day on August 13, 1992 to support left-handed individuals in a right-handed world. Celebrations include setting up tongue-and-cheek 'left-only zones', and leftie sporting and drinking events.
In Whittlesea, England, there was once a tradition on the first Tuesday after Plough Monday to dress a local farmer in a costume made of hay and parade him around the street. The tradition ended in 1909, but was revised in 1980. In 1999, The English 'straw bear' made friends with its German counterpart (pictured).
The origins of Hammock Day (July 22) are hazy. It is suspected that the holiday (on the American calendar) was started by a hammock company. Mainly, observers are encouraged to simply lay about.
Over a dozen countries celebrate their own version of Engineer's Day in a bid not only to honor those in the profession, but to encourage others to join. In India, Engineer's Day is celebrated on September 15 to commemorate Indian engineer Mokshagundam Vishveshwariah, aka Sir MV.
Technically, on Japan's Greenery Day (May 4), locals are meant to get out in nature. Really, though, it's an excuse for a day off. The day initially took place on the birthday of the late Emperor Showa on April 29. It was moved to May 4 and became more orientated around nature (apparently, the emperor was a fan of the outdoors).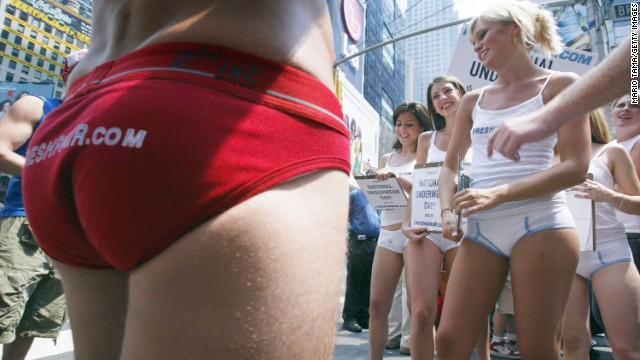 13 new and nerdy holidays
TV producer Brad Cordeiro was in San Juan del Sur, Nicaragua, when he captured stunning images of young women in beautiful flowing blue dresses performing in a parade held for the country's Independence Day.
"The feel of the parade was of a lot of proud parents watching their kids participate," he said. "The celebration was a week long, and as San Juan del Sur is a resort town people from all over the country came to town, it felt like the whole country was there," he said.
Sometimes the celebrations can provide the most eye-opening of visuals. In Guatemala City, anthropologist Lucas de Soto captured this image of a rather motley crew of soldiers, worker and, yes, a man dressed in a bird suit during the country's celebrations in 2011.
"It's ... sort of a fun side to the military that they wanted to present with the festive atmosphere, despite how ambivalent the general public is about them," he said. "They were dressing up as bears, and wrestlers, and handing out candy."
More Celebrates: The world's messiest festivals
Elsewhere on the continent, in Honduras, Independence day for U.S. photographer Hunter Johnson means a chance to give the orphans who live in the homes his organization houses the opportunity to take part in the many parades held to honor the day.
His beautiful image captures several young girls from one of the organization's centers proudly dressed in their dancing finery ahead of a parade in Talanga, Honduras.
"The parade I witnessed in Honduras was certainly simpler from a materialistic perspective, but it did not lack whatsoever in energy and passion among its participants," he said.
"They were proud to don colorful outfits and march in unison as they honored their country in music and dance."