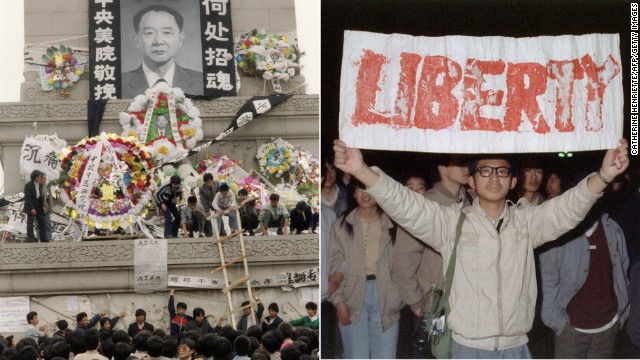 Ousted General Secretary of the Communist Party, Hu Yaobang, dies at age 73 on April 15, 1989. The next day, thousands of students gather at Tiananmen Square to mourn him -- Hu had become a symbol of reform for the student movement. A week later thousands more marched to Tiananmen Square -- the start of an occupation that would end in a tragic showdown.
May 13, 1989, student demonstrations at Tiananmen Square escalate into a hunger strike with thousands taking part and calling for democratic reforms.
Student hunger strikers camp out on top of buses parked at Tiananmen Square.
May 16, 1989, then Chinese President Deng Xiaoping (center) takes then Soviet President Mikhail Gorbachev and his wife Raisa by the hand at the Great Hall of the People. Gorbachev's visit coincided with the student hunger strikes, forcing the official reception to be moved from Tiananmen Square to the airport -- embarrassing for the Chinese leadership.
May 17, 1989: Five days in and the hunger strike begins to take its toll on students. Paramedics evacuate ailing protestors from the square.
May 18, 1989 and Gorbachev has been in China for three days, witnessing street protests for each of those days. At the height of demonstrations, a million people were marching through Beijing.
May 18, 1989, Chinese workers parade on motorbikes in support of student hunger strikers.
May 19, 1989, the sixth day of hunger strikes. Communist Party General Secretary Zhao Ziyang arrives at Tiananmen Square to address the students. He begins his now-famous speech by saying: "Students, we came too late. We are sorry." The next day, Premiere Li Peng declares martial law in parts of Beijing.
May 20, 1989, teachers from Beijing Normal University arrive at Tiananmen Square by the truckload to support their students after martial law was declared.
May 20, 1989, pro-democracy demonstrators raise their fists and flash the victory sign while stopping a military truck filled with soldiers on its way to Tiananmen Square.
May 30, 1989, students from the Central Academy of Fine Arts create a 10-meter-tall statue of the Goddess of Democracy to boost morale amongst student protestors in Tiananmen Square. Erected in just four days, the statue was unveiled in front of the Monument to the People's Heroes.
This photo was taken on June 2, 1989, showing hundreds of thousands gathered around the Goddess of Democracy.
Countdown to the crackdown: Unarmed troops first approached Tiananmen Square on June 2.
On the night of June 3 and into the early hours of June 4, armed troops and tanks moved in on students and other civilians in the areas around Tiananmen Square, opening fire on the crowds.
June 4, 1989, journalists covering the crackdown were caught in the line of fire.
June 4, 1989, students set fire to tanks. An official death toll has not been released but witnesses and human rights groups say hundreds were killed in the clash.
In the weeks following June 4, activists who were directly or indirectly involved in the pro-democracy demonstrations were arrested.
Today, Hong Kong is the only Chinese territory where commemoration of the June 4 crackdown is allowed. Here, pro-democracy legislator Lee Cheuk-yan (left) unwraps a replica of the Goddess of Democracy at Hong Kong's June 4 Museum that opened on April 24, 2014.
A pro-democracy group takes part in a rally outside the June 4 Museum on its opening day. A candlelight vigil commemorating the martyrs of the 1989 crackdown is held in the city's Victoria Park each year on June 4, attended by thousands.
Timeline: Tiananmen Square crackdown
Nil by mouth
Tiananmen sit in
Gorbachev visits
Price of protest
Witness to discontent
Biker backing
Martial law
Student-teacher relations
Victory sign
Monument to Heroes
Mass protest
Troop movements
Crackdown
Caught in the middle
Students fight back
Punishment
Hong Kong vigil