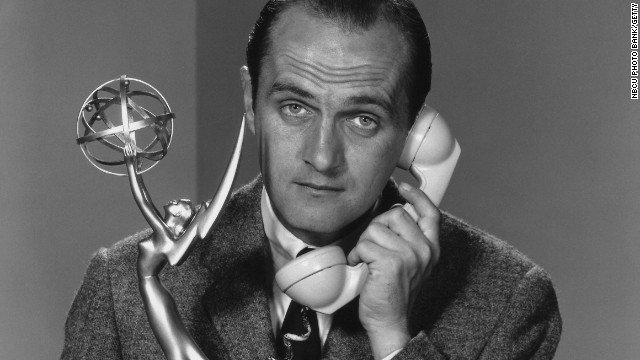 After seven nominations, actor and comedian Bob Newhart, 84,
has finally won at the Primetime Creative Arts Emmys on Sunday
, September 15. He was named Outstanding Guest Actor in a Comedy Series for his work on CBS' "The Big Bang Theory." Here Newhart jokingly held an Emmy years before snagging one.
Newhart and his wife Ginny laugh together at their home in Westwood, Los Angeles, California, in 1964.
Newhart has built quite a career as a comic and actor. Here is in April 1962.
Newhart played a psychiatrist in his show "The Bob Newhart Show" that ran from 1972-78. In this 1972 episode, Newhart counsels a clown about his problems.
Known for mostly playing nice guys, Newhart poses as a dour devil with a red cape, pitchfork and horns in 1978.
Newhart plays Don Johnson, with Bill Murray as Jim Lange, for a "The Dating Zone" sketch on a Saturday Night Live episode in 1980.
Cast members of the comedy show "Newhart" appear during an episode in 1982. The show ran from 1982-1990.
Newhart receives a star on the Hollywood Walk of Fame in 1999.
Newhart and former "The Bob Newhart Show" co-star Suzanne Pleshette appear at the 54th Annual Emmy Awards in 2002. She died in 2008.
Newhart won the prestigious Mark Twain Prize for American Humor in 2002.
Newhart guest stars as Ben Hollander, alongside actress Sherry Springfield as Dr. Susan Lewis, in the TV drama "ER" in 2003.
Newhart plays Papa Elf in the 2003 comedy film "Elf."
In the show "Desperate Housewives," Newhart guest stars as Morty Flickman.
Newhart plays Professor Proton in the TV show "The Big Bang Theory" alongside characters Sheldon and Leonard.
Newhart poses with his first Emmy in the press room at the 2013 Primetime Creative Arts Emmy Awards on Sunday, September 15, at the Nokia Theatre L.A. Live in Los Angeles, California.
Bob Newhart's golden career
Bob Newhart's golden career
Bob Newhart's golden career
Bob Newhart's golden career
Bob Newhart's golden career
Bob Newhart's golden career
Bob Newhart's golden career
Bob Newhart's golden career
Bob Newhart's golden career
Bob Newhart's golden career
Bob Newhart's golden career
Bob Newhart's golden career
Bob Newhart's golden career
Bob Newhart's golden career
Bob Newhart's golden career