Lightweight, quiet jet takes on Boeing and Airbus
September 18, 2013 -- Updated 0116 GMT (0916 HKT)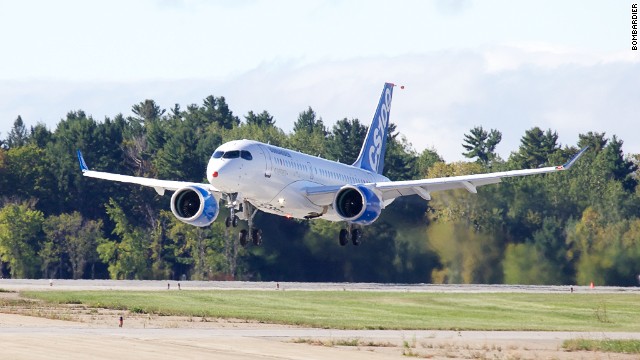 The Bombardier CS100 had its first test flight Monday, at Mirabel Airport, in Quebec.
Bombardier hopes to take on bigger rivals Airbus and Boeing with its relatively lightweight, quiet craft.
Ignoring the trend towards larger planes, the Bombardier will target the lower end of the passenger jet market -- aircraft carrying more than 100 but fewer than 150 passengers.
Bombardier has already won 177 orders for its CSeries craft, from carriers such as Latvia's AirBaltic, but that number falls far short of the company's goal of 300 sales by the time the plane enters service in 2015.
"We couldn't have wished for a better maiden flight," said the new jet's test pilot -- perhaps with a sigh of relief -- after touching down.
Take-off for new jet
Lighter, quieter
Trend ignored
Orders in
Touch down
STORY HIGHLIGHTS
Test flight for Bombardier CS100 takes place in Quebec
First new jet family in decades aims to be lighter, quieter than rivals
Plane already has more than 150 orders -- but that's only half the goal
Budget has overshot $3.4 billion estimate by $500 million
(CNN) -- Two heavyweights dominate the high-capacity commercial aviation industry -- Boeing and Airbus.
Now the world's third-largest manufacturer of commercial aircraft is touting an apparently lighter and quieter plane that it hopes will cut into the giants' market share for narrow body, medium-range commercial jets.
The virgin test flight of the Bombardier CS100 -- from the first new family of commercial passenger jets in decades -- took place at Mirabel Airport, in Quebec, Monday.
The 110-seat, single-aisle aircraft (a 135-seat version in the CSeries is also in the works, and a maximum capacity of 149 has been reported) is in the same class as Boeing's 737 series and Airbus 318 and 319 aircraft.
Bombardier is a Canadian multinational company headquartered in Montreal.
More: Jet sales boost China's rivalry with Boeing, Airbus
Apart from a minor alert going off midair, the two-and-a-half-hour flight was a success, the Age reports.
"The performance of the CSeries aircraft was very impressive," said the new jet's test pilot, Chuck Ellis.
"We couldn't have wished for a better maiden flight."
Quiet, lightweight
Expected to enter service in 2015, the Bombardier plane has two advantages over its rivals, its makers says.
Made of lightweight composite materials, the CS100 beats Airbus and Boeing for fuel performance, most industry experts reportedly agree.
More: U.S. company unveils new, cheap attack jet
Bombardier says its CSeries planes will also be quieter than any existing commercial jet.
That's probably not because the company has heard the cries of long-suffering residents near heavily trafficked airports around the world, but because regulation increasingly demands controls on airplane noise.
Orders in
The CS100 has already won orders from carriers such as Latvia's AirBaltic, which is buying 10 of the planes.
"You could hardly hear the takeoff," Martin Gauss, CEO of AirBaltic, said after watching the test flight in Quebec.
"This was one of the reasons we bought it, along with the cost savings from lower fuel burn."
There's a good reason why new commercial jet series come along so rarely -- the astronomical cost involved in developing them.
The CS100 had already cost $500 million more than its official estimate of $3.5 billion, Bombardier said.

Today's five most popular stories
Part of complete coverage on
December 22, 2014 -- Updated 1134 GMT (1934 HKT)

It won't be a banner year for major announcements, but there are still aviation developments to keep an eye on.
December 22, 2014 -- Updated 0950 GMT (1750 HKT)

Could there be anything better than reclining on an airplane seat in the comfort of your own home?
December 9, 2014 -- Updated 2142 GMT (0542 HKT)

Construction begins on a new Singapore airport complex that could make delays and layovers a pleasure.
December 10, 2014 -- Updated 2009 GMT (0409 HKT)

Soarigami says its foldable plastic divider will increase in-flight harmony when it goes on sale in 2015.
December 3, 2014 -- Updated 1808 GMT (0208 HKT)

Pan Am Experience offers visitors a chance to experience flying on 60s-style Pan Am Boeing 747.
December 1, 2014 -- Updated 2217 GMT (0617 HKT)

Premium and budget carriers recognized by AirlineRatings.com annual excellence awards.
October 24, 2014 -- Updated 1432 GMT (2232 HKT)

It's crowded and outdated, but Berlin's hexagon-shaped Tegel air hub has won a place in the city's heart.
October 20, 2014 -- Updated 1607 GMT (0007 HKT)

Good news for air travelers passing through Manila: the city's international airport isn't quite as bad as it used to be.
October 7, 2014 -- Updated 1311 GMT (2111 HKT)

When it comes to air travel, courtesy and common sense are often the first two things to fly out the departure gates.
October 31, 2014 -- Updated 1738 GMT (0138 HKT)

This aging cargo work whale makes more than 60 flights each week, carrying parts for all of the Airbus programs.