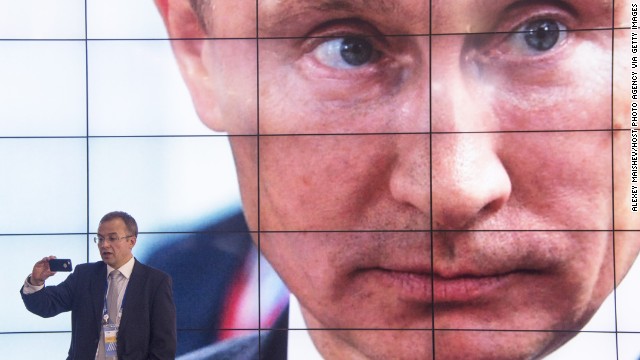 The 2014 Winter Olympics are part of Vladimir Putin's sporting plans to bring Russia global prestige, along with the 2018 World Cup and a Formula One race, also in Sochi.
However, Russia's new anti-gay laws have sparked worldwide protests, prompting fears that the Sochi Games will be overshadowed by the issue -- and social media is expected to play a key role in the February 7-23 competition.
Sochi will be following in the footsteps of the London 2012 Olympics, which was heralded as the "first social media Games." Here sprint star Usain Bolt is seen captured on a spectator's smartphone.
London 2012 took a big step forward in terms of promotional innovation, such as this projection of swimming legend Michael Phelps on the Houses of Parliament at Westminster.
However, it also revealed some of the pitfalls of greater exposure on social media. British diver Tom Daley angrily responded on Twitter after being abused by trolls following a disappointing performance. "A key learning point from London 2012 was that attending too closely to every minor social media moment is a mistake," says journalist Andy Miah.
but fought back against her abusers
. "An athlete really needs to focus on their competition and that means cutting out anything that could jeopardize this," says Miah. "This is what they've trained all of their life for and nothing should affect that."
British weightlifter Zoe Smith was also taunted online,
The Australian swim team was criticized for under-achieving in London -- Emily Seebohm blamed her overuse of social networking website Twitter for her failure to win gold despite being favorite in the women's 100m backstroke.
Russia's anti-gay laws were denounced by American Nick Symmonds after he won silver at the 2013 world athletics championships in Moscow. The 800-meter runner later posted on Twitter a picture of himself with the Russian LGBT sports federation.
Swedish high-jumper Emma Green Tregaro also showed her solidarity with the gay rights movement by wearing rainbow-colored fingernails and posting the proof on Instagram.
The tech world has moved relentlessly forward since London 2012, and social media experts such as Miah are hoping innovations such as Google Glass may be trialed at Sochi. However, its video content would not be allowed under the International Olympic Committee's restrictive social media guidelines.
Sochi will be a big deal for Russia's social media platforms such as VKontakte. Its founder Pavel Durov, pictured, has been described as "Russia's Mark Zuckerberg."
How social will Sochi 2014 be?
How social will Sochi 2014 be?
How social will Sochi 2014 be?
How social will Sochi 2014 be?
How social will Sochi 2014 be?
How social will Sochi 2014 be?
How social will Sochi 2014 be?
How social will Sochi 2014 be?
How social will Sochi 2014 be?
How social will Sochi 2014 be?
How social will Sochi 2014 be?
STORY HIGHLIGHTS
Russia will host the Winter Olympics for the first time in February 2014
Gay rights will be one of the background issues for the competition
Sochi organizers tackling the challenge of using, and dealing with, social media
Lessons to learn from London 2012, which generated huge volumes of online traffic
(CNN) -- With 150 million tweets across 16 days, and 80,000 a minute when Usain Bolt won his 200 meters title, plus 1 billion official page impressions on Facebook, the London 2012 Olympics was crowned as the "first social media Games."
But what impact will Sochi's Winter Olympics have next February?
Will Vladimir Putin's grand plan to transform an ailing region, using sport to make a bold statement of intent -- as China did with its Olympics in 2008 and Qatar hopes to do with soccer's World Cup in 2020 -- be derailed by increasingly web savvy activist groups?
The Winter Olympics traditionally lacks the superstar athletes who can match Bolt's worldwide appeal, and the scope of its sports is smaller in size as well as profile.
However, Russia's first hosting of the four-yearly competition has already drawn global attention.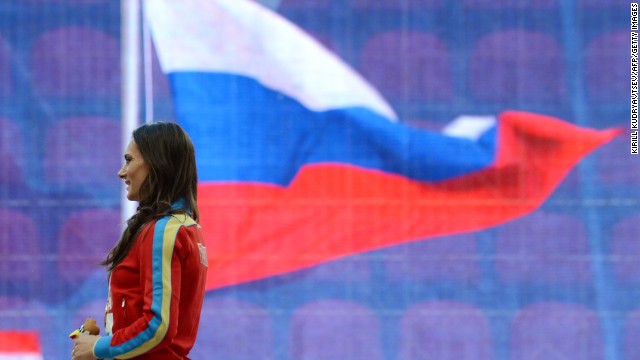 Russian pole vault star Yelena Isinbayeva launched a staunch defense of her country's new anti-gay laws after receiving her gold medal at the World Athletics Championships in Moscow Thursday.
Isinbayeva criticized Swedish athletes Emma Green Tregaro (pictured) and Mao Hjelmer for sporting rainbow-colored fingernails in support of the gay rights movement during their events in the Russian capital.
U.S. runner Nick Symmonds, who became the first athlete at the championships to criticize the laws after winning silver in the 800 meters on Tuesday, said that Isinbayeva "was so behind the times." In an interview with the BBC, he revealed that he had been told he would've been arrested had he competed wearing a rainbow sticker.
Isinbayeva won her third world title, and her first since 2007, to add to her two Olympic golds. She is one of Russia's most high-profile athletes and will have a major role as an ambassador for the 2014 Sochi Winter Olympics.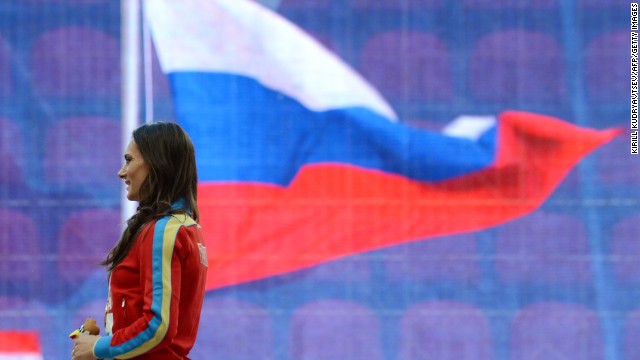 Isinbayeva opposes Russia's critics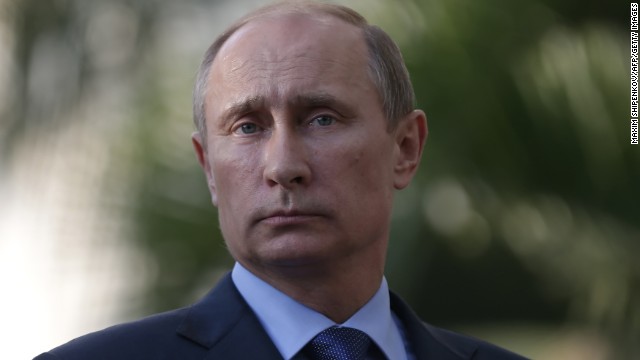 Russia's President Vladimir Putin is a popular but polarizing figure who has dominated Russian politics for more than a decade. Click through to see some highlights of his career.
Putin serves as the chairman of the Foreign Relations Committee of the City Council in St. Petersburg from 1991 to 1994. Before becoming involved in politics, he served in the KGB, a Soviet-era spy agency, as an intelligence officer.
Russian President Boris Yeltsin, right, shakes hands with Putin during a farewell ceremony at the Kremlin in Moscow on December 31, 1999. Putin rose quickly through the political ranks, becoming the second democratically elected president of the Russian Federation in 2000.
President-elect Putin watches the tactical exercises of Russia's Northern Fleet in the Barentsevo Sea on April 6, 2000. He has been at the helm during a decade of Russian economic growth fueled by natural resources of gas and oil.
A Russian cadet snaps a picture with Putin in Moscow's Red Square on May 9, 2007, during an annual celebration of the end of World War II. Putin has pushed to modernize Russia's military.
Putin attends an inauguration ceremony for president-elect Dmitry Medvedev at Moscow's Kremlin on May 7, 2008. Putin was constitutionally obliged to stand down as president but stayed close to power, becoming prime minister.
Putin vacations outside the town of Kyzyl in Southern Siberia in 2009. Over the years he has earned a reputation as a "strongman," declaring a crackdown on Chechen militants a priority in his first presidential term.
President Barack Obama meets Prime Minister Putin at his home in Novo Ogaryovo, near Moscow, on July 7, 2009. Putin said Russia was pinning its hopes on Obama to revive ties with the United States.
A worker takes down a giant elections poster bearing a portrait of Putin on October 13, 2009, in Moscow. Putin's party tightened its grip on Russian politics with a sweeping victory in local elections, officials said, as the opposition alleged widespread fraud.
Russian President Medvedev and Prime Minister Putin ski together in Krasnaya Polyana, near the Black Sea resort of Sochi in southern Russia, on January 3, 2010.
Putin takes part in a judo training session at a sports complex in St. Petersburg, on December 22, 2010. The Russian leader holds a black belt in judo.
Putin receives a medical consultation during his visit to the Smolensk Regional Hospital on August 25, 2011. Putin said he hurt his shoulder during morning judo practice.
Putin speaks to supporters at a Moscow rally on February 23, 2012. He won the presidential election in March, with just under 65% of the vote. Former President Medvedev became his prime minister.
A topless protester shouts at Putin and German Chancellor Angela Merkel, center, during their visit to the Hanover Industrial Fair in central Germany on April 8. Human rights groups say civil liberties and democratic freedoms have suffered during Putin's rule.
Putin addresses the media during his visit to Hanover on April 8.
Putin and his wife, Lyudmila, ended their nearly 30-year marriage, the state-run news agency reported on June 6.
Putin, center, poses for a photo with Russian Olympic athletes in Sochi, Russia, on February 24. Russia hosted the Olympic Games and won the most medals.
Putin, center, and Defense Minister Sergei Shoigu, left, arrive to watch a military exercise at the Kirillovsky firing ground in Russia's Leningrad region on March 3.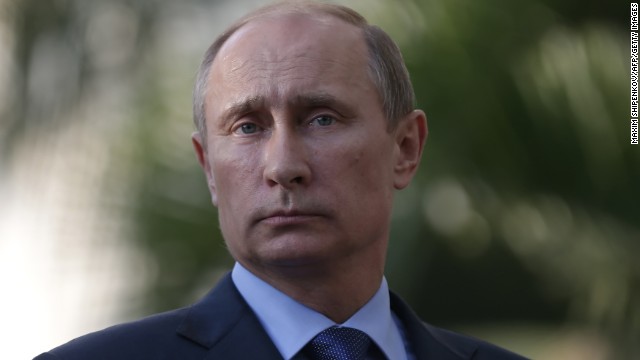 Photos: Putin in power
There have been howls of protest at the country's new so-called anti-gay legislation and raised eyebrows at the colossal $50 billion (and rising) cost of turning a faded Black Sea resort into a high-tech host venue.
The world is waiting to see how Russia, and the International Olympic Committee, will cope with potential contraventions of rules and regulations designed to protect a wide range of interests from political to the commercial -- the main conduit of which is expected to be social media.
Read: Russian law sparks 'defining civil rights movement'
"The 2014 Games are likely to be very tightly policed," says sports business expert Simon Chadwick, "because of the way in which the IOC tries to protect its commercial partners, but also potentially because of the way in which the Russian government will seek to minimize dissent and the threats posed by, for example, sponsorship ambushers.
"Vancouver 2010 showed how vigilant the authorities can be in policing the Games, and one would expect to see comparable levels of vigilance being exercised in Sochi too."
A new code
That view is shared by Nikolay Peshin, Pro-Rector for Research at the newly-inaugurated Russian International Olympic University in Sochi.
"Social networks can act as one, but I think the organizers of the Games, and the government and international organizations, will do everything to preserve the atmosphere of the sports festival," he told CNN.
Read: Athletics chief - 'No problem' with Russia's anti-gay laws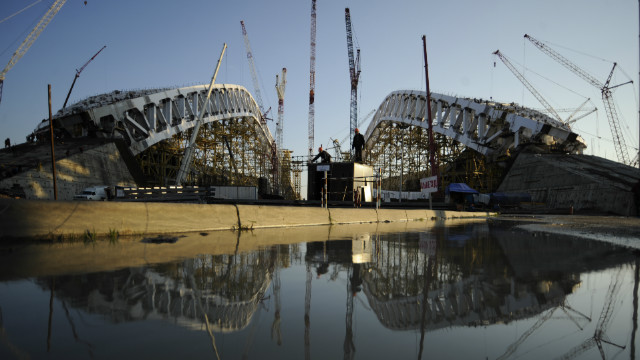 With a year to go before the 2014 Winter Olympics in Sochi, the Russian organizers are seeking to complete one of the world's largest construction projects.
This picture, taken on January 23, 2013, gives an indication of the size of the 40,000-capacity "Fisht" Olympic Stadium that will host the opening and closing ceremonies.
The total cost is expected to top $50 billion, with much of the infrastructure being built from scratch. This picture taken on January 24 shows a view of a new hotel constructed near a railway station between Adler and Krasnaya Polyana Olympic venues in the Caucasus Mountains.
Down in the city itself, work is still being completed outside the "Iceberg" Skating Palace -- seen here on January 22.
A high-speed rail line will link the mountain venues with the seaside stadiums, a journey expected to take 45 minutes. "You can go to downhill alpine skiing events in the morning and watch track and figure skating in the evening," U.S. Olympic Committee official Patrick Sandusky told CNN.
Speed skating is one of the Olympic sports that has already held test events, despite outer parts of the venue still being under construction.
Former World Cup alpine skiing champion Ivica Kostelic blamed the course setup after injuring his knee on the way to victory at a test event at the Rosa Khutor mountain venue in February 2012.
The "RusSki Gorki" Jumping Center at the Krasnaya Polyana resort will host ski jumping and Nordic combined competitions, and has already held test events.
The shooting range will be used in the biathlon competitions. It hosted test events in late January 2013.
The Bolshoi Ice Dome will host some of the ice hockey events.
Americans Charlie White and Meryl Davis triumphed in the figure skating Grand Prix Final held at Sochi's Iceberg Skating Palace in December 2012.
Russia's sports-loving president Vladimir Putin was a guest at the figure skating. "They're putting in a lot of effort to make sure it will come off correctly, and Vladimir Putin showing up is a good sign about how important it is and how much they care," White told CNN.
"A lot of the things weren't finished, but they had done an amazing job on the rink, with the signs, the locker rooms," White said. "It's well placed, easy to get to, and the warmup area is well equipped."
The older, traditional buildings of the Black Sea resort are now being surrounded by more modern structures.
This aerial picture taken on May 18, 2012, shows a general view of the construction area of the Olympic Park.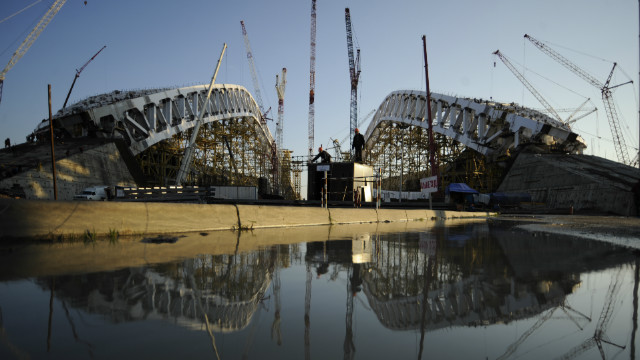 Sochi: One year to go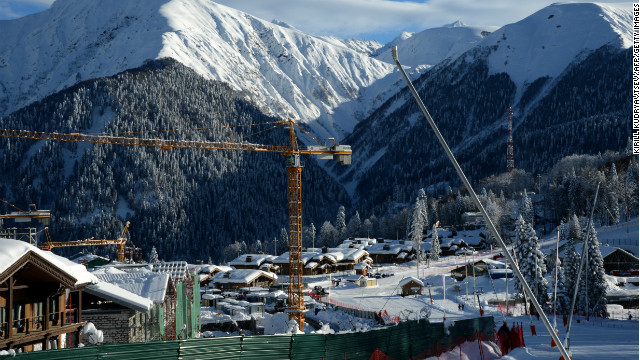 The countdown is on. With the 2014 Olympic Winter Games due to take place from February 7-23, the Russian city of Sochi is hard at work getting its infrastructure into shape.
Though better known for its palm-fringed beaches, Sochi's future as a prime sporting events destination is looking pretty good. Located in southwest Russia on the Black Sea coast near the Georgian border, Sochi is surrounded by the Caucasus Mountains. In addition to hosing the XXII Olympic Winter Games and the XI Paralympic Winter Games in 2014, it will also begin a stint hosting the Russian Formula 1 Grand Prix that same year. In 2018, Sochi will be one of the FIFA World Cup host cities.
This year, from February 1-3, the Sochi 2014 Organizing Committee held three international test events at a few of its Olympic venues: the FIS Cross-Country Skiing World Cup, the FIS Nordic Combined World Cup and a stage of the Samsung ISU Short Track World Cup.
Back in 2007, Sochi was chosen by the International Olympic Committee to be the 2014 Winter Olympics host city, beating bids from Salzburg, Austria and Pyeongchang, South Korea. The decision raised a few eyebrows as the area is not a globally well-known winter sports destination.
When the games are over, Sochi will have the honor of being the Russian Federation's first Olympic host city. The 1980 Summer Olympic Games were held in Moscow, when Russia was part of the Soviet Union.
Sochi has also earned a more dubious honor. According the Moscow Times, the Sochi Winter Games will go down as the most expensive Olympics in history. The Times reports the cost will top 1.5 trillion rubles ($50 billion) in state and private investment, and three-quarters of that sum has already been spent. That price tag is more than 25 times higher than what Vancouver spent on its Games, held in Canada in 2010.
Unlike Vancouver, which had an unseasonably mild winter and had to import snow for its 2010 Games, the mayor of Sochi says they don't expect to see a shortage of the fluffy white stuff. "As for the snow, there won't be any risks -- we're not even worried about it," Anatoly Pakhomov was quoted by Russian website RT.com. "Of course, we all saw the problems in Vancouver, but we have more natural snow here in February, and every track has its own snow machine."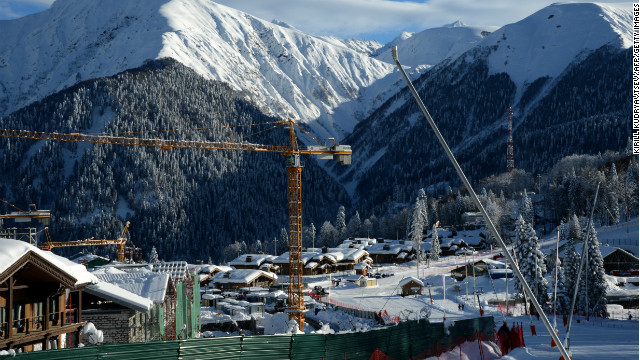 Sochi, host of the 2014 Winter Olympics
"Last year, the IOC issued a 'code of behavior in social networks and the internet' for athletes. And just five years ago there were no such rules. It means that the IOC is trying to keep up with the rapidly evolving media landscape and to protect itself," adds Peshin, whose university is helping to train Sochi staff for the Games.
Russia has already had a taste of how hard it is to control an Internet phenomenon.
When two of its female athletes were pictured kissing on the podium at last month's world track and field championships in Moscow -- apparently in defiance of the Kremlin's legislation banning "propaganda of nontraditional sexual relations to minors" -- the image went viral on the web.
Despite protests from the athletes themselves, and video evidence clearly showing the photo was a distortion of what was, in reality, a brief peck on the cheek, its spread could not be contained.
Lessons from London?
As well as the sporting highs, London 2012 also had its controversies -- with critics targeting security issues, cost over-runs, ticketing fiascos, empty seats, problems with national flags and a debate over the merits of a memorial for the 1972 Munich massacre.
"There were guerrilla theater productions, staged to mock the sponsors' involvement with the Olympic cultural program," says journalist and academic Andy Miah, who will be covering his eighth Olympics at Sochi.
Read: Bolt wins London 2012 social media race
"There were fake websites that looked exactly like the organizing committee's website. There were even t-shirts with 'official protester' written on them, using the logo of London 2012. Each of these campaigns had a life online first and this is the sort of approach we can expect from protesters with limited resources."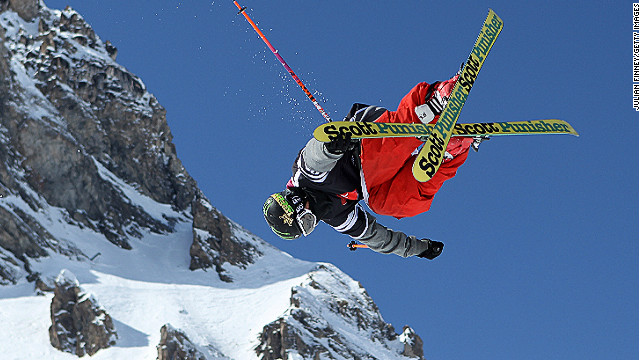 Two new freestyle skiing events will be introduced at the 2014 Winter Olympics in Sochi -- slopestyle and ski halfpipe -- meaning freestylers will have as many medals to aim at as their alpine cousins.
Slopestyle skiers perform a series of tricks on a course laden with jump-off opportunities while the ski halfpipe discipline is similar, though the track is a semi-circular ditch carved out of the snow.
More and more people are making the crossover from alpine to the "dark side" of skiing -- freestyle. Canadian Kelsey Serwa made the switch in 2009 and has since become an X Games gold medalist and world champion in ski cross.
Ski cross is a four-way fight to the finish line across a specially constructed course complete with jumps, waves and steep turns. It enraptured audiences on its Olympics debut in Vancouver in 2010.
Part of its appeal is its fast and furious nature, which often leads to crashes.
Some believe the drama of freestyle is taking viewers away from traditional downhill alpine skiing. John Fry, International Skiing History Association president, thinks alpine is missing chances to boost its popularity. He says a refusal to sanction a race-off between Maria Riesch and Lindsey Vonn when they were practically tied for the Alpine World Cup title in 2011 was a mistake.
Rather than television, most amateur freestyle skiers find their fame on the internet. Finnish urban skiing company Real Skifi comprises Ilkka and Verneri Hannula and Juho Kilkki. Their short films, shot by Janne Korpela, often attract half a million hits.
As well as ski halfpipe, ski slopestyle and snowboard slopestyle, other new events for Sochi 2014 include snowboard parallel special slalom, women's ski jumping, biathlon mixed relay, team figure skating and luge team relay.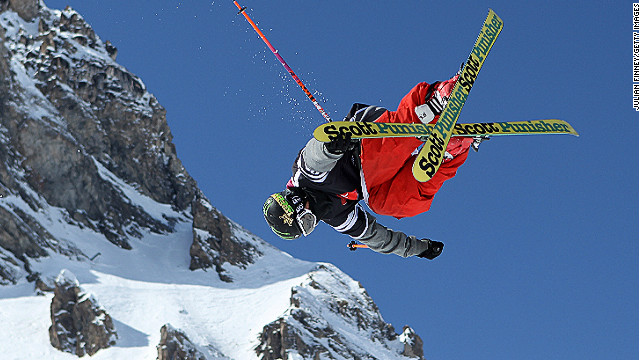 Winter Olympics embraces skiing's ''dark arts'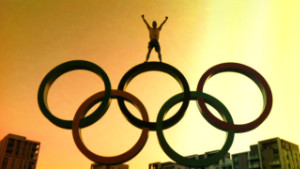 Olympic athletes light up social media
Sochi, in terms of its online presence at least, "will punch beyond its weight" according to Miah -- who says the 2014 organizers are already ahead of the British capital with their social media strategies.
"Their CEO, Dmitry Chernyshenko, has been active on Twitter since very early on -- he even has one account in English and another in Russian," Miah told CNN.
"His equivalent at London 2012, Seb Coe, was not engaged at all and this really affected how London's assets were syndicated. His account was followed by thousands of people, but nearly nothing was shared.
"His account could have given much-needed visibility to some of the less well-known parts of the Olympic program. It was really a lost opportunity."
Nonetheless, the IOC expects to build on the higher social media profile that London provided.
"We have inherited a massive fan base of over 4 million people," its head of social media, Alex Huot, told CNN. "This will help us raise the visibility of Olympians across social networks during and post Games.
"Looking back, the IOC total fan base at the Opening Ceremony at the Vancouver 2010 Games was 1 million. By Sochi 2014 we should be close to 30 million."
Bloggers welcome
Miah, who will be covering both the sporting and wider issues in Sochi, is excited by the social media possibilities ahead.
"The organizing committee has really supported independent bloggers and social media generally," he says.
"A large project called 'Sochi Reporter' was really active in the early years and I think we can expect to see social media at the heart of this Games.
"The independent media center is even open to applications from bloggers. They actually have a distinct category. This is really progress. It didn't happen in Vancouver, so you could say that Russia is ahead of Canada in this respect."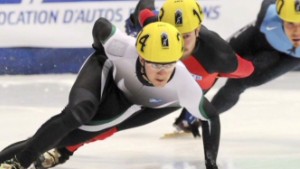 Olympian opposes Russia boycott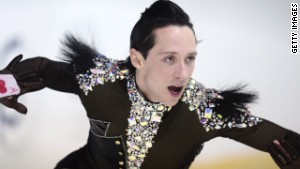 Athletes: Sochi boycott not the answer
Read: Russia to join F1 calendar in 2014
While Sochi may struggle to generate the sheer volume of Internet traffic that London did, it is well placed to capitalize on the relatively "immature" arena of social media, says Chadwick -- a professor at England's Coventry University.
"As users, consultants, brands and organizations become more social media savvy, then we should expect to see more sophisticated usage of it emerging," Chadwick, who is visiting Russian universities this month to research their sports management programs and scout for future partnerships, told CNN.
Read: How hashtags and likes shaped London 2012
"This is particularly likely in Russia, as the country is growing rapidly, the middle class is growing and some have described Russia (specifically Moscow) as one of the most sophisticated retail environments in the world."
Think global, act social
Russia, like many countries, has its own social media platforms to rival U.S.-based multinationals Facebook and Twitter.
"As we have seen in countries like China (with Sina) and Japan (with Mixi), the dominance of sites like Facebook and Twitter can no longer be assumed," Chadwick says.
"At the moment, users and consumers in countries like Russia are often patriotic in their social media use, and also like the way in which native platforms more directly appeal to them."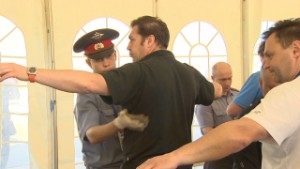 Securing Sochi's Winter Olympics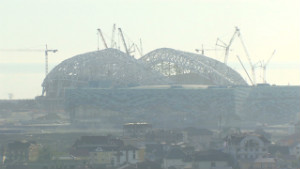 Sochi's Olympic challenges one year out
Russia's version of Facebook, VKontakte -- or VK as it is usually called -- is one of its most popular websites and also runs in English and Ukrainian.
"It has millions of registered users," says Peshin. "Sure, Twitter and Facebook are popular, but not as much as the 'home' network.
"The most popular Russian social networks are already hard at promoting the Sochi Olympics. VKontakte has launched for online gamers a new Sochi 2014 application."
Read: Welcome to the Twitter Olympics
Celebrities such as Tom Cruise, Shakira and Kevin Spacey are among those who promote themselves on VK's English language platform.
"One thing that will be interesting to watch is how live translation will affect the global village of social media," Miah told CNN.
"Until now, we have pretty much lived in language silos but, increasingly, platforms have an auto-translate system that works pretty well.
"It still might be too early, but I think this will allow many more people to understand how locals are experiencing the Games, in their own words.
"I am surprised that Sochi 2014 have not developed a live translation app. This would have been a cool thing.
"Imagine an Olympic tourist from Japan walking up to an Olympic volunteer, not being able to speak any other language -- if the volunteer could say something in Russian into their mobile phone and it played back a translation in Japanese, this would be huge!"
Tech Games?
Miah is hoping to see innovative use of Google Glass -- the search-engine giant's foray into next-level hands-free tech.
"I think we can expect to see some fun stuff taking place with wearable technology, particularly Google Glass. This is likely to be showcased at the Games by some athletes. I'm still trying to get hold of some!" he says.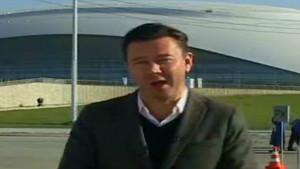 No snow in sub-tropical Sochi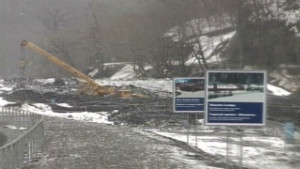 Is Sochi ready for 2014?
"We will surely see some innovation around how sponsors associate themselves with the Games too. I think we'll see the sports using social media more, too."
A lot of athletes were prominent on social media at London 2012. For some, such as sprint star Bolt, it just added to their golden glory and was an extension to their marketing reach and personal brand building.
Read: Australian swim team 'was toxic'
But for others, such as the under-performing Australian swim team, over-engagement online was seen as being detrimental to performance.
Miah also points to teenage British diver Tom Daley, who allowed himself to be drawn into angry arguments on Twitter after being abused by trolls following a disappointing performance -- though he bounced back to win a bronze medal.
"It would have gone unnoticed, but Tom retweeted it and made a comment. Within hours, the web was fixated on this and it became a real issue. It's reasonable to go after abusive trolls, but doing so may affect so many other things about how the Games is experienced."
However, Miah says social media such as Twitter can be very important for younger athletes, especially when they find themselves alone in foreign surroundings and in need of support from friends and family.
A fine line
In Russia, competitors will have to be careful what they post online about sensitive issues such as gay rights -- the IOC has strict rules about "no political statements."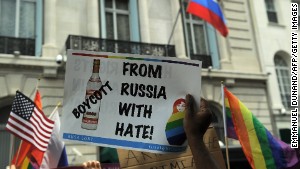 Russia will enforce anti-gay law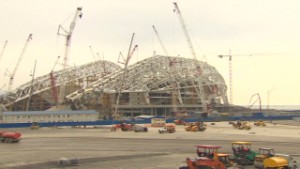 How Russian anti-gay laws impact Olympics
Two Swedish athletes caused controversy at last month's World Track and Field Championships in Moscow by wearing rainbow-colored fingernails -- one proudly posted the evidence on Instagram.
American runner Nick Symmonds, meanwhile, followed up his post-race denouncement of Russia's anti-gay legislation by tweeting a picture of himself meeting with the Russian LGBT sports federation.
He had refused to say anything publicly before his 800 meters race, in which he won silver, due to fears he might be arrested.
Read: Isinbayeva defends Russia's anti-gay propaganda law
"Sochi 2014 will be a watershed in terms of how organizers react to open media platforms in future Games," Miah says.
"We will definitely see some controversies around gay rights take center stage, especially as I think a lot of athletes will feel strongly about this.
"The IOC prohibits political protest but it's hard to see how the new law in Russia does not infringe its own charter, which guarantees freedom from discrimination.
"It's still really unclear what kind of action Russia would take if a foreign athlete takes a stand on this matter, especially as they themselves may feel persecuted by this law. That's the key difference compared with China's 2008 Games, the only recent comparison.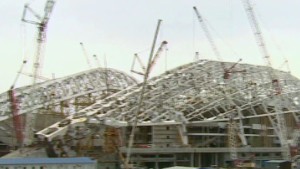 Could Russia arrest gay athletes?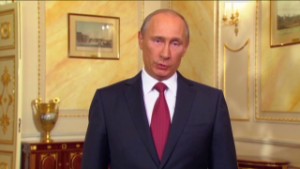 Putin makes surprising pitch in English
"Gay athletes competing at the Games will feel personally implicated in this and I would not be surprised if we see at least one competing athlete take a stand. It may be subtle, but it will be there."
Huot says IOC will not "police" athletes' social media activities, but will "educate" them.
"We don't police but rather work through education and engagement so athletes and others at the Games know about our best practices," he told CNN.
Let's talk about this
Miah says Sochi organizers, the IOC and the press cannot afford to "treat social media as just another broadcast channel."
"It isn't. It is a conversation among thousands of people and, in the same way that you wouldn't issue a press release during a conversation, you shouldn't do so on social media," he says.
"Organizations have to be fluid, responsive, open and respectful, even recognizing that issues are controversial and that resolution may be beyond them.
"We can expect to see much more use of social media commentaries within traditional media. Tweets from celebrities end up being the direct quotes used by broadcasters and I think we can expect to see a lot more of this during Sochi."
However, it seems unlikely that social media will be able to bring about social change in Russia during Sochi 2014.
"Given the prominent role that the state plays in Russia, it is entirely feasible that we will see a much more interventionist and regulatory stance being taken by the government," says Chadwick.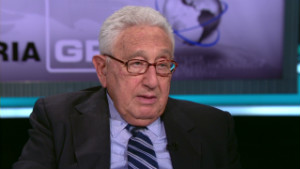 Kissinger: Putin is not anti-Western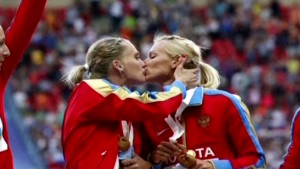 Victory kiss or gay rights protest?
VK, which refused to take down anti-government content posted on its website by opposition parties after the 2011 elections, is now 48% owned by Ilya Shcherbovich -- who sits on the board of state-owned oil company Transneft.
However, Peshin does not believe that the Kremlin can truly control social media in Russia.
"The government is mighty, but the network is an elusive thing," he says. "You can destroy it, of course, but to take over the control -- I'm not sure."
And while the authorities will be able to tightly restrict activities within the Olympics site -- there will be an exclusion zone around the resort for non-accredited traffic from January to March -- there is still latitude for "virtual" protests, says Miah.
"Social media is the only vehicle through which protest is noticed, and campaigns are getting more and more sophisticated and organized," he says.
"Physical space isn't what it used to be. If someone wants to occupy the geographical position of the main stadium, they can, using digital technology.
"While someone may own the physical space, nobody owns the GPS location and we could see people 'occupying' venues out of protest. This kind of story can really grab the attention of the world's media."