Japan's Shinzo Abe calls on TEPCO to decommission 2 Fukushima reactors
September 19, 2013 -- Updated 1430 GMT (2230 HKT)
STORY HIGHLIGHTS
Abe asks TEPCO to decommission Reactors 5 and 6 at the crippled nuclear plant
Those two reactors didn't suffer the same level of damage as the other four
The prime minister visits the Fukushima plant amid concerns about toxic water leaks
He sets TEPCO a deadline of March 2014 to fix the contaminated water problem
Tokyo (CNN) -- Japanese Prime Minister Shinzo Abe said Thursday that he has asked Tokyo Electric Power Co. to decommission two more reactors at the crippled Fukushima Daiichi nuclear power plant.
Abe called for the decommissioning of Reactors 5 and 6 "as soon as possible" as he visited the plant, wearing protective gear, to look at efforts to contain leaks from tanks holding huge volumes of toxic water at the plant.
Less than two weeks ago, his government said it would spend about $470 million to try to tackle the contaminated water crisis at the plant, which was damaged by the devastating earthquake and tsunami that struck northeast Japan in March 2011.
Life goes on despite uncertainty in Fukushima
It also follows the announcement that Tokyo will host the Olympic Games in the summer of 2020. Abe has promised that the games will be "safe and secure" despite continuing concerns about the situation at the Fukushima plant.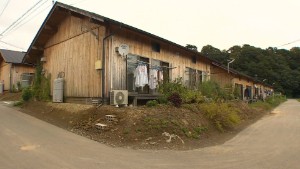 Living in limbo near Fukushima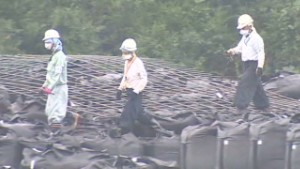 Trying to decontaminate Fukushima
Reactors 5 and 6 were in not in operation when the 2011 tsunami hit the power plant and didn't experience the damage suffered by the other four reactors. They have been in "cold shutdown" since the disaster.
Meltdowns occurred at Reactors 1, 2 and 3. And concerns remain about the state of the spent fuel rod at Reactor 4.
The long road home after 2011 disaster
TEPCO has already said it will decommission the four damaged reactors, but it hadn't clarified what would happen to Reactors 5 and 6.
Abe said he also asked the plant operator to fix the problem of toxic water leaks by the end of March 2014.
TEPCO is struggling to manage the vast amounts of tainted water stored at the plant and hundreds of tons of groundwater that flow through the area every day.
Japan shuts down last nuclear reactor -- for now

Part of complete coverage on
March 15, 2014 -- Updated 0128 GMT (0928 HKT)

Here are answers to some of the most frequently asked questions about this baffling disappearance.
March 14, 2014 -- Updated 1146 GMT (1946 HKT)

The two pilots who were flying Malaysia Airlines Flight 370 may lead to a few clues in the investigation.
March 13, 2014 -- Updated 1534 GMT (2334 HKT)

As investigators search for Malaysia Airlines Flight 370, analysts try to figure out why the high-tech plane's transponders were disabled.

Track star Oscar Pistorius is accused of killing his girlfriend, Reeva Steenkamp. Follow live updates of South Africa's trial of the century.
March 14, 2014 -- Updated 0958 GMT (1758 HKT)

A CNN team joins international observers trying to get into Crimea from Ukraine -- here's what they saw.
March 13, 2014 -- Updated 1224 GMT (2024 HKT)

Watch how Pope Francis is redefining the papacy and breathing new life into the Catholic Church.
March 14, 2014 -- Updated 1629 GMT (0029 HKT)

Browse through images you don't always see on news reports from CNN teams around the world.
March 13, 2014 -- Updated 1545 GMT (2345 HKT)

Michael Oren: He says the question is whether a truce can prevent conflict from becoming conflagration.

The Fukushima nuclear disaster changed global attitudes towards nuclear power. Explore our interactive to find out how.
March 12, 2014 -- Updated 2029 GMT (0429 HKT)

You -- the person now reading this story -- can help experts solve the mystery of what happened to Malaysia Airlines Flight 370.
March 13, 2014 -- Updated 1051 GMT (1851 HKT)

Scientists around the world are investigating whether living cells can be used to print replacement organs and tissues.
March 13, 2014 -- Updated 1153 GMT (1953 HKT)

There are two Web clips featuring Beyonce that have been getting a lot of attention.

Today's five most popular stories