How to avoid baggage fees: Wear your luggage
September 20, 2013 -- Updated 1102 GMT (1902 HKT)
STORY HIGHLIGHTS
"Only fools pay for extra luggage," say the makers of Jaktogo
Company offers a series of designs that allow travelers to "wear" their luggage
Jaktogo prices range from US$90-319, depending on style and materials
(CNN) -- With the exception of toilet paper, low-cost airlines have managed to tack a fee on pretty much every formerly complimentary amenity.
Checked luggage, of course, was among the first to earn a price tag.
U.S. airlines such as Spirit and Frontier are already charging passengers extra for carry-ons. Word has it other airlines will soon follow suit.
Airlines sugarcoat these bitter pills with explanations that sound pretty good.
"Spirit Airlines empowers customers to save money on air travel by offering ultra low base fares with a range of optional services, allowing customers the freedom to choose only the extras they value," says Spirit Airlines.
But c'mon -- who doesn't value a bag?
If someone is going by plane, presumably they're going away for at least a night.
And presumably they're going to want to put on a new pair of clothes.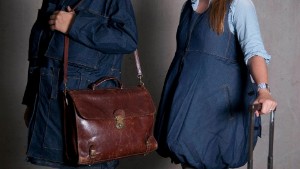 Jaktogos come in a variety of styles and materials, including denim.
A fresh pair of underwear, at the very least.
To the rescue of those of us sick of paying baggage fees comes Jaktogo, a company with an innovative way to pull one over on "the man" -- wearable luggage.
"Only fools pay for extra luggage," reads the company's tagline. "Clever people have a Jaktogo."
What is a Jaktogo, you ask?
It's a bag that unfolds into a jacket that's covered in various-sized pockets, allowing travelers to pack everything into their coats. Even their laptop.
Adios, luggage fees.
There are a few other "luggage jackets" on the market -- Stuffa Jacket, Rufus Roo, etc -- but Jaktogo appears to be the leader in capacity. The makers say it's also a handy way to carry things when you've run out of suitcase space.
The wearable bags come in a variety of styles and materials like leather and denim. There's a dress version. A poncho, too. Prices range from $90-319.
Bear in mind, you're going to have to sacrifice style in the name of savings.
The Jaktogo isn't sexy.
And we can't imagine they're comfortable.
But hey, you already gave up everything else for that cheap flight. Might as well chuck your dignity into the low-cost turbines too.
Would you slap on a Jaktogo if it meant avoiding luggage fees? Share your thoughts below.

Part of complete coverage on
September 23, 2014 -- Updated 0231 GMT (1031 HKT)

Which cities provide the most memorable party times? A self-proclaimed "nightlife connoisseur" names his top 10.
September 22, 2014 -- Updated 0344 GMT (1144 HKT)

Whether you're looking for a post-meeting pint or a wild night out, creativity is on the menu at these hot Hong Kong venues.
September 22, 2014 -- Updated 1416 GMT (2216 HKT)

Artists and migrants are moving out as a once-crumbling neighborhood goes upscale.
September 20, 2014 -- Updated 0502 GMT (1302 HKT)

They irrigate our farms, are an important means of transport and a source of eco-friendly power.
September 19, 2014 -- Updated 0828 GMT (1628 HKT)

Open House festivals allow snooping in homes and landmarks normally closed to public
September 19, 2014 -- Updated 0422 GMT (1222 HKT)

Ancient competitions held and yurt town set up to rejuvenate nomadic cultures.
September 19, 2014 -- Updated 0102 GMT (0902 HKT)
Playful sea lions, fearless boobies and the only ocean-going lizards in the world -- these islands offer amazing experiences for naturalists and tourists alike.
September 18, 2014 -- Updated 1200 GMT (2000 HKT)

A foreign language can be the best aphrodisiac, so we traveled the world in search of the hottest accents.
September 23, 2014 -- Updated 0657 GMT (1457 HKT)

Hidden from the rest of the world for decades, Myanmar's Lethwei boxing is experiencing a revival globally.
September 17, 2014 -- Updated 1117 GMT (1917 HKT)

This aging cargo work whale makes more than 60 flights each week, carrying parts for all of the Airbus programs.
September 15, 2014 -- Updated 0026 GMT (0826 HKT)

Former brothels, public toilets and war bunkers now provide eccentric watering holes for those willing to drink deep.
September 12, 2014 -- Updated 0338 GMT (1138 HKT)

Whether filled with electric blue sulfur flames or hissing lava, these mega mountains offer incredible vistas.

Today's five most popular stories