How to avoid baggage fees: Wear your luggage
September 20, 2013 -- Updated 1102 GMT (1902 HKT)
STORY HIGHLIGHTS
"Only fools pay for extra luggage," say the makers of Jaktogo
Company offers a series of designs that allow travelers to "wear" their luggage
Jaktogo prices range from US$90-319, depending on style and materials
(CNN) -- With the exception of toilet paper, low-cost airlines have managed to tack a fee on pretty much every formerly complimentary amenity.
Checked luggage, of course, was among the first to earn a price tag.
U.S. airlines such as Spirit and Frontier are already charging passengers extra for carry-ons. Word has it other airlines will soon follow suit.
Airlines sugarcoat these bitter pills with explanations that sound pretty good.
"Spirit Airlines empowers customers to save money on air travel by offering ultra low base fares with a range of optional services, allowing customers the freedom to choose only the extras they value," says Spirit Airlines.
But c'mon -- who doesn't value a bag?
If someone is going by plane, presumably they're going away for at least a night.
And presumably they're going to want to put on a new pair of clothes.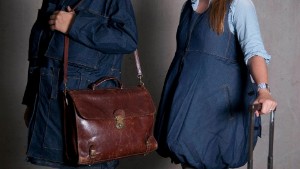 Jaktogos come in a variety of styles and materials, including denim.
A fresh pair of underwear, at the very least.
To the rescue of those of us sick of paying baggage fees comes Jaktogo, a company with an innovative way to pull one over on "the man" -- wearable luggage.
"Only fools pay for extra luggage," reads the company's tagline. "Clever people have a Jaktogo."
What is a Jaktogo, you ask?
It's a bag that unfolds into a jacket that's covered in various-sized pockets, allowing travelers to pack everything into their coats. Even their laptop.
Adios, luggage fees.
There are a few other "luggage jackets" on the market -- Stuffa Jacket, Rufus Roo, etc -- but Jaktogo appears to be the leader in capacity. The makers say it's also a handy way to carry things when you've run out of suitcase space.
The wearable bags come in a variety of styles and materials like leather and denim. There's a dress version. A poncho, too. Prices range from $90-319.
Bear in mind, you're going to have to sacrifice style in the name of savings.
The Jaktogo isn't sexy.
And we can't imagine they're comfortable.
But hey, you already gave up everything else for that cheap flight. Might as well chuck your dignity into the low-cost turbines too.
Would you slap on a Jaktogo if it meant avoiding luggage fees? Share your thoughts below.

Today's five most popular stories
Part of complete coverage on
November 24, 2014 -- Updated 0118 GMT (0918 HKT)

These quirky and beautiful subway stops make standing cheek-to-cheek with 45 strangers almost seem fun.
November 21, 2014 -- Updated 1314 GMT (2114 HKT)

Luxury vintage Land Rover tours explore Bedouin backwaters without bashing up precious dunes.
November 20, 2014 -- Updated 0250 GMT (1050 HKT)

Cities around the world have closed the brew gap, but the Oregon city's innovative scene continues to lead the beer parade.
November 19, 2014 -- Updated 2249 GMT (0649 HKT)

From gourmet hotdogs to Sevillian tapas, the food served in these London restaurants is worth lining up for.
November 20, 2014 -- Updated 1545 GMT (2345 HKT)

Plans are underway to build the world's tallest -- and quite possibly most terrifying -- roller coaster at an Orlando, Florida, theme park due to open in 2017.
November 18, 2014 -- Updated 1932 GMT (0332 HKT)

The 7th Annual Cruise Critic Editors' Picks Awards highlight the top cruise lines for North American travelers in 18 categories.
November 19, 2014 -- Updated 0206 GMT (1006 HKT)

Joining the ranks of pilgrims tackling Adam's Peak rewards with a spiritual awakening, or at least a stunning sunrise.
November 18, 2014 -- Updated 1313 GMT (2113 HKT)

Beautifully designed travel document reveals image of Northern Lights when placed under UV light.
November 18, 2014 -- Updated 0525 GMT (1325 HKT)

New concept offering luxury rooms in ancient dwellings helps spare beautiful villages from falling into ruin.
November 21, 2014 -- Updated 2247 GMT (0647 HKT)

Are you the butcher or the cattle? Tainted meat-obsessed fans are following the tracks of their favorite "Walking Dead" survivors.
November 17, 2014 -- Updated 0521 GMT (1321 HKT)

People never cease to find amazing ways to make water more incredible than it already is. Here are some powerful examples