How to avoid baggage fees: Wear your luggage
September 20, 2013 -- Updated 1102 GMT (1902 HKT)
STORY HIGHLIGHTS
"Only fools pay for extra luggage," say the makers of Jaktogo
Company offers a series of designs that allow travelers to "wear" their luggage
Jaktogo prices range from US$90-319, depending on style and materials
(CNN) -- With the exception of toilet paper, low-cost airlines have managed to tack a fee on pretty much every formerly complimentary amenity.
Checked luggage, of course, was among the first to earn a price tag.
U.S. airlines such as Spirit and Frontier are already charging passengers extra for carry-ons. Word has it other airlines will soon follow suit.
Airlines sugarcoat these bitter pills with explanations that sound pretty good.
"Spirit Airlines empowers customers to save money on air travel by offering ultra low base fares with a range of optional services, allowing customers the freedom to choose only the extras they value," says Spirit Airlines.
But c'mon -- who doesn't value a bag?
If someone is going by plane, presumably they're going away for at least a night.
And presumably they're going to want to put on a new pair of clothes.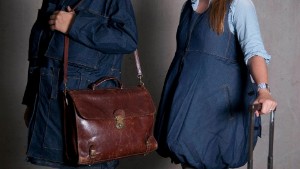 Jaktogos come in a variety of styles and materials, including denim.
A fresh pair of underwear, at the very least.
To the rescue of those of us sick of paying baggage fees comes Jaktogo, a company with an innovative way to pull one over on "the man" -- wearable luggage.
"Only fools pay for extra luggage," reads the company's tagline. "Clever people have a Jaktogo."
What is a Jaktogo, you ask?
It's a bag that unfolds into a jacket that's covered in various-sized pockets, allowing travelers to pack everything into their coats. Even their laptop.
Adios, luggage fees.
There are a few other "luggage jackets" on the market -- Stuffa Jacket, Rufus Roo, etc -- but Jaktogo appears to be the leader in capacity. The makers say it's also a handy way to carry things when you've run out of suitcase space.
The wearable bags come in a variety of styles and materials like leather and denim. There's a dress version. A poncho, too. Prices range from $90-319.
Bear in mind, you're going to have to sacrifice style in the name of savings.
The Jaktogo isn't sexy.
And we can't imagine they're comfortable.
But hey, you already gave up everything else for that cheap flight. Might as well chuck your dignity into the low-cost turbines too.
Would you slap on a Jaktogo if it meant avoiding luggage fees? Share your thoughts below.

Today's five most popular stories
Part of complete coverage on
October 20, 2014 -- Updated 1808 GMT (0208 HKT)

The guidebook asked staff, contributors and authors for well-known and lesser-known recommendations.
October 20, 2014 -- Updated 1607 GMT (0007 HKT)

An airport in Asia has stolen the crown from Manila's Ninoy Aquino, voted 'world's worst' three years in a row.
October 21, 2014 -- Updated 1620 GMT (0020 HKT)

It's time for a beef break, veal vacation, hog holiday or sinew sabbatical in a T-bone a-fide U.S. meatopolis.
October 20, 2014 -- Updated 1319 GMT (2119 HKT)

With so many awesome new attractions on the way, the next few years are going to be a roller coaster ride.
October 17, 2014 -- Updated 0107 GMT (0907 HKT)

Scientists are busy surveying Southeast Asia's Coral Triangle, home to 75 percent of all known coral species.
October 16, 2014 -- Updated 1350 GMT (2150 HKT)

Bounce Below transforms an abandoned slate mine into a surreal, springy world of fear and fun,
October 14, 2014 -- Updated 2316 GMT (0716 HKT)

With chopsticks or fingers? Wasabi or no? A double Michelin-starred Tokyo chef sets the record straight and shows us the sushi way.
October 13, 2014 -- Updated 2224 GMT (0624 HKT)

It may look like a gateway across time and space crafted with alien technology, but in reality it's a fruit and vegetable market.
October 13, 2014 -- Updated 0925 GMT (1725 HKT)

Based on the votes of over 330 industry experts, the 2014 winners include bars from 27 cities in 14 countries.
October 12, 2014 -- Updated 2231 GMT (0631 HKT)

Careening down an active volcano at 95 kph on a thin board? It happens only at Cerro Negro in Nicaragua.