STORY HIGHLIGHTS
Airlifts continue Friday to evacuate those stranded in mountain areas
E. coli is in a town's tap water; official say it must be addressed before residents return home
Over 22,000 gallons of oil are released due to floods, in addition to overturned fuel tanks
7 are confirmed dead, while at least 3 are presumed dead due to floods
(CNN) -- Efforts continued Friday to cope with fallout from flooding that''s rocked the Rocky Mountain state -- including more airlifts of stranded residents, discoveries of oil spills and a plea to one town's residents to stay away until E. coli is cleared from their tap water.
The number of confirmed dead throughout Colorado from the flooding that began last week stood at seven Friday, just as it was a day earlier.
Another three people are presumed dead in Larimer County, which straddles the Wyoming border. Another 82 people there were still unaccounted for as of Friday afternoon, county sheriff's office spokesman John Schulz said.
Then there's the sizable toll flooding has had on buildings, roads and bridges, as well as the natural surroundings that in many ways define Colorado.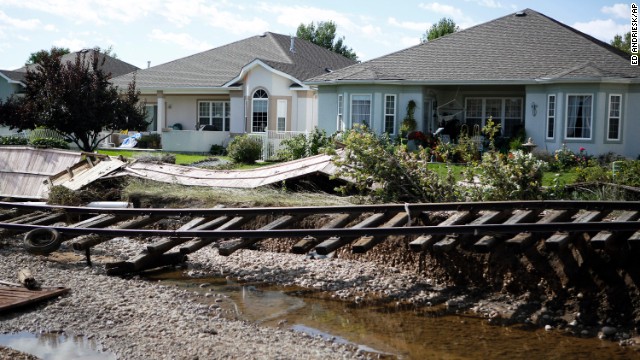 Railroad tracks washed from their path by floodwaters are seen in Longmont on Thursday, September 19, 2013. Massive flooding has left at least six people dead and damaged thousands of homes around the state.
Piles of items destroyed by flooding line both sides of a street in Longmont on September 19.
A woman disposes of ruined items from her home in Longmont on Wednesday, September 18.
David Soleta, right, and family friend John Rice remove destroyed and contaminated walls on September 18 from Soleta's father-in-law's home, which was heavily damaged by floodwaters that swept through Longmont.
From left, siblings Elizabeth, 13, Jonathan, 9, Aaron, 11, and Kitty Dipert, 6, wash mud from the clothing of family friends from church on September 18 in Longmont, Colorado.
An abandoned car sits on a destroyed road along the South Platte River near Greeley, Colorado, on Tuesday, September 17.
A Blackhawk helicopter flies over a canyon during a search around Boulder, Colorado, on September 17.
Two women are hoisted into a Blackhawk helicopter during a search and rescue mission near Jamestown, Colorado, on September 17.
Two women smile and laugh after being rescued by a helicopter crew on September 17 near Jamestown, Colorado.
Members of the FEMA Urban Search and Rescue Nebraska Task Force 1 use probes to test for water depth while crossing floodwaters looking for missing people near Longmont, Colorado, on September 17. Stranded flood victims are being rescued by military helicopters and vehicles.
A cow stands in floodwater near Kersey, Colorado, on September 17.
From left, Dale Reeves, Kathryn Reeves and Trent Mayes assist a family member by moving belongings from a flooded home in Evans, Colorado, on September 17.
A gas well is surrounded by floodwater near Kersey, Colorado, on September 17.
A woman steps over a puddle onto the foundation of a shed that was moved by floodwaters in Hygiene, Colorado, on Monday, September 16.
People wade through floodwater in Greeley, Colorado, on September 16.
Jerrie McBride checks in with authorities after being rescued by helicopter from the Big Elk Meadows area in Boulder, Colorado, on September 16.
Local residents, from left, Levi Wolfe, Miranda Woodard, Tyler Sadar, and Genevieve Marquez help salvage and clean property after days of flooding in Hygeine, Colorado, on September 16.
Floodwaters surround a home in Jamestown, Colorado, on Sunday, September 15.
Chickens take refuge on the roof of their coop to escape floodwater in the backyard of a home in Longmont, Colorado, on September 15.
Railroad tracks are washed out in Longmont, Colorado, on September 15.
Water pours out of a parking lot, overwhelming a culvert heading under the roadway, in Estes Park, Colorado, on September 15.
A road crew works on a stretch of highway washed away by flooding along the South Platte River near Greeley, Colorado, on Saturday, September 14.
Parked vehicles sit partially submerged near Greeley, Colorado, on September 14.
Eli and Noe Sura play in the mud around their Boulder, Colorado, home on September 14.
A National Guardsman stands at South Main and Missouri streets in Longmont, Colorado, on September 14.
Floodwaters swamp Longmont, Colorado, on September 14.
Dave Jackson closes a mailbox with his foot after delivering the mail to a home surrounded by water from the flooded Cheyenne Creek in Colorado Springs, Colorado, on Friday, September 13.
Rescue personnel search for flood victims near Fort Collins, Colorado, on September 13.
Chris Rodes helps Fred Rob salvage a friend's belongings after floods left homes and infrastructure in shambles in Lyons, Colorado, on September 13.
During a break in the rain, a woman walks over a footbridge past the raging Boulder Creek in Boulder on September 13. Boulder County is one of the hardest-hit areas.
Suzanne Sophocles hugs her dogs after they were rescued from her flooded home on September 13 in Boulder. Thousands of people stranded by the flood waters in Colorado were finally able to come down by trucks and helicopters, two days after seemingly endless rain turned normally scenic rivers and creeks into coffee-colored rapids that wrecked scores of roads and wiped out neighborhoods.
Residents look at the flood damage along Topaz Street in Boulder on September 13.
Will Pitner gets rescued by emergency workers and neighbor Jeff Writer on September 13 after he spent a night trapped outside above his home at the base of Boulder Canyon.
Water rushes where a bridge collapsed in a flash flood in Lyons, on September 13.
A man runs through the floodwaters in a yard in Boulder on September 13.
Topaz Street resident Jake Koplen stands at the edge of his driveway after the street in front of his home was washed away in Boulder on September 13.
Siblings Patrick Tinsley and Mary Kerns head to Boulder from the mountain community of Magnolia, Colorado, on September 13.
Samantha Kinzig of Longmont, Colorado, and her 5-year-old daughter, Isabel, take a closer look at the damaged bridge on Weld County Road 1 on September 13.
Highway 7 is completely blown out from the South St. Vrain River as a torrent of raging water rips through it about 12 miles west of Lyons on Thursday, September 12.
A woman looks at the flooded Boulder Creek on September 12.
Three vehicles crashed into a creek after the road washed out from beneath them in Broomfield, Colorado, on September 12. Three people were rescued.
Nicky Toor, 15, floats on the flooded lawn of North Boulder Park in Boulder on September 12.
Joey Schusler rides through flooded Canyon Boulevard in Boulder, on September 12.
Residents view a road washed out by a torrent of water after overnight flash flooding near Left Hand Canyon, Colorado, on September 12.
A city worker talks on his phone while surveying high water levels from Boulder Creek after flash flooding in downtown Boulder, Colorado, on September 12.
Flash flood waters rush over a walking path in downtown Boulder on September 12.
A police officer blocks off a road in Boulder on September 12.
A man walks past the swelled Boulder Creek in Boulder on September 12.
People stand at the edge of floodwaters in Boulder on September 12.
A dive rescue team moves toward floodwaters in Boulder on September 12.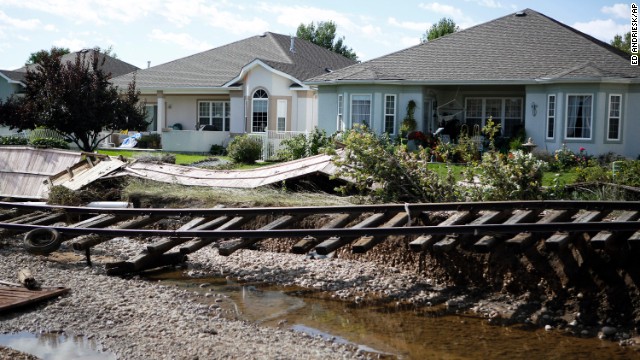 Deadly floods hit Colorado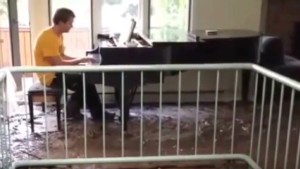 Coping with flood damage with music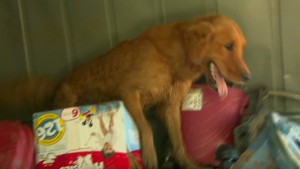 Rescue dogs help save flood victims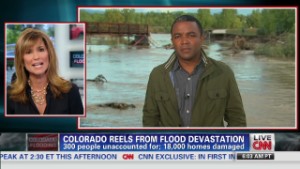 Colorado reels from flood devastation
"We're about to embark on a rebuilding effort that is truly epic in scale," Gov. John Hickenlooper said Thursday.
This includes oil and gas that leaked in lakes, rivers, streams and more as the floods rolled in.
Colorado's Oil and Gas Association, the industry's trade association, said no fracking operations were underway when the floods hit -- meaning "no fracking fluids, no chemicals associated with fracking, nor equipment were on sites at the time of the flooding."
Yet as of Friday morning -- at which point about 70% of the impacted area still hadn't been assessed -- state authorities were tracking 11 locations with a sheen or other evidence of leaked oil and gas.
This is in addition to at least five sizable releases of oil, including two recently confirmed into the South Platte River near Evans, state Department of Natural Resources spokesman Todd Hartman said Friday.
Four of these instances (the other is still being assessed) involved the release of about 22,000 gallons of oil, according to Hartman.
Moreover, production equipment at one PDC energy location was "largely washed away," though authorities don't yet know how much fuel went with it. And a Colorado Oil and Gas Conversation Commission aerial survey conducted on Thursday found as many as two dozen fuel tanks overturned.
Tap water has been turned off for Lyons, a town of about 2,000 people located some 17 miles north of Boulder that was decimated by the floods, after tests showed the bacteria Escherichia coli, better known as E. coli. While most E. coli strains are harmless and live in healthy humans and animals' intestines, the bacteria can cause diarrhea, urinary tract infections, pneumonia and other illness when passed through contaminated water or food, according to the U.S. Centers for Disease Control and Prevention.
"There has been a breach, and we don't want you using any of the water," Lyons town administrator Victoria Simonsen said at a public meeting Thursday. "... It's critical we get that back up and get it disinfected before we would ... want any of you to be back."
Such environmental issues, as well as the personal impact on thousands of families, stem from a torrential rains that fell September 12 in mountainous areas north of Denver -- more than nine inches, in some places. Such downpours persisted for several more days, adding up to 18.1 inches in parts of Boulder County and 15.6 inches in Adams County, Hickenlooper's office said.
The heavy rainfall spurred flash floods that turned picturesque canyons into funnels that deluged towns downstream and left hundreds stranded.
More than a week later, many remained marooned Friday -- cut off from the rest of the world thanks to floodwaters that wiped out roads and bridges.
Rescuers resumed airlifts Friday to pluck out those stuck in their homes, according to Schulz. He didn't have a number of those flown out for the day. But on Thursday, Nick Christensen -- also with the Larimer County Sheriff's Office -- said nearly 1,200 people had been airlifted out of the mountains, with nearly 200 more choosing to stay put.
More than 5,300 people total have been evacuated by floods that impacted nearly 2,000 square miles across 17 countries, Colorado's emergency management office announced in a Friday update.
And, according to preliminary estimates, nearly 1,900 homes have been destroyed and another 16,000 suffered damage. Floods also taking a toll on 50 bridges and 200 miles of road; the cost to start repairs on these have been estimated at $135 million.
Hickenlooper signed an executive order Friday authorizing $20 million in state funds -- on top of $6 already OK'd -- to help deal with the many issues brought about by the floods.
What we learned from Vermont's epic flood
CNN's Matt Smith contributed to this report.