Ex-FBI veteran agrees to plea deal in al Qaeda leaks case
September 23, 2013 -- Updated 2208 GMT (0608 HKT)
STORY HIGHLIGHTS
The plea deal worked out with Donald Sachtleben still needs to be accepted by a judge
The FBI veterans was already under investigation in a child porn case
Deputy attorney general says leak to Associated Press in 2012 damaged U.S. security
"I am deeply sorry for my actions," Sachtleben says through his attorney
(CNN) -- Former FBI agent Donald Sachtleben has agreed to a deal in which he'll plead guilty to leaking details of a 2012 disrupted al Qaeda bombing plot.
The agent was already under investigation in an unrelated child porn case, for which he is planning to plead guilty as well. He is expected to face 140 months in prison -- 43 of which would be for the national security leak -- if the plea deal is accepted by the judge.
Sachtleben worked for the FBI for 25 years. After that, he became a contractor, still working for the FBI as a bomb analyst. He claims to have worked in the Oklahoma City and Unabomber investigations, according to a biography of him on a university website.
As part the plea agreement filed Monday in federal court in Indianapolis, Sachtleben has admitted to unauthorized disclosure of national defense information.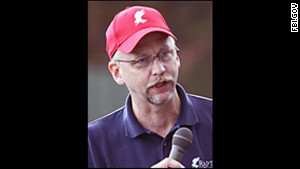 Donald Sachtleben is expected to face 140 months in prison if his plea deal is accepted.
The Associated Press published a story in May 2012 detailing a bombing plot by al Qaeda in the Arabian Peninsula in which it planned to use a new version of a bomb similar to that used in the attempted underwear bomb plot on Christmas Day 2009 in Detroit.
U.S. and foreign intelligence agencies had disrupted the plot and were in control of the device, according to U.S. officials.
The Associated Press report prompted a Justice Department investigation of the leak.
Earlier this year, the Justice Department notified the Associated Press that it had subpoenaed phone call data records of reporters and editors during the period of the bomb plot report.
The disclosure, coming amid a flurry of other leak investigations, led to an outcry about heavy-handed tactics used by the Justice Department in leak cases. Attorney General Eric Holder announced an overhaul of how the department handles leak cases in the wake of the controversy.
Holder: Leak probes target government officials, not reporters
A Justice Department official said that after prosecutors subpoenaed the AP call records, investigators matched information from those records with the names of people who had access to the FBI's lab that was analyzing the AQAP bomb.
In May, prosecutors obtained court permission to look at Sachtleben's computer for information on the leak investigation. The FBI already had his computer because it was being used for evidence in the child porn case. Court documents allege 30 graphic images and videos were found on Sachtleben's laptop.
Sachtleben charged with child porn distribution
"This unauthorized and unjustifiable disclosure severely jeopardized national security and put lives at risk," U.S. Deputy Attorney General James Cole said.
"To keep the country safe, the department must enforce the law against such critical and dangerous leaks, while respecting the important role of the press under the department's media guidelines and any shield law enacted by Congress."
In a statement issued Monday via his attorney, Sachtleben said: "I am deeply sorry for my actions. While I never intended harm to the United States or to any individuals, I do not make excuses for myself. I understand and accept that today's filings start the process of paying the full consequences of my misconduct, and I know that the justice system I once served so proudly will have its say."
An AP spokesman said the news agency doesn't comment on sources.