America's Cup: Miracle on Water still a possibility as U.S. ties series 8-8
September 25, 2013 -- Updated 0655 GMT (1455 HKT)
STORY HIGHLIGHTS
Oracle Team USA wins both races at the America's Cup Tuesday to tie series 8-8
Emirates Team New Zealand had led 8-1 against the defending champion
The decider in yachting's most prestigious competition takes place Wednesday
Team USA was docked two wins because it was ruled to have illegally altered its boat
(CNN) -- You've heard of the Miracle on Ice?
Are we in for the Miracle on Water?
Maybe, because Oracle Team USA can still win the America's Cup.
Trailing 8-1 in yachting's most prestigious competition, the defending champion tied the series 8-8 Tuesday in San Francisco Bay to set up likely the most exciting finish in the 162-year history of the event.
The one-race decider takes place Wednesday.
Read: New Zealanders on the ropes
"It's the most exciting day of all of our lives and we wouldn't want to be anywhere else," Oracle's Australian skipper, Jimmy Spithill, said in a televised interview. "We're up for anything.
"Any conditions are good for us. We're just looking forward to getting onto the race track and having one heck of a fight."
Read: Cup now a 'new-age speedster' event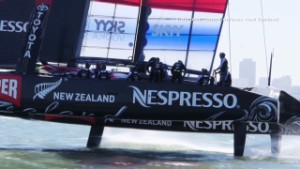 The sailors who race the America's Cup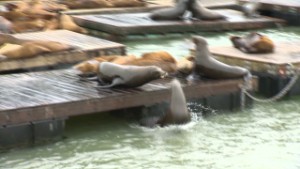 Seeing San Francisco by sailboat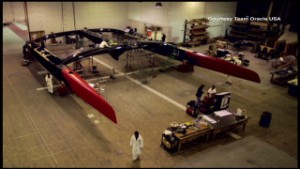 America's Cup trophy on display
Oracle Team USA, bankrolled by billionaire Larry Ellison, won the first race Tuesday by 27 seconds and then rallied to claim the second by a whopping 54 to leave Emirates Team New Zealand stunned.
"The boys just out-ground the other team," said Spithill. "Very, very impressive and it gives us a lot of confidence heading into tomorrow.
"We've really improved the boat. The boat is going fantastic."
They were actually the 17th and 18th races of the series but two victories for the U.S. were scratched off because it was deemed to have illegally tinkered with its boat prior to the finale.
Had the penalty not been imposed, Oracle Team USA would have retained the Cup following Tuesday's opener.
Three crew members of Oracle Team USA were also banned, which contributed to falling behind New Zealand early.
Boosting the comeback has been Spithill's decision to insert multiple Olympic gold medalist Ben Ainslie as tactician in favor of John Kostecki.
Despite losing Tuesday's first race, New Zealand skipper Dean Barker opted against using his postponement card that would have delayed the 18th race until Wednesday.
"We're here to race," Barker said.

Part of complete coverage on
MainSail
February 28, 2014 -- Updated 1247 GMT (2047 HKT)

It's an exclusive holiday home for the rich and famous -- and now Richard Branson has opened up his private island for a new photo book.
February 14, 2014 -- Updated 1833 GMT (0233 HKT)

In 1973, a dozen men set out on what would be the longest known raft voyage in human history, from Ecuador to Australia.
January 30, 2014 -- Updated 1409 GMT (2209 HKT)

After witnessing decades of incredible sailing innovations, renowned photographer Onne van der Wal now feels like he's an "astronaut of the sea."
January 24, 2014 -- Updated 1805 GMT (0205 HKT)

The tropical cruise was once the traditional getaway of the elderly retiree -- now it's a haven for metalheads.
January 13, 2014 -- Updated 1244 GMT (2044 HKT)

Having grown a big beard to ward off jellyfish during an epic swim, Sean Conway is now making his home on a rundown wartime vessel.
January 10, 2014 -- Updated 1147 GMT (1947 HKT)

Played by sailors in a brief window of opportunity once each year, this cricket match is never stopped by rain -- but the tide can be a problem.
December 12, 2013 -- Updated 1354 GMT (2154 HKT)

When you've spent 100 days alone on the high seas, battling sleep deprivation and monster waves, it can be difficult to adjust to life on land.
December 10, 2013 -- Updated 1334 GMT (2134 HKT)

From giant yachts in raging oceans to youth regattas, check out the 20 images in contention to win a top photography award.
December 5, 2013 -- Updated 2113 GMT (0513 HKT)

When Enric Sala dips his toes in a pool of water, he does so in the knowledge he may well be the first man on the planet to do so.
November 28, 2013 -- Updated 1118 GMT (1918 HKT)

Alex Caizergues smashes the World Sailing Speed Kitesurfing record over 500 meters, reaching an average speed of 56.62 knots (104.8 kph).
November 22, 2013 -- Updated 1348 GMT (2148 HKT)

Venice is one of the most beautiful cities in the world -- and it wants to stay that way, so it is cracking down on cruise ships.
September 17, 2013 -- Updated 1058 GMT (1858 HKT)

MainSail takes a sneak peak inside the Wally workshop in Monaco, which has built some of the world's most expensive boats.
August 23, 2013 -- Updated 1704 GMT (0104 HKT)

At just 22 meters long, the new America's Cup yacht is 3m shorter than its predecessor. But that hasn't stopped it making big waves.
Today's five most popular stories