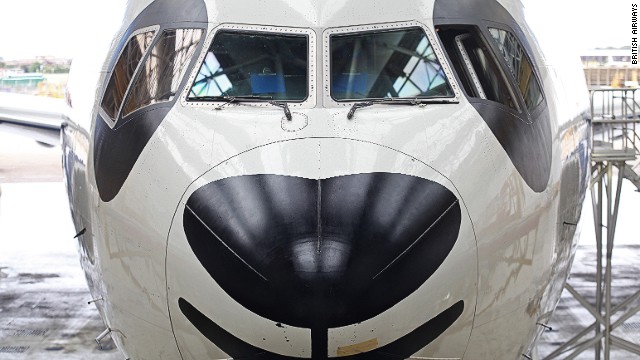 Bears might fly -- a British Airways plane sporting a panda-themed livery took to the skies this week to mark the launch of a route from London to Chengdu, China. Honoring the Chinese belief in the lucky qualities of the number eight, the China-London leg will have the flight number BA88. But BA isn't the first to put a panda plane into the sky -- click through the gallery to see which airline beat them to it.
Hobbit-themed safety video
, featuring characters from Middle Earth, was shown on the Air New Zealand plane, cabin crew even donning pointy ears for the first flight.
The world's largest plane decal, taking more than 400 hours to complete, was unveiled in 2012. A
Known officially as the Salmon-Thirty-Salmon (it's a Boeing 737, get it?), the inspiration behind this livery was an incident in 1987 when an Alaska Airlines plane was hit by a fish as it was taking off in Juneau, Alaska. It's believed the fish was dropped by a passing bald eagle.
Qantas has some of the most colorful liveries around. Back in 1994 it commissioned the aboriginal-themed Wunala Dreaming design for the side of a Boeing 747. Another livery was Yananyi Dreaming, inspired by Uluru (Ayers Rock) and the stories of the indigenous Anangu people.
Last week, Taiwan-based EVA Air launched its first long-range jet -- flying between Taipei and Los Angeles -- emblazoned with everyone's favorite mouthless cat (see link lbelow). Not just the fuselage, but everything on the EVA's feline flying machines is Kitty themed, from crew members' uniforms to the coffee cups, head rests, toilet rolls and food.
This elaborate Swiss International Airlines livery depicting farmers herding cows through an alpine meadow was unveiled in 2006. Following it in 2010 was a flower power livery, adorning planes on the Zurich-San Francisco route. Flower power? Surely a few decades late.
Most companies mark anniversaries with company parties and an open bar, but when Thomas Cook Airlines Belgium turned five, in 2007, it celebrated by commissioning Belgian comedian Kamagurka to redesign one of its planes. The result? A plane adorned with a long-haired superhero beneath the logo "Kamagurka Hairlines."
Warming to the theme, in 2009 Thomas Cook's Belgian branch unveiled its Mega Mindy livery -- inspired by a popular children's cartoon character created by the animation company Studio 100. The livery was created to advertise Studio 100's theme parks in Belgium and Germany.
Bangkok Air has adorned its aircraft with everything from flowers and umbrellas to yet more cartoon characters. Some of its latest liveries feature the airline's mascots -- colorful planes with names such as Sky, Sunshine, Rocky and Daisy.
Perhaps only the risk of mid-air distraction ("Look at that -- Arrrggghhh!!!") has prevented more airlines from launching crazy-liveried planes. In 2011, an Air New Zealand craft got a rugby-themed makeover to mark the airline's sponsorship of the All Blacks rugby team. Painting the aircraft took more than than a week, with 14 painters working in shifts 24 hours a day. More than 700 liters of chrome-free primer and paint were used.
Berlin's coat of arms -- a brown bear wearing a crown -- inspired Germanwings' Bearbus livery, created to celebrate the launch of the airline's operations out of the German capital's Schönefeld Airport. Best not to think of the ditty about bears and woods when this big baby passes overhead.
In 2009, Korean Air created a livery celebrating its sponsorship of London's British Museum. The livery depicted an Egyptian golden coffin mask and an Anglo-Saxon helmet, among other of the museum's exhibits. A helmet -- winged or otherwise -- yes. But can the coffin theme have helped the more nervous flyers onboard?
Among the South African budget airline Kulula's quirky liveries is the Flying 101, with arrows pointing out the plane's various parts, and a mustache-adorned plane rolled out to mark the Movember charity fund-raising drive.
Condor's crazy-looking Rizzi-bird livery was created by the late American artist James Rizzi to commemorate the German airline's 40th anniversary in the mid-1990s.
BA wasn't first! ANA's panda-themed livery, created to celebrate 20 years of the airline's flights between Japan and China, was unveiled in 2007. The image took 350 people 80 hours to transfer to the plane. Other ANA liveries have included rainbow-colored Pokémons and a Woody Woodpecker design to promote Universal Studios Japan.
Panda plane, British Airways
Hobbit plane, Air New Zealand
Salmon-Thirty-Salmon, Alaska Airlines
Wunala and Yananyi Dreaming, Qantas
Hello Kitty jet, Eva Air
Alpaufzug, Swiss International Airlines
Kamagurka Hairlines, Tho. Cook Airlines Belgium
Mega Mindy, Thomas Cook Airlines Belgium
Bangkok Air
All Blacks livery, Air New Zealand
Bearbus, Germanwings
British Museum livery, Korean Air
Flying 101, Kulula Airlines
Rizzi-bird, Condor
Panda jet, All Nippon Airways