Winter Olympics host city Sochi hit by flooding
September 25, 2013 -- Updated 1737 GMT (0137 HKT)
STORY HIGHLIGHTS
Floods and torrential rain hit the Russian city of Sochi
Sochi is set to host the 2014 Winter Olympics in February
International Olympic Committee insist there are no problems with venues
(CNN) -- Rain, floods, evacuations and power cuts may have hit Sochi -- but an Olympic size effort is underway to ensure the city is ready to host the 2014 Winter Games.
Streets and homes were flooded Tuesday with Irina Rossius, the press secretary for Russia's Emergencies Ministry, forced to admit that a state of emergency was still in effect, according to Russian state agency, RIA Novosti.
While the local Emergency Ministries branch had denied that a state of emergency had been imposed, "the negative outlook" for Tuesday night has led to a change in circumstances.
Read: A brief history of the Winter Olympics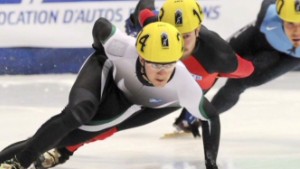 Will Sochi be most connected Games?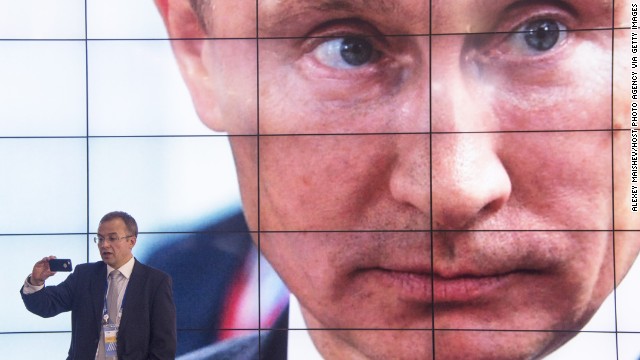 The 2014 Winter Olympics are part of Vladimir Putin's sporting plans to bring Russia global prestige, along with the 2018 World Cup and a Formula One race, also in Sochi.
However, Russia's new anti-gay laws have sparked worldwide protests, prompting fears that the Sochi Games will be overshadowed by the issue -- and social media is expected to play a key role in the February 7-23 competition.
Sochi will be following in the footsteps of the London 2012 Olympics, which was heralded as the "first social media Games." Here sprint star Usain Bolt is seen captured on a spectator's smartphone.
London 2012 took a big step forward in terms of promotional innovation, such as this projection of swimming legend Michael Phelps on the Houses of Parliament at Westminster.
However, it also revealed some of the pitfalls of greater exposure on social media. British diver Tom Daley angrily responded on Twitter after being abused by trolls following a disappointing performance. "A key learning point from London 2012 was that attending too closely to every minor social media moment is a mistake," says journalist Andy Miah.
British weightlifter Zoe Smith was also taunted online, but fought back against her abusers. "An athlete really needs to focus on their competition and that means cutting out anything that could jeopardize this," says Miah. "This is what they've trained all of their life for and nothing should affect that."
The Australian swim team was criticized for under-achieving in London -- Emily Seebohm blamed her overuse of social networking website Twitter for her failure to win gold despite being favorite in the women's 100m backstroke.
Russia's anti-gay laws were denounced by American Nick Symmonds after he won silver at the 2013 world athletics championships in Moscow. The 800-meter runner later posted on Twitter a picture of himself with the Russian LGBT sports federation.
Swedish high-jumper Emma Green Tregaro also showed her solidarity with the gay rights movement by wearing rainbow-colored fingernails and posting the proof on Instagram.
The Winter Olympics is smaller in scale and profile than the Summer Games, though it will have at least one globally recognized competitor in Lindsey Vonn. The U.S. skier, who is active on social media platforms, announced her relationship with golf star Tiger Woods on Facebook.
The tech world has moved relentlessly forward since London 2012, and social media experts such as Miah are hoping innovations such as Google Glass may be trialed at Sochi. However, its video content would not be allowed under the International Olympic Committee's restrictive social media guidelines.
Sochi will be a big deal for Russia's social media platforms such as VKontakte. Its founder Pavel Durov, pictured, has been described as "Russia's Mark Zuckerberg."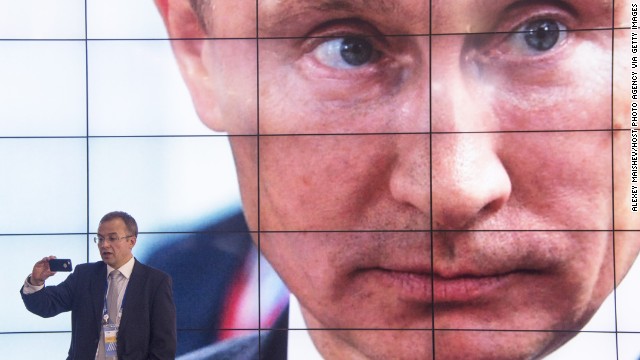 How social will Sochi 2014 be?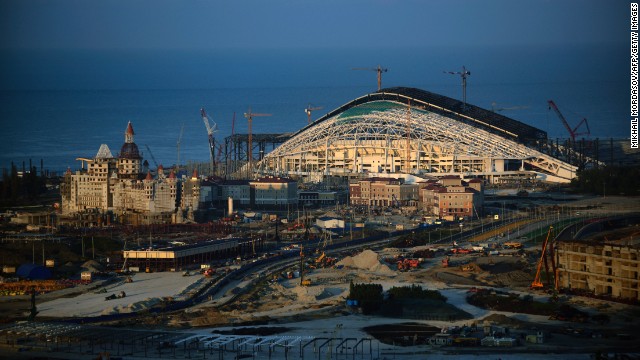 The main 40,000 all-seater Olympic Stadium, which has been nicknamed 'the fish' will host the opening and closing ceremonies.
The 12,000 Bolshoi Dome will host the highly-anticipated ice hockey final where the host nation will be hoping to challenge for the gold medal.
Located in the center of the Olympic Park, the Adler Arena will allow up to 8,000 spectators to watch the world's top speed skaters battle it out to claim sporting immortality.
The snowboarding and freestyle competitions will take place at the "Rosa Khutor" Extreme Park in the Mountain Cluster. The venue has already been used for World Cup events and is considered one of the top facilities in the world.
Russian ice dancer, World and Olympic champion, Tatiana Navka, performed with her partner at a ceremony celebrating the one year countdown to the Winter Games.
Australia's Heath Spence took part in a Men's Bobsleigh training run at the Sanki Sliding Centre, one of the 2014 Winter Olympics venues which is located at Rzhanaya Polyana, 60 kilometers northeast of Sochi.
Russia's President Vladimir Putin has taken a keen interest in the Games, visiting Sochi to ensure the project is finished in time. He visited the Olympic Village with Dmitry Chernyshenko, the CEO of the organizing committee.
With the Games set to start on February 7, the city faces a race against time to be ready. Workmen are up against tight deadlines with construction still to be completed.
The world's top ski jumpers will be hoping to fly through the air and onto the podium at the RusSki Gork center.
The view from 2,300 meters above sea level around Sochi. This photo was taken from Rosa Khutor resort, which will host the Alpine events.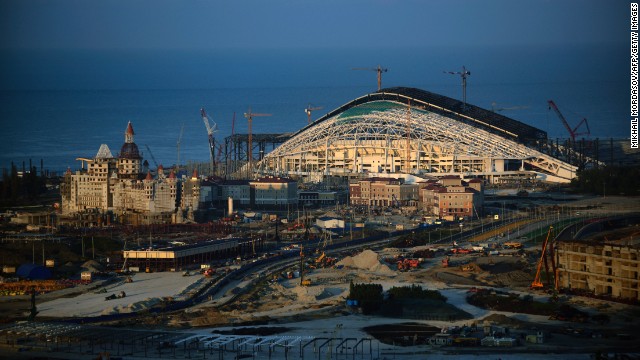 Sochi gets ready to put on a show
It is estimated that 1800 workers are currently undertaking work to clean the city following the evacuations of residents.
While 10 homes in the village of Mirny and some train stations in the Adler district are still flooded, the ministry stated on its website that rescue teams had made progress by pumping out water and allowing some trains to run.
The ministry also confirmed that all 30 residents who were moved from the village of Kepsha have since returned home after the water level drop from 45 centimeters to 5cm.
Flights at Sochi's regional airports were canceled amidst severe weather, while traffic jams left the roads in turmoil.
Kubanenergo, the local power company, confirmed Tuesday that it had cut off the power in five regions to avoid risking power outages.
Read: Will social media foil Putin's grand Winter Olympics plan?
The floods come at the worst possible time for Sochi with the International Olympic Committee coordination committee making its final visit to the city before the Games, which start on February 7.
The commission's chairman, Jean-Claude Killy, will finish his visit on Thursday after holding meetings with organizers and visiting venues.
"The exceptional weather conditions in Sochi have not impacted the visit of the IOC coordination commission that is in Sochi from Sept 24 to Sept 26," read a statement sent to CNN by the IOC.
"The Commission's work is ongoing and they have just completed a successful visit to the mountain venues."
When contacted by CNN Wednesday, the Olympstroy press office insisted none of the venues had been damaged by the adverse weather.
"None of the sports venues in Imeretinskaya lowland and in Krasnaya Polyana have been affected by heavy rainfall," read a statement.
"All the new Olympic facilities have been built in accordance with strict seismic safety, weather protection and geological protection guidelines.
" All venues have proper mudslide and landslide protection. Service personnel in both mountain and coastal clusters are in place to ensure proper functioning of the facilities."