STORY HIGHLIGHTS
A little-known, freshman congressman is flexing his legislative muscle in Congress
Mark Meadows insisted on strategy of defunding of Obamacare as a condition of new spending
Local tea party organizer says Meadows "is becoming our poster boy"
Washington (CNN) -- One of the most prominent developers of the plan that could shut the government down is a little-known congressman who has been in office only eight months.
This newly elected tea party aligned lawmaker downplays his position, saying he has relatively little influence. But in reality, his efforts have pushed Washington to the brink.
At issue is the Affordable Care Act, also known as Obamacare. Some Republicans are demanding that it be dismantled -- or at the very least delayed - and they think the best way to do that is attach it to a must-pass bill to fund the government.
The idea has rankled Washington for more than a week and exposed fissures in the Republican Party.
So who is the lawmaker quietly influencing the debate?
Sen. Ted Cruz, who staged a 21-hour talk-a-thon on the Senate floor disparaging Obamacare, would be a good guess. But it would be wrong.
The persuasive
The answer? Mark Meadows, who represents the western part of North Carolina and has wielded his influence behind the bright lights of the television cameras and the hot microphones.
In August, while lawmakers spent time in their districts, Meadows wrote a letter to his Republican leaders suggesting they tie the dismantling of Obamacare to the bill that funds the government for the next year.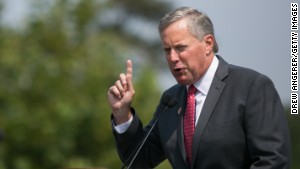 The man behind the government shutdown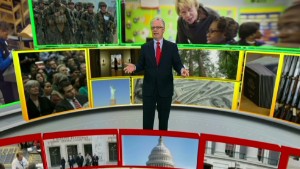 A goverrnment shutdown looks like this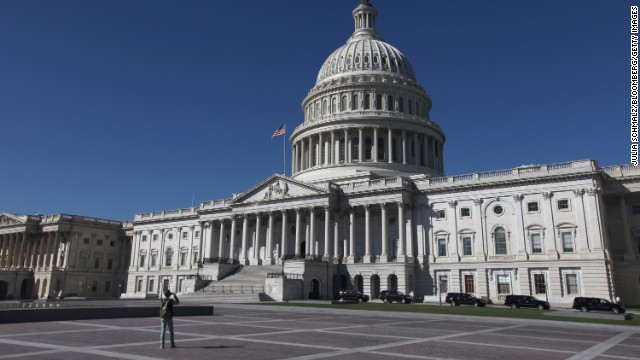 The game is the same, but many of the players have changed. Congress and the president are facing off in another supreme spending showdown. This last happened in 2011, when Congress avoided a shutdown by passing a spending measure shortly after the midnight deadline hit. Who controls what happens this time? Take a look at the key players who will determine how this fight ends. -- From CNN Capitol Hill Reporter Lisa Desjardins. CNN's Deirdre Walsh and Ted Barrett contributed to this report.
Rep. Mark Meadows, R-North Carolina -- The architect. During Congress' August recess, the tea party-backed freshman wrote to Republican leaders suggesting that they tie dismantling Obamacare to the funding bill. Though initially rejected by GOP leadership, 79 of Meadows' House colleagues signed on to the letter, which quoted James Madison writing in the Federalist Papers, "the power over the purse may, in fact, be regarded as the most complete and effectual weapon ... for obtaining a redress of every grievance."
Speaker John Boehner, R-Ohio -- The coach. He'll make the key play call. The top Republican leader in the land may be the most important player in the days immediately before a possible shutdown. Boehner could decide whether to push through the Senate's version of a spending bill and keep government running, or he could float a third version with some other Republican wish list items in it. If he takes the second option, Boehner could risk a shutdown but could also force the Senate into a tough position: give House Republicans something or send federal workers home. Timing on all this will be critical.
Sen. Ted Cruz, R-Texas -- The revolutionary or rabble rouser, depending on your viewpoint. The tea party firebrand could lead a long filibuster on the Senate floor, delaying passage of a spending bill until just one day before the deadline on Monday, September 30. Cruz has stoked the anti-Obamacare flames all summer, but recently angered fellow Republicans by openly saying that the Senate does not have the votes to repeal the health care law.
Sen. Marco Rubio, R-Florida -- Senator to watch. The potential presidential candidate has been one of three senators (Cruz and Mike Lee, R-Utah, being the others) pushing to use the government shutdown debate as a way to repeal or defund Obamacare. But watch his actions and language as a shutdown nears to see if he digs in or if downshifts at all.
Sen. Harry Reid, D-Nevada -- The man steering the ship in the Senate. Master at using Senate procedure to his advantage, Reid is the main force in controlling the voting process in the chamber and ensuring that an attempted filibuster by tea party-types fails. The majority leader will be a primary negotiator if we reach phase three, if the House does not accept the Senate spending bill.
Sen. Mitch McConnell, R-Kentucky -- If Reid steers the ship, McConnell controls the headwinds. Which is good news for Reid, at least initially. The Republican leader and several of his members say they will vote against Cruz's filibuster and in favor of a spending bill with no limits on Obamacare. Meaning, in favor of a bill that just funds government. McConnell generally has been leery of running into a shutdown or default. In fact, one legislative method for avoiding default is named after him.
Sen. Patty Murray, D-Washington -- The consigliore. Murray, center, does not seek the outside limelight, but the Senate Budget Committee chairwoman is a major fiscal force behind the scenes on Capitol Hill. Known by fellow Democrats as a straight shooter, she is also an experienced negotiator, having co-chaired the laborious, somewhat torturous and unsuccessful Super Committee.
Rep. Tom Graves, R-Georgia -- The new militia leader. The freshman congressman from Georgia, second from right, is one reason the debate has reached this point. Graves led the charge that blocked the original proposal by House Republican leaders. That would have kept government funded and had a detachable portion on Obamacare. Instead Graves and other conservatives forced their leaders to pass a spending bill with a mandatory defunding of Obamacare.
Rep. Peter King, R-New York -- The blunt statesman. King is outspoken against many tea party tactics, calling the move to tie Obamacare to the must-pass spending bill essentially a suicide mission and Cruz "a fraud." He is pushing for Republicans to accept a more "clean" spending bill that can pass the Senate and avoid a shutdown.
Thomas Donohue, president and CEO of the U.S. Chamber of Commerce -- The heavy. Donohue is known for his deep connections and his aggressive lobbying on behalf of business. He and the Chamber are urging Republican lawmakers to avoid a shutdown. The Chamber is an important political backer for conservatives, but has had mixed success with the current Congress, locking in firm anti-tax positions but unable to push through immigration reform so far.
Michael Needham, president of Heritage Action -- The driving force. Needham runs the political offshoot of the conservative Heritage Foundation and has been unrelenting in urging lawmakers to repeal Obamacare. He has told Republicans not to fear a potential shutdown, saying they would suffer more politically from allowing Obamacare to continue.
President Barack Obama -- The campaigner and CEO. Expect the president to use his podium more as a shutdown nears, aiming at public opinion as Democrats in Congress position themselves. If House Republicans send back a new proposal close to the September 30 deadline, the president and Democrats will have to decide what move to make next.
Rep. Eric Cantor, R-Virginia -- The powerful lieutenant. Cantor, the House Republican No. 2, is much more closely allied with conservatives and tea party members in the House than is Speaker Boehner. The two have not always agreed on every strategy during potential shutdown debates, but have been in public lockstep during the current go-around.
Rep. Nancy Pelosi, D-California, and Steny Hoyer, D-Maryland -- Players on deck. The top two House Democrats are mostly watching and waiting. But they will play a critical role once Boehner decides his next move. They could either bring Democratic votes on board a deal or be the loudest voices against a new Republican alternative. Hoyer will be interesting to watch; he has strongly opposed both the House and Senate plans as cutting too much in spending.
Rep. Kevin McCarthy, R-California -- The numbers guy. McCarthy, the House whip, has the tricky job of assessing exactly where Republican members stand and getting the 217 votes it takes to pass a bill in the chamber. He is known for his outreach to and connection with many of the freshmen House members who align with the tea party.
Rep. Paul Ryan, R-Wisconsin -- Member to watch. The vote of the House budget chairman and former vice presidential nominee is an important signal both within Republican ranks and to the public at large. Ryan has voted against some funding measures in the past, including the emergency aid for Superstorm Sandy recovery. But he was a "yes" on the last extension of the debt ceiling.
Rep. Ileana Ros-Lehtinen, R-Florida -- Another member to watch. A former committee chairwoman (Republican rules have term limits for committee chairs), Ros-Lehtinen knows House politics and procedure inside out. Depending on the issue, she has been described as a conservative or moderate, and occasionally as a libertarian.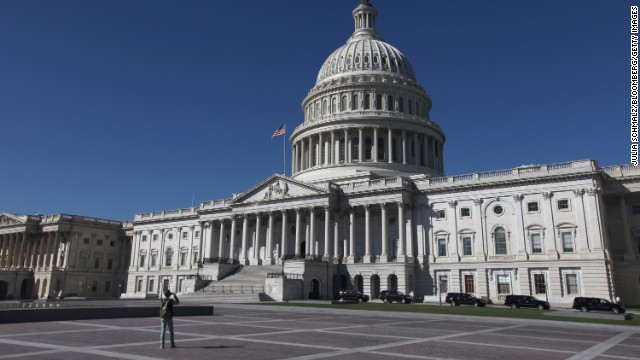 Photos: Key players in the shutdown debate
The letter read: "James Madison wrote in Federalist No. 58 that 'the power over the purse may, in fact, be regarded as the most complete and effectual weapon... for obtaining a redress of every grievance...'"
Meadows successfully convinced 79 of his colleagues to sign on to his letter. And he went further, leading a group of 40 lawmakers to demand that the continuing resolution, or the short-term government funding bill at issue, zeroes out funding for President Barack Obama's signature domestic policy achievement so far.
Republican divisions force delay in Boehner's debt strategy
In a lengthy interview with CNN, Meadows explained his case.
"Our intent has never been to shut down the government," Meadows said. "It's to stop the [health care] law."
Senate Majority Leader Harry Reid called those advocating for such a plan "anarchists."
A "bad day for government is a good day for the tea party," Reid said on the Senate floor last week.
Meadows vs. the GOP
Republican leaders in the House were reluctant and dismissed the plan -- at first. Speaker John Boehner and many Republicans believed the strategy could lead to shutdown as the Democratic-led Senate would never agree to such a plan.
Additionally, leaders believed that Republicans would be blamed for a shut down. Polling backs up their concern. A recent CNN/ORC International Poll indicated that 51% of respondents would blame Republicans. That's a political risk that leadership didn't want to risk.
Even though Meadows' letter doesn't represent a majority of the caucus, it was a factor in persuading Boehner to reverse course and put forward a plan that funds the government but defunds Obamacare.
Running against politics
Meadows said he understands that "leadership has a different responsibility." And that leadership is responsible for thinking about the party. "This type of vote could potentially hurt our long term goals. I understand that," he said.
But he said that's not his concern.
"My job first is to make sure I represent the people back home," Meadows said. "I don't believe that when I get here that people expect me to look at the political implications. That's for somebody else to focus on."
For him, getting rid of Obamacare is priority No. 1. "[T]o ignore that would be to ignore our duty to represent the people back home," he said.
'Persona non grata'
"For me it's about representing the 749,000 people I was elected to represent," Meadows told CNN in his small Capitol Hill office. He said his constituents want him to fight against Obamacare "regardless of consequences."
Meadows represents a conservative constituency. He was elected in 2012 and succeeded Democrat Heath Shuler, who decided not to run for reelection after the latest round of redistricting made the district swing heavily Republican.
Meadows won by 15 percentage points. Republican presidential candidate Mitt Romney won the district with 61% of the vote, an impressive outcome in a state he won by 1 point.
Exclusive: Romney disagrees with House GOP 'tactics' on Obamacare
But there's more to the story. Meadows works very closely with the tea party groups and he is a conduit to their agenda.
In fact, his catapult from local businessman to elected official was launched with the help of local tea party groups. He underwent a vigorous interview process with the North Carolina-aligned tea party groups that included an intense vetting and interviewing process.
Jane Bilello, head of the Asheville, North Carolina, tea party group and its separate political action committee, said it is to ensure candidates "truly represents who we are and what we want them to do."
Bilello is pleased with Meadows' job performance so far. She said Meadows is "turning out to be our poster boy."
On the issue of Obamacare, "he truly represents us," Bilello said.
Well-funded national tea party-aligned organizations, such Freedom Works, are also watching closely.
Like Bilello's organization, they hold lawmakers accountable. Not only do they keep scorecards of how lawmakers vote on legislation, they are keeping track of what letters they sign on to and their role in every step of the legislative process.
Republican leaders are well aware of the influence of these organizations.
Republican Rep. Lee Terry of Nebraska, who was elected in 1998 and finds himself between the new generation of tea party-aligned groups and the more traditional Republican leadership, said the tea party groups "impacts everybody."
Billelo said that Meadows hosts conference calls with the groups' members to explain what's happening in Congress, including the challenges that he faces promoting their agenda.
She said he told them he's "persona non grata" around the halls of Congress. Bilello said she and her members remind him: "They don't elect you. We do." They also offer assurance: "We have your back. We will support you," Bilello said she tells him.
Meadows relayed a similar sentiment. "There's nobody in Washington, D.C., who ever voted for me and there's no one in Washington, D.C., who will ever vote for me," Meadows said. "So it's about representing the people back home."
The non-leadership leader
"I think everybody wants me to pick a fight with leadership," Meadows said. But he contended that he isn't about playing the rebel, but finding results.
Are his tactics working? Meadows said yes.
"The Senate for the first time is having to vote ... on Obamacare," Meadows said. "That's why we had to do this."
The House has now voted 42 times on either defunding or repealing all or parts of Obamacare.
Many Republicans in the Senate thought the idea was a lost cause, including Texas Republican John Cornyn, who said Friday that the strategy "won't work."
The Senate eliminated the health care portion of the bill on Friday before sending a revised spending plan back to the House for consideration over the weekend. A shutdown would occur Tuesday, if there is no spending plan in place.
But Meadows successfully convinced a reluctant Boehner to go along with his plan. And then after it became clear the Senate wasn't going to play ball, the speaker hoped to move past the fight and pass a funding bill that would be able to pass the Senate, meaning it wouldn't defund health care.
But Boehner's Republican caucus, once again with Meadows in the forefront, rejected that plan.
Boehner's now working on a plan that will appease members such as Meadows.
What do shutdown and debt limit have to do with Obamacare?
Meanwhile, Meadows vowed to hold his ground.
"If there is a real plan to make sure we can accomplish it through some other means, I'm willing to look at that," he said. But he said it must involve "at least delaying" the implementation of Obamacare.
If it doesn't, he is willing to buck his leadership and oppose any bill he doesn't think goes far enough.
He admits some will have to take "some tough votes" to take. But for him he's right where his constituents want him to be.
"It's a safe place for me to be," Meadows said.
Polarizing Washington
Meadows rejected the idea that he is adding to the gridlock in Washington. He said Washington politicians have lost their way, but it's not because of their inability to compromise.
"Pragmatism has been at the cost of principle and principle has been at the cost of pragmatism," he said.
Still, Meadows asserted that he is willing to compromise with the Democrats.
"My ultimate success will be viewed by whether there is something we can accomplish," he said.