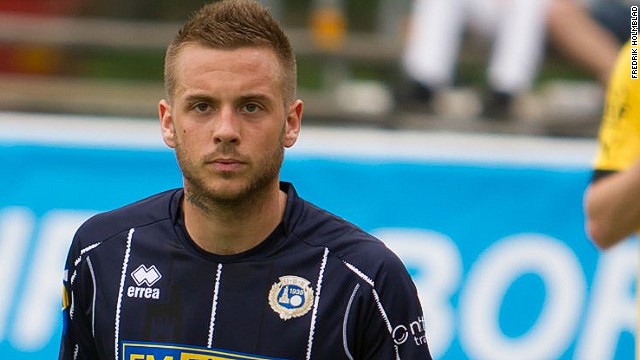 In 2011, Anton Hysen became only the second active footballer to come out as being gay -- more than 20 years after Justin Fashanu did so. While Fashanu was a high-profile star in England, Hysen plays in Sweden's lower leagues.
Hysen supported a campaign asking players to wear rainbow-colored laces to promote awareness of homophobia in football. However, Fulham's David Stockdale (pictured) was one of the few players at British clubs who took up the invitation.
Former United States and Leeds United striker Robbie Rogers used his website to announce he was gay earlier in 2013 -- but then promptly retired from football at the tender age of 25. However, just months later he returned to the game with Major League Soccer team Los Angeles Galaxy.
England international striker Fashanu, the country's first £1 million black footballer, could not live with the scars of his revelation. He committed suicide in 1998.
Former NBA player John Amaechi, who was raised in Britain, broke barriers as the first professional basketballer to announce he was gay in 2007. He made the revelations in his autobiography after retiring from the game.
Jason Collins of the Washington Wizards became the first active NBA player to announce that he is gay on April 29, 2013. The 34-year-old was made a free agent in July but said he wanted to continue playing.
Sport's biggest lesbian star is 18-time grand slam tennis champion Martina Navratilova, who announced she was gay shortly after gaining U.S. citizenship in 1981. Her revelation came relatively early in her career and she went on to win many more titles.
American four-time Olympic gold medallist Greg Louganis came out as gay when he was diagnosed with HIV in 1988. He told CNN's Piers Morgan in 2012 he believes in "equal rights for everybody."
Former Wales rugby union captain Gareth Thomas described the conflict between his sport and his sexuality when he came out in 2009, telling the Daily Mail newspaper: "It is barbaric. I could never have come out without first establishing myself and earning respect as a player."
Coming out
Rainbow Laces
Rogers retirement
Fashanu suicide
Breaking taboos
Collins' brave move
Tennis pioneer
Equal rights
Earning respect
STORY HIGHLIGHTS
Anton Hysen was the second active football player to come out as openly gay
He has received calls from players too scared to come out in the game
Labels Russia's anti-gay laws as "Stone Age" ahead of 2014 Sochi Games
Hopes he can help fellow gay players to come out in the future
(CNN) -- Anton Hysen is a football player. He is also gay.
"So what?" he says. "Being gay is not a choice -- I hate it when people say that."
In March 2011, Hysen, who plays in the lower leagues in Sweden, became the first man to come out in more than 20 years within the world of football. He broke the taboo.
Fast forward two years and, while his life has changed immeasurably, the same problems remain.
"There's so much ignorance," he told CNN in an exclusive interview.
"There's a lack of knowledge. Some people who are homophobic don't even know a gay person. It's all about preconceptions.
"I hear that football players are supposed to be masculine. I know plenty of straight guys who are more effeminate.
"There's this illusion that every football player has to be macho and have a model girlfriend. It's not acceptable to be a gay player.
"Why not? We can run, we can play, we can score. So what's the problem?"
Read: Is laces campaign tied up in knots?
The fight against homophobia in football has been stepped up in the UK in particular, with the "Rainbow Laces" campaign taking center stage over recent days.
Stonewall, a UK-based gay, lesbian and bisexual charity, teamed up with Irish bookmaker Paddy Power to promote the initiative -- which urged players to wear the colored laces to promote awareness.
The organization sent laces to all 92 professional clubs in England and the 42 in Scotland but enjoyed only limited success, with clubs unhappy with the inclusion of a gambling firm and a lack of notice given by the charity.
Many football fans took to Twitter to say they were unable to even see the laces, especially with players often boasting luminous footwear, while some professionals decided against wearing them for a multitude of reasons.
'It needs to be discussed'
But while he supports the campaign -- Hysen wore the laces during his most recent game -- he stresses that it is only a small step in bringing about a meaningful change in attitudes towards homophobia.
"I think it's a good idea," he said, after laughing that he had hit the post when he should have scored in that previous match.
"It's not a big change but it is a step forward. It's the least we can do. We can have lectures, we can ban people -- and laces won't change the mind of an idiot.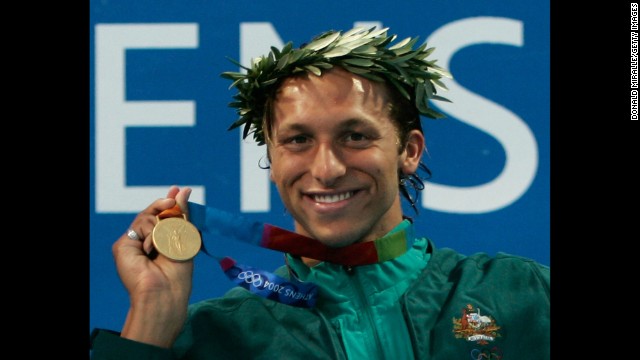 Swimmer Ian Thorpe, seen here in 2004 with one of his five Olympic gold medals, told an Australian news outlet that he is gay in an interview that aired on Sunday, July 13. Click through to see other openly gay athletes.
Former Missouri defensive end Michael Sam told ESPN and The New York Times that he is gay on February 9. Sam later became the first openly gay player to be drafted by a NFL team when he was taken by the St. Louis Rams in the seventh round.
Robbie Rogers became the first openly gay male athlete to play in a professional American sporting match when he took the field for Major League Soccer's Los Angeles Galaxy during a match against the Seattle Sounders on May 26.
"I didn't set out to be the first openly gay athlete playing in a major American team sport. But since I am, I'm happy to start the conversation," NBA player Jason Collins said in a Sports Illustrated article.
Sheryl Swoopes, a retired WNBA star and coach of the Loyola University Chicago's women's basketball team, came out in 2005.
Brittney Griner, selected No. 1 in the 2013 WNBA draft by the Phoenix Mercury, is openly gay.
In an exclusive interview with CNN, former San Francisco 49ers player Kwame Harris came out as gay after rumors circulated in the media.
Rugby player Gareth Thomas of Wales spoke about being gay to a British news channel in 2009.
Justin Fashanu became the first openly gay soccer player in Europe when he came out in 1990. Eight years later, he took his own life.
Tennis great Martina Navratilova came out in 1981.
After his retirement in 2007, basketball player John Amaechi announced he was gay.
After retiring from professional football in 1972, David Kopay acknowledged to the Washington Star that he was gay.
Villanova University's Will Sheridan came out to his teammates in 2003.
In 2012, U.S. women's soccer player Megan Rapinoe confirmed in Out magazine that she was a lesbian.
Champion figure skater Johnny Weir confirmed in his 2011 memoir, "Welcome to My World," that he was gay.
Australia's Matthew Mitcham came out in an interview with the Sydney Morning Herald in 2008.
In 2012, Orlando Cruz became the first active professional fighter to publicly announce that he was gay.
Openly gay British dressage rider Carl Hester helped his team win gold at the 2012 Olympics.
English cricketer Steven Davies announced he was gay in 2011.
Germany's Judith Arndt won the silver medal in cycling at the 2012 Olympics.
Billy Bean, a former Major League Baseball player, discussed being gay in a 1999 New York Times article.
Tennis legend Billie Jean King was outed by a former female partner in 1981.
In 2002, professional football player Esera Tuaolo came out on HBO's "Real Sports."
French tennis player Amelie Mauresmo came out in 1999.
Greg Louganis, who won four Olympic golds for the United States during his diving career, has been openly gay since 1995.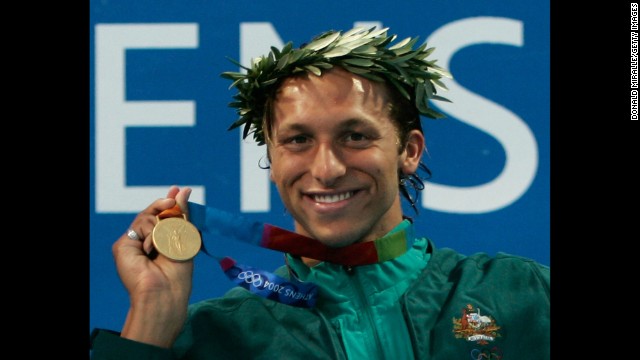 Photos: Openly gay athletes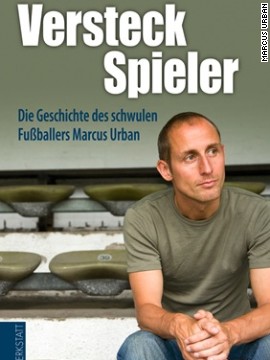 Marcus Urban was an East German football player who turned his back on the sport in order to live as an openly gay man. Urban told his story in the book "Versteckspieler: Die Geschichte des schwulen Fußballers Marcus Urban", "Hidden Player: the story of the gay footballer Marcus Urban".
Urban, pictured on the far left, began his career in 1978 when he joined East German club Motor Weimar at the age of seven. He moved to Rot-Weiss Erfurt in 1984, where he won a youth championship.
The midfielder's reputation was growing and he was called up to the East German youth team in 1986. He made over 100 appearances for Rot-Weiss' first team, but Urban felt burdened by his sexuality. "Constantly hearing gay used as a curse word like s**t, made me think, 'Of course, I'm s**t," Urban told CNN.
Urban's form suffered and, following a stint with provincial club SC 1903 Weimar, he gave up on his dream of becoming a professional footballer. "I realized that if I became a professional footballer, I would suffer as a man," he explained. "I chose freedom over a constructed prison."
Since "coming out" Urban has been able to reignite his love for the beautiful game. He now consults with organizations, including football associations, on issues of diversity and integration. "There are certainly more boring lives than mine," he said.
Former United States international Robbie Rogers attracted headlines by announcing himself as gay after retiring for football, aged just 25, earlier this year. Rogers was recently invited to train with Major League Soccer champions Los Angeles Galaxy.
Jason Collins, currently a free agent, made NBA history last month by becoming the first male athlete in a major North American sport to come out as gay.
Urban believes rugby player Gareth Thomas set the perfect example for athletes wishing to "come out". "He proceeded in stages," Urban said of the Welshman who publicly revealed his sexuality in 2009. "First he outed himself to his wife. Then he told his coach and then two players. After each step he received positive feedback."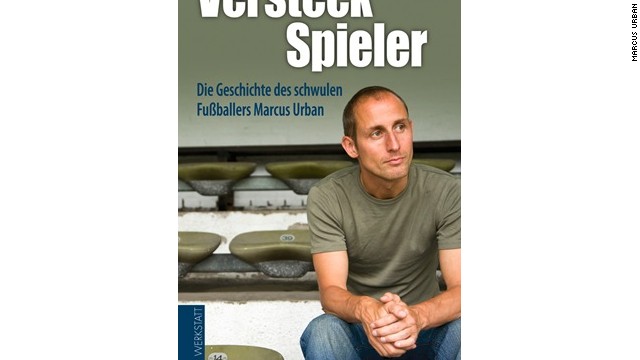 Marcus Urban's battle with homophobia in football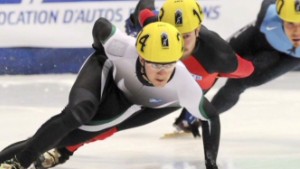 Olympian opposes Russia boycott
"A homophobe won't change his mind because players are wearing rainbow laces, but we're putting it into their minds and we're putting the issue into society so we can talk about it.
"It might make people more aware and make them reconsider but it's not going to make people come out instantly.
"We can talk about it and discuss it. It needs to be discussed. There are not many players out there (wearing them) but it's a nice gesture.
"I've heard some idiotic excuses. I respect anyone who doesn't want to (wear them) and has strong opinions on the matter but don't give lame excuses. That's silly.
"There are a lot of different things we can do -- but this shows some players are ready to show their support. Seeing a professional wearing them is great and gives comfort to gay people who are playing and aren't ready to come out."
Who's next?
In February, U.S. soccer player Robbie Rogers revealed he is gay but at the same time announced he was retiring from the sport.
Rogers, who was playing in England at the time, has since reversed his decision to quit and now plays back in his homeland with Major League Soccer side Los Angeles Galaxy.
But not since the tragic death of Justin Fashanu has a top-flight division witnessed an openly gay professional football player.
Fashanu, who committed suicide in 1998, became the first £1 million black player in the history of English football when he signed for Nottingham Forest in 1981.
Constant speculation surrounded his private life, and at one time he reportedly claimed he'd had affairs with Conservative MPs -- which further fueled media interest.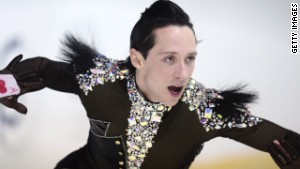 Athletes: Sochi boycott not the answer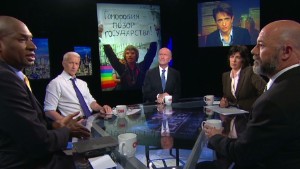 Should Sochi Games be boycotted?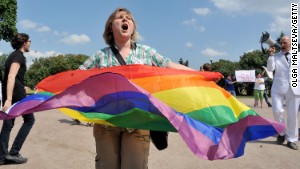 2014 Olympics brings test on gay rights
With the rumors continuing throughout his career, he finally came out in 1990 and continued to play for a whole host of lower league clubs.
Read: Rogers' retirement reasons could bring change
"You have to understand," he said in an interview before his death, "that footballers are very narrow-minded people. It's the nature of the business. When you put yourself in the firing line, you are open to attack. I know I'm there to be shot down in flames."
Following his passing, one particular group of fans would recite the chant: "He's gay, he's dead, he's hanging in a shed, Fashanu, Fashanu."
'I hope someone else will come out'
While there has been huge progress since those dark days, the presence of homophobia in football has not been extinguished.
Hysen had hoped that he would become a trailblazer -- but Rogers aside, there has been little movement in terms of players coming out.
"I've had quite a few anonymous phone calls from players who want to come out but I don't know who they are or where they play," said Hysen.
"I hope that someone else will come out just like Robbie Rogers did. That was great for U.S. soccer. At last we're having a discussion about it and that's huge.
"It has been pretty quiet and I understand that. People might not want to come out publicly and I understand.
There's this illusion that every football player has to be macho and have a model girlfriend. It's not acceptable to be a gay player.
Anton Hysen
"For me, the whole experience has been really positive. I've not had any trouble at all. If somebody says something, then I don't care. I don't have time for any of that. I don't waste my energy on that.
"Lately it has been really good -- I don't know why it's a problem."
Putting the Gay in Games
But it's not just in football where the problem exists -- the 2014 Winter Olympics have also courted controversy following the Russian government's decision to implement a new law banning "propaganda of nontraditional sexual relations around minors."
There have been protests across the globe, with some athletes threatening to boycott the Games over what they believe are archaic and draconian laws.
Russia says the legislation is intended to protect children by prohibiting discussion of gay rights and relationships within their earshot.
Read: Anger grows over Russia anti-gay propaganda laws
"I don't understand what's happening in Russia," sighs Hysen. "What year are we in?
"It's like the Stone Age out there. I respect their laws. It's their country and I respect that but it's all about human rights. We're all humans. It's prehistoric stuff. It's 2013 now.
"Athletes aren't going there because of their sexuality. You're going there to perform your sport -- you go out there and play and do your best.
"You're not living there -- you're just going to compete. It's a problem. It's difficult because you have to respect their laws but it's ridiculous how we treat people in the 21st century.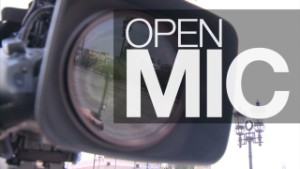 Open Mic: Russia's Anti-Gay legislation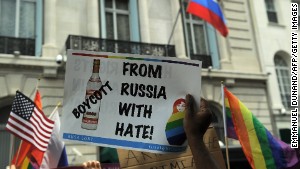 Russia will enforce anti-gay law
"I know a few people going but I'd never go. I'll watch at home on television."
Football family
Hysen is not shy in giving his views -- although he does squirm at the thought that he has become some kind of spokesman for gay sports stars: "I always speak from the heart and don't care what I say."
With a strong family around him, he has grown into a confident and aspiring young man who quickly realized that his life would never be the same.
But by his own admission, the fact that he is the son of Glenn Hysen, the former Liverpool and Sweden international footballer, may have given him an advantage which others may not be as fortunate to enjoy.
Read: The gay footballer who chose freedom
As a player, his father won the now defunct UEFA Cup twice with Swedish side IFK Gothenburg before moving to England, where he won the league title in 1991.
He is now on the coaching staff at Anton's third division club Utsiktens, while brothers Tobias and Alexander are also professional footballers.
Dancing star
But Anton is famous in his own right -- his story an inspiration to millions around the world -- while he cites his victory in Sweden's "Dancing with the Stars" as another reason for his current popularity.
"In Sweden I get recognized a lot from my football but also from the dancing," he laughs.
"I didn't think people would care that much but it's nice.
"When I first came out I thought I would be in the newspapers in Sweden for a couple of days and that's it -- I didn't think people would really care to be honest.
"And then suddenly it went crazy, and within two days the whole world knew, but it feels pretty good. I know that I've done something good with my life.
"I was just a kid who happened to be gay -- I never thought it would be such a big deal."