Killer hornets sting at least 19 people to death in China, nearly 600 stung
September 27, 2013 -- Updated 0724 GMT (1524 HKT)
STORY HIGHLIGHTS
At least 19 people have been stung to death by hornets in southern China
More than 580 people have been stung in China's southern Shaanxi province
The Asian killer hornet, Vespa mandarinia, is world's largest hornet and may be involved
Regional hot, dry weather and smell of people may be factors in increased hornet activity
Hong Kong (CNN) -- At least 19 people have been stung to death by hornets -- which may include the world's largest hornet species Vespa mandarinia -- in China's central Shaanxi province in the last three months, according to the city government of Ankang, the apparent epicenter of a recent spate of fatalities and injuries.
A total of 583 people in the area have been stung by hornets since July 1, say city officials. Seventy victims are still recovering in hospitals.
Chen Changlin was hospitalized after being attacked by hornets, while harvesting rice last week.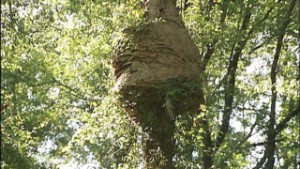 Hornet's nest the size of a Volkswagen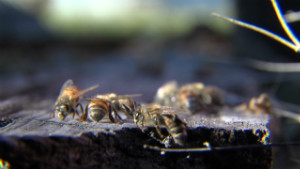 Park employees attacked by killer bees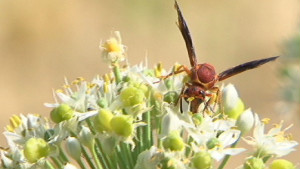 Man dies from wasp sting
"I ran and shouted for help, but the hornets chased me about 200 meters, and stung me for more than 3 minutes," he recounted to the state-run China Youth Daily.
Chen said hornets had first swarmed a woman and child working nearby, who then ran towards him. Both later died from the hornets' toxins.
"The more you run, the more they want to chase you," said another victim, whose kidneys were ravaged by the venom. When he was admitted to the hospital, his urine was the color of soy sauce, according to local reports.
Earlier this month, 30 people -- including 23 primary school children aged between six and eight years -- were injured in a hornet attack in Guangxi province, south of Shaanxi. Their teacher, Li Zhiqiang, told his students to hide under tables as he tried to drive away the insects before he lost consciousness. The school's headmaster told local media that most of the injured suffered stings to their heads, necks, hands and feet.
Nearly 60 students and teachers were injured in a separate incident in the province at the start of the month, according to state media.
Experts say a number of reasons may have contributed to the apparent increase in hornet activity, including the region's recent hot, dry weather, land development and hornet sensitivity to the smell of people.
The Asian killer hornet, which is suspected in these incidents, are formidable, carnivorous killers, according to the non-profit Honeybee Conservancy. The species feed their young with the larvae of other insects and use their talons and mandibles to sever the limbs and heads of their prey. The hornet's venom sting is a neurotoxin so powerful that it dissolves human tissue, according to the Guinness Book of World Records.
This week's latest incidents spurred the Ankang city government to hold an emergency video call addressing local concerns. Vice Mayor Lu Qi said he would increase investment in regional hornet control. Mayor Xu Qifang added the city would establish a 24-hour emergency hornet response team.
Journalist Ramy Inocencio wrote in Hong Kong and Ke Feng contributed to this article from Beijing.

Part of complete coverage on
December 13, 2013 -- Updated 1644 GMT (0044 HKT)

Put aside out-of-date views of Africa and see it the way Africans seem to: With a high level of optimism, a CNN survey shows.
December 13, 2013 -- Updated 0937 GMT (1737 HKT)

The all too real political theater playing out in Pyongyang may offer another tantalizing glimpse behind the opaque curtain of the North Korea.

Read the journal of Mira Sorvino, a human rights activist and Oscar winning actress, who went to Cambodia with the CNN Freedom Project.
December 13, 2013 -- Updated 0757 GMT (1557 HKT)

Kenya could reinvent itself as a center for innovation. But it needs to build new research universities and expand its education, one expert argues.
December 12, 2013 -- Updated 1819 GMT (0219 HKT)

The sign language interpreter widely ridiculed for his performance at the Nelson Mandela memorial stands by his work.
December 12, 2013 -- Updated 1456 GMT (2256 HKT)

Behind the scenes in Cambodian karaoke bars -- a common front for child prostitution.
December 12, 2013 -- Updated 0446 GMT (1246 HKT)

A global risk firm surveys the most politically explosive countries.
December 12, 2013 -- Updated 1509 GMT (2309 HKT)

On Tuesday, I was free. On Wednesday, I became a criminal. India's high court just made being gay illegal, writes Tushar Malik.
December 12, 2013 -- Updated 1046 GMT (1846 HKT)

A Japanese actor says playing villians in Chinese films has helped the China-Japan divide. CNN's Ivan Watson reports.
December 11, 2013 -- Updated 1524 GMT (2324 HKT)

Pope Francis is Time's person of the year. His papacy has drawn adulation from people around the world for his man-of-the-people ways.

He was imprisoned for life but that did not quiet him. Nelson Mandela became South Africa's first black president, and an icon and inspiration.
December 13, 2013 -- Updated 1333 GMT (2133 HKT)

Browse through images you don't always see in news reports, taken by CNN teams all around the world.

Today's five most popular stories