Killer hornets sting at least 19 people to death in China, nearly 600 stung
September 27, 2013 -- Updated 0724 GMT (1524 HKT)
STORY HIGHLIGHTS
At least 19 people have been stung to death by hornets in southern China
More than 580 people have been stung in China's southern Shaanxi province
The Asian killer hornet, Vespa mandarinia, is world's largest hornet and may be involved
Regional hot, dry weather and smell of people may be factors in increased hornet activity
Hong Kong (CNN) -- At least 19 people have been stung to death by hornets -- which may include the world's largest hornet species Vespa mandarinia -- in China's central Shaanxi province in the last three months, according to the city government of Ankang, the apparent epicenter of a recent spate of fatalities and injuries.
A total of 583 people in the area have been stung by hornets since July 1, say city officials. Seventy victims are still recovering in hospitals.
Chen Changlin was hospitalized after being attacked by hornets, while harvesting rice last week.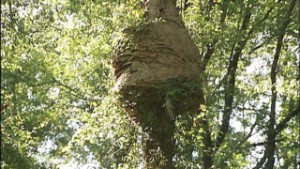 Hornet's nest the size of a Volkswagen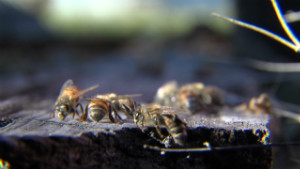 Park employees attacked by killer bees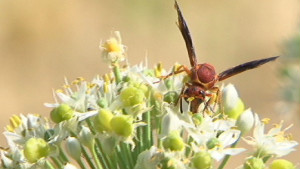 Man dies from wasp sting
"I ran and shouted for help, but the hornets chased me about 200 meters, and stung me for more than 3 minutes," he recounted to the state-run China Youth Daily.
Chen said hornets had first swarmed a woman and child working nearby, who then ran towards him. Both later died from the hornets' toxins.
"The more you run, the more they want to chase you," said another victim, whose kidneys were ravaged by the venom. When he was admitted to the hospital, his urine was the color of soy sauce, according to local reports.
Earlier this month, 30 people -- including 23 primary school children aged between six and eight years -- were injured in a hornet attack in Guangxi province, south of Shaanxi. Their teacher, Li Zhiqiang, told his students to hide under tables as he tried to drive away the insects before he lost consciousness. The school's headmaster told local media that most of the injured suffered stings to their heads, necks, hands and feet.
Nearly 60 students and teachers were injured in a separate incident in the province at the start of the month, according to state media.
Experts say a number of reasons may have contributed to the apparent increase in hornet activity, including the region's recent hot, dry weather, land development and hornet sensitivity to the smell of people.
The Asian killer hornet, which is suspected in these incidents, are formidable, carnivorous killers, according to the non-profit Honeybee Conservancy. The species feed their young with the larvae of other insects and use their talons and mandibles to sever the limbs and heads of their prey. The hornet's venom sting is a neurotoxin so powerful that it dissolves human tissue, according to the Guinness Book of World Records.
This week's latest incidents spurred the Ankang city government to hold an emergency video call addressing local concerns. Vice Mayor Lu Qi said he would increase investment in regional hornet control. Mayor Xu Qifang added the city would establish a 24-hour emergency hornet response team.
Journalist Ramy Inocencio wrote in Hong Kong and Ke Feng contributed to this article from Beijing.

Part of complete coverage on
August 22, 2014 -- Updated 1231 GMT (2031 HKT)

James Dawes: Evil is the strongest word we have to prepare ourselves to kill others.
August 23, 2014 -- Updated 0159 GMT (0959 HKT)

As protests over the shooting of an unarmed black teen calmed down, the question remains: Where's the police officer who pulled the trigger?
August 22, 2014 -- Updated 0922 GMT (1722 HKT)

CNN's Tim Lister: Getting rid of ISIS will be tougher than taking on al Qaeda.
August 22, 2014 -- Updated 0042 GMT (0842 HKT)

American patients infected with Ebola are being released from the hospital. What now?
August 22, 2014 -- Updated 1048 GMT (1848 HKT)

One of the first observers at the MH17 crash site in Ukraine describes the harrowing scene.
August 21, 2014 -- Updated 1353 GMT (2153 HKT)

Five survivors of acid attacks capture India's attention with a "ground breaking" photo shoot.
August 20, 2014 -- Updated 1219 GMT (2019 HKT)

In an exclusive CNN interview, Lance Armstrong admits to having a "f**k you" attitude.
August 20, 2014 -- Updated 0036 GMT (0836 HKT)

The pain that Michael Brown's parents are going through is something Sybrina Fulton can relate to. She, too, lost a son in a controversial shooting.
August 22, 2014 -- Updated 1149 GMT (1949 HKT)

"We are like one grain of sand against a whole beach," says Eibar fan Unai Eraso.

CNN joins the fight to end modern-day slavery by shining a spotlight on its horrors and highlighting success stories.

Browse through images from CNN teams around the world that you don't always see on news reports.
August 22, 2014 -- Updated 1022 GMT (1822 HKT)

From fierce protests in Ferguson, to an Ebola survivor discharged from a hospital in Atlanta, browse through the photos of the week.

Today's five most popular stories