Killer hornets sting at least 19 people to death in China, nearly 600 stung
September 27, 2013 -- Updated 0724 GMT (1524 HKT)
STORY HIGHLIGHTS
At least 19 people have been stung to death by hornets in southern China
More than 580 people have been stung in China's southern Shaanxi province
The Asian killer hornet, Vespa mandarinia, is world's largest hornet and may be involved
Regional hot, dry weather and smell of people may be factors in increased hornet activity
Hong Kong (CNN) -- At least 19 people have been stung to death by hornets -- which may include the world's largest hornet species Vespa mandarinia -- in China's central Shaanxi province in the last three months, according to the city government of Ankang, the apparent epicenter of a recent spate of fatalities and injuries.
A total of 583 people in the area have been stung by hornets since July 1, say city officials. Seventy victims are still recovering in hospitals.
Chen Changlin was hospitalized after being attacked by hornets, while harvesting rice last week.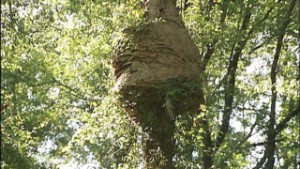 Hornet's nest the size of a Volkswagen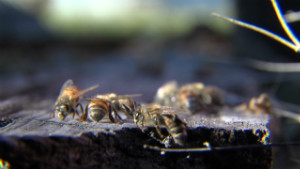 Park employees attacked by killer bees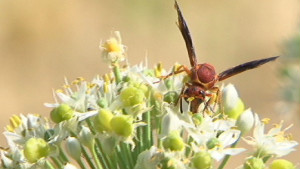 Man dies from wasp sting
"I ran and shouted for help, but the hornets chased me about 200 meters, and stung me for more than 3 minutes," he recounted to the state-run China Youth Daily.
Chen said hornets had first swarmed a woman and child working nearby, who then ran towards him. Both later died from the hornets' toxins.
"The more you run, the more they want to chase you," said another victim, whose kidneys were ravaged by the venom. When he was admitted to the hospital, his urine was the color of soy sauce, according to local reports.
Earlier this month, 30 people -- including 23 primary school children aged between six and eight years -- were injured in a hornet attack in Guangxi province, south of Shaanxi. Their teacher, Li Zhiqiang, told his students to hide under tables as he tried to drive away the insects before he lost consciousness. The school's headmaster told local media that most of the injured suffered stings to their heads, necks, hands and feet.
Nearly 60 students and teachers were injured in a separate incident in the province at the start of the month, according to state media.
Experts say a number of reasons may have contributed to the apparent increase in hornet activity, including the region's recent hot, dry weather, land development and hornet sensitivity to the smell of people.
The Asian killer hornet, which is suspected in these incidents, are formidable, carnivorous killers, according to the non-profit Honeybee Conservancy. The species feed their young with the larvae of other insects and use their talons and mandibles to sever the limbs and heads of their prey. The hornet's venom sting is a neurotoxin so powerful that it dissolves human tissue, according to the Guinness Book of World Records.
This week's latest incidents spurred the Ankang city government to hold an emergency video call addressing local concerns. Vice Mayor Lu Qi said he would increase investment in regional hornet control. Mayor Xu Qifang added the city would establish a 24-hour emergency hornet response team.
Journalist Ramy Inocencio wrote in Hong Kong and Ke Feng contributed to this article from Beijing.

Part of complete coverage on
March 12, 2014 -- Updated 0925 GMT (1725 HKT)

Until clearer information comes to light, here's a summary of what we know, and what we don't.
March 11, 2014 -- Updated 1453 GMT (2253 HKT)

Turns out it's not as hard as you think to board a plane with a stolen passport.
March 10, 2014 -- Updated 0300 GMT (1100 HKT)

Aaron Miller says even those with little knowledge of Ukraine should spot the myths we've heard.

Track star Oscar Pistorius is accused of killing his girlfriend, Reeva Steenkamp. Follow live updates of South Africa's trial of the century.
March 11, 2014 -- Updated 1611 GMT (0011 HKT)

CNN reveals it's not just trade in which Russian interests are strongly represented -- it's in some of the most lavish assets around the world.
March 12, 2014 -- Updated 1104 GMT (1904 HKT)

Browse through images you don't always see on news reports from CNN teams around the world.

What we commonly call the Web is really just the surface. Beneath that is a vast, mostly uncharted ocean called the Deep Web.
March 10, 2014 -- Updated 2359 GMT (0759 HKT)

On March 1, football's lawmakers, the International Football Association Board, met to debate the idea of a "sin-bin."
March 11, 2014 -- Updated 1756 GMT (0156 HKT)

"Don't ask me about her again," Justin Bieber tells lawyer after question on Selena Gomez.
March 11, 2014 -- Updated 1300 GMT (2100 HKT)

It seems architects are increasingly drawn to buildings you can see straight through.
March 11, 2014 -- Updated 1758 GMT (0158 HKT)

In the early 1960s, a young postdoctoral student stumbled onto something that puzzled him.
March 10, 2014 -- Updated 1923 GMT (0323 HKT)

Was it a bomb? Mechanical failure? A hijacking gone awry? Pilot error? Here are four scenarios that aviation experts are discussing.

Today's five most popular stories