Killer hornets sting at least 19 people to death in China, nearly 600 stung
September 27, 2013 -- Updated 0724 GMT (1524 HKT)
STORY HIGHLIGHTS
At least 19 people have been stung to death by hornets in southern China
More than 580 people have been stung in China's southern Shaanxi province
The Asian killer hornet, Vespa mandarinia, is world's largest hornet and may be involved
Regional hot, dry weather and smell of people may be factors in increased hornet activity
Hong Kong (CNN) -- At least 19 people have been stung to death by hornets -- which may include the world's largest hornet species Vespa mandarinia -- in China's central Shaanxi province in the last three months, according to the city government of Ankang, the apparent epicenter of a recent spate of fatalities and injuries.
A total of 583 people in the area have been stung by hornets since July 1, say city officials. Seventy victims are still recovering in hospitals.
Chen Changlin was hospitalized after being attacked by hornets, while harvesting rice last week.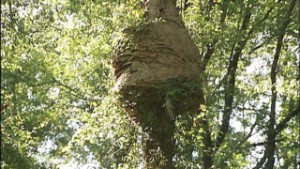 Hornet's nest the size of a Volkswagen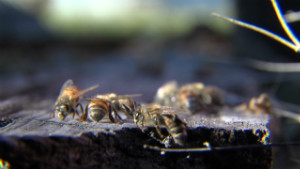 Park employees attacked by killer bees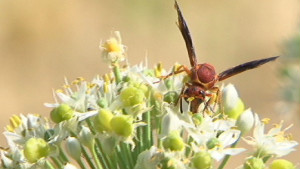 Man dies from wasp sting
"I ran and shouted for help, but the hornets chased me about 200 meters, and stung me for more than 3 minutes," he recounted to the state-run China Youth Daily.
Chen said hornets had first swarmed a woman and child working nearby, who then ran towards him. Both later died from the hornets' toxins.
"The more you run, the more they want to chase you," said another victim, whose kidneys were ravaged by the venom. When he was admitted to the hospital, his urine was the color of soy sauce, according to local reports.
Earlier this month, 30 people -- including 23 primary school children aged between six and eight years -- were injured in a hornet attack in Guangxi province, south of Shaanxi. Their teacher, Li Zhiqiang, told his students to hide under tables as he tried to drive away the insects before he lost consciousness. The school's headmaster told local media that most of the injured suffered stings to their heads, necks, hands and feet.
Nearly 60 students and teachers were injured in a separate incident in the province at the start of the month, according to state media.
Experts say a number of reasons may have contributed to the apparent increase in hornet activity, including the region's recent hot, dry weather, land development and hornet sensitivity to the smell of people.
The Asian killer hornet, which is suspected in these incidents, are formidable, carnivorous killers, according to the non-profit Honeybee Conservancy. The species feed their young with the larvae of other insects and use their talons and mandibles to sever the limbs and heads of their prey. The hornet's venom sting is a neurotoxin so powerful that it dissolves human tissue, according to the Guinness Book of World Records.
This week's latest incidents spurred the Ankang city government to hold an emergency video call addressing local concerns. Vice Mayor Lu Qi said he would increase investment in regional hornet control. Mayor Xu Qifang added the city would establish a 24-hour emergency hornet response team.
Journalist Ramy Inocencio wrote in Hong Kong and Ke Feng contributed to this article from Beijing.

Part of complete coverage on
December 18, 2013 -- Updated 1635 GMT (0035 HKT)

The arrest and strip-search of the Indian diplomat accused of visa fraud, has sparked questions about the complex system of diplomatic immunity.
December 19, 2013 -- Updated 1319 GMT (2119 HKT)

Extremist attacks of the kind that claimed the life of UK soldier Lee Rigby do not come out of thin air, analysts say.
December 19, 2013 -- Updated 1026 GMT (1826 HKT)

Which has been the craziest year in travel history? It just could be 2013.
December 18, 2013 -- Updated 2157 GMT (0557 HKT)

Pizza joints, sushi bars, "British" pubs, curry houses and Thai restaurants rule in Cyprus's sprawling resort areas.
December 19, 2013 -- Updated 1949 GMT (0349 HKT)

Did you know that Leonardo da Vinci was working on an "automaton" as early as 1495?
December 18, 2013 -- Updated 1722 GMT (0122 HKT)

Meet Isaac Oboth, a self-taught videographer who hopes to turn Uganda into a major production hub.
December 19, 2013 -- Updated 0048 GMT (0848 HKT)

The family of British doctor who was found dead in a Syrian prison question the ruling of suicide. Atika Shubert reports.
December 19, 2013 -- Updated 1216 GMT (2016 HKT)

Kickstarter is one of the world's largest crowdfunding websites -- over 53,000 projects have been born.
December 19, 2013 -- Updated 2054 GMT (0454 HKT)

Browse through images you don't always see in news reports, taken by CNN teams all around the world.

From prancing teddy bears to 3D light shows, where can you find the world's most stylish Christmas shop windows?
December 19, 2013 -- Updated 1440 GMT (2240 HKT)

Each day, CNN brings you an image capturing a moment to remember. Look back at the photographs that chronicled 2013.
December 19, 2013 -- Updated 1203 GMT (2003 HKT)

What do you need to map a billion stars? A billion-pixel camera certainly helps.

Today's five most popular stories