Philippines military frees final hostages, still pursuing rebels
September 27, 2013 -- Updated 1728 GMT (0128 HKT)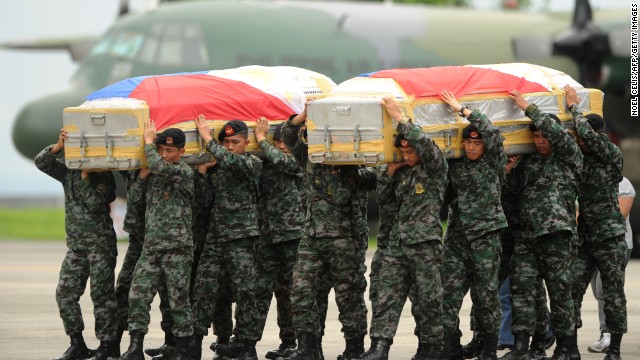 Soldiers carry the flag-draped coffin of policemen who died at the Zamboanga rebel attack in Mindanao. The coffins arrive at Villamor airbase in Manila on September 25. Fighting between rebels and soldiers in the city has entered its third week.
The wife of a soldier killed in the rebel attack in Zamboanga cries as the coffin carrying her husband arrives at Villamor airbase in Manila on September 25.
A two-year-old boy is carried by his father after a rescue mission by state security forces from Muslim rebels following an assault on September 17.
Government soldiers take cover from rebel sniper fire during heavy fighting in Zamboanga City on September 12.
An armored personnel carrier passes by a group of soldiers. The Philippine military launched a helicopter assault on September 16 on Muslim rebels occupying parts of a major southern city.
Two men watch as smoke billows from burning houses as firefight between government troops and Muslim rebels rages in Zamboanga City, on September 16. Sporadic clashes continued as soldiers moved to clear Moro National Liberation Front (MNLF) gunmen from coastal neighbourhoods after a ceasefire plan collapsed.
Residents try to put out fire that gutted several homes while government troopers continue their assault at Muslim rebels on September 12 in Zamboanga City.
A combat police force sniper gets into position to confront Moro National Liberation Front (MNLF) rebels in downtown Zamboanga City on September 9.
A soldier is helped by comrades after being injured during skirmishes with rebels in Zamboanga City on September 9.
Deadly fighting in the Philippines
STORY HIGHLIGHTS
Philippines military says all hostages freed from separatist group in Zamboanga
Troops killed 15 rebels, freed six hostages in overnight fighting, spokesman says
The military says it's sweeping the region for any remaining rebels
(CNN) -- The hostage standoff between Philippines forces and separatist rebels is over, a military spokesman said Friday.
Government forces killed 15 of the rebels and rescued six hostages in fighting that began Thursday and lasted into early Friday, Armed Forces spokesman Lt. Col. Ramon Zagala said.
The freed hostages told troops they believe no one else is being held by the separatist group, the Moro National Liberation Front, which took 180 people hostage in the coastal city of Zamboanga more than two weeks ago.
Efforts to negotiate the hostages' release failed, resulting in intense bursts of fighting that had left 158 people dead as of Thursday, including 125 members of the MNLF, the government-run Philippines News Agency said.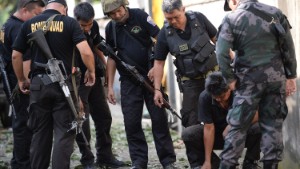 Reporter: Not sure if my home is standing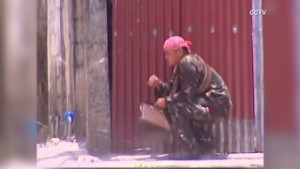 Philippine forces, rebels resume clash
Troops have captured 186 rebels and are now in a clearing operation to sweep the region of any remaining rebels, Zagala said.
"We have severely diminished the numbers of the faction, but we will not rest until we have cleared the area," he said.
The rebels are part of the MNLF, a separatist movement founded in 1971 by Nur Misuari with the aim of establishing an autonomous region for Muslims in the mainly Catholic Philippines.
The MNLF signed a peace deal with the central government in Manila in 1996, but some of its members have broken away to continue a violent campaign.
At least 3 dead in Philippines bombing
CNN's Tim Schwarz, Kathy Quiano and Jethro Mullen contributed to this report.

Part of complete coverage on
December 9, 2013 -- Updated 1558 GMT (2358 HKT)

The Web is set to change our lives over the next decade. This will also question the use of personal data and balancing new powers with ethics.
December 9, 2013 -- Updated 0111 GMT (0911 HKT)

The image of the Shinkansen bullet train streaking past Mount Fuji is a powerful part of the iconography of the resurgent post-war Japan.
December 9, 2013 -- Updated 2023 GMT (0423 HKT)

Imagine the delight at unwrapping your Christmas present in 2043 and discovering you've been gifted a trip around the Moon.
December 9, 2013 -- Updated 0727 GMT (1527 HKT)

A new political party claiming to champion ordinary Indian voters makes a startling electoral debut.

Few words in Hungarian, including place names, are easily recognizable to foreigners.
December 9, 2013 -- Updated 1744 GMT (0144 HKT)

Browse through images you don't always see in news reports, taken by CNN teams all around the world.
December 9, 2013 -- Updated 1234 GMT (2034 HKT)

Walking into one of Yayoi Kusama's infinity rooms is like walking into a completely different universe.
December 9, 2013 -- Updated 1529 GMT (2329 HKT)

Meet Tony Allen -- famous for helping create Afrobeat by fusing different beats and patterns.
December 8, 2013 -- Updated 2116 GMT (0516 HKT)

Fans converged on the site where Paul Walker died to pay tribute to the actor. CNN's Paul Vercammen reports.

He was imprisoned for life but that did not quiet him. Nelson Mandela became South Africa's first black president, and an icon and inspiration.
December 9, 2013 -- Updated 1002 GMT (1802 HKT)

Watching digital artist Kyle Lambert's stunning photo-realistic iPad paintings emerge from a blank screen is an awe-inspiring experience.

Today's five most popular stories