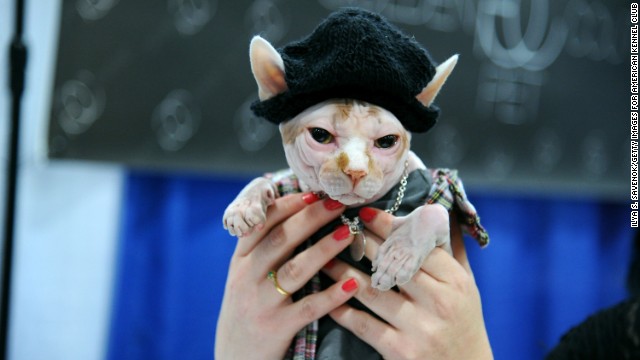 Some of the fanciest cats and sharpest dogs in New York City showed up for the Haute Kitty CATure Feline & Canine Fashion Show on September 28 at the American Kennel Club's "Meet The Breeds" showcase at Jacob Javits Center. Here, a sphynx cat wears a knit cap and plaid jacket for a distinctly urban look.
Pet fashion designer Ada Nieves holds her Chihuahuas "Manhattan," wearing her best party outfit, and "Mojito," wearing a white and red cotton tuxedo.
This kitty in a dark button-down top gets a little help busting a move from its handler.
This fluffy customer knows that a grand affair always calls for a top hat.
"Petie," an Oriental shorthair with owner Pete Loren, is wearing an "Ada Nieves for Pets" classic black and white wedding tuxedo.
This sleek white cat is regal in a green patterned wrap.
"Madeline," a sphynx wearing a pink princess ensemble by "Ada Nieves for Pets," strikes a pose with her owner Emily Greene.
"Chastity," a Napoleon kitten, is wearing an "Ada Nieves for Pets" "firefly" gold light-up dress and a gold crown.
Owner Janet Spain shows off "Lightning," a Savannah cat in a whimsical impression of a very fancy Dragon by "Golden Couture."
A Russian toy dog wears an "Ada Nieves for Pets" zebra print unisex shirt with rhinestone collar.
This cat is channeling Liberace in an "Ada Nieves for Pets" white shirt and glitzy vest.
A Chinese crested dog is fun and flirty in this "Ada Nieves for Pets" little black dress.
Haute Kitty CATure fashion show
Haute Kitty CATure fashion show
Haute Kitty CATure fashion show
Haute Kitty CATure fashion show
Haute Kitty CATure fashion show
Haute Kitty CATure fashion show
Haute Kitty CATure fashion show
Haute Kitty CATure fashion show
Haute Kitty CATure fashion show
Haute Kitty CATure fashion show
Haute Kitty CATure fashion show
Haute Kitty CATure fashion show